Ballard is thrilled to announce the release of FCmove™—our newest and most innovative fuel cell power module for heavy duty vehicles.
FCmove is the eighth generation of Ballard's heavy duty power module, and is the result of four decades of fuel cell technology innovation.
Here are some key highlights:
With FCmove, Ballard has achieved a 35% reduction in total life cycle cost
FCmove is 40% more compact and has 50% fewer parts than our previous fuel cell module
The stack lifetime is over 30,000 hours
The FCmove module is a major advancement in the competitiveness of fuel cell solutions. In this article, we'll share the story behind its purpose-built design. We'll also provide insights on how it will benefit OEMs and operators.
A new generation of fuel cells for an evolving market
Why did Ballard design FCmove?
The hydrogen and fuel cell market is expanding rapidly. The demand for fuel cell products is growing across a range of geographies and applications, including those for different types of buses, medium and heavy duty trucks, and rail.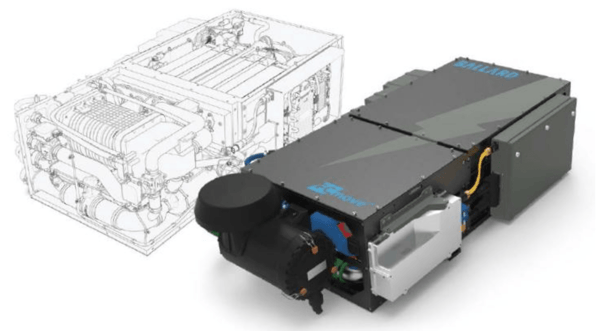 Electrification of such vehicles is on its way, using battery or fuel cell technology, or a combination of both in a hybrid powertrain configuration. To meet operational objectives, OEMs and vehicle operators want lower cost, longer lasting, and reliable products resulting in a lower total cost of ownership.
Ballard's major objective is to push fuel cell vehicles closer to full scale commercialization. As a result, we needed to launch a new generation of products that would address this goal, as well as the rapid market changes taking place.
How is FCmove different from earlier generations of fuel cells?
FCmove is approaching the operation and performance maturity of the current internal combustion engine (ICE) technology.
It builds on everything Ballard has learned from our previous seven generations of designs. It incorporates key technologies that we've been developing and testing for many years. The result is a design that's simpler, more robust, and easier to integrate.
FCmove demonstrates both our technology leadership, and our expertise in designing high-quality systems specifically for heavy duty applications, validated by millions of kilometers of road experience.
FCmove is a fully integrated system that is:
lighter and smaller than previous generations
easy to install, service and maintain
robust and reliable
long lasting
capable of true freeze start
less expensive to operate
Furthermore, in designing FCmove, Ballard has committed to reducing both the initial purchase price, and the overall cost of ownership. FCmove is also designed to enable further cost reduction with high volume production.

Ballard's rigorous process for researching and designing FCmove
FCmove is the result of the most comprehensive "voice of the customer" exercise Ballard has ever done. We conducted research in all geographies, and with all customers—current and potential—to understand:
market requirements
our customer objectives
the desired product attributes and features
We also involved our customers during different design stages to gather feedback on vehicle integration (for example, physical envelope constraints and interfaces) and serviceability of the product.
Additionally, Ballard completed in-depth analyses to define price/kW and price/km targets in order to deliver an economic value proposition to our customers.
The critical design parameters of FCmove arose from this extensive research, and feedback gathered from previous product generations.
Then, to meet the ambitious product requirements, we:
designed a new complete fuel cell stack, FCgen-LCS
qualified and integrated a more robust balance of plant components, such as air-bearing (oil-free) quiet air compressors
simplified system architecture to reduce the number of parts
optimized module integration and packaging to provide maximum flexibility to vehicle integrators
For a closer look at the new FCmove, watch our product video below:
With the new FCmove, everyone benefits
Vehicle OEMs benefit from a smaller and lighter product that's easier to integrate. Additionally, OEMs can use the different variants of the FCmove family of products for multiple vehicle platforms, reducing the amount of different stock parts they'll have to carry.
Vehicle operators will benefit from a much lower total life cycle cost. FCmove enables commercially competitive deployments of fuel cell electric buses at scale in our cities, as in the H2Bus Europe project.
Passengers will enjoy a clean, quiet and comfortable vehicle. Drivers won't need to worry about range limitations.
Overall, our cities will benefit from more zero-emission buses, trucks, and trains—resulting in cleaner air for everyone
FCmove is the next-gen fuel cell power module for today's heavy-duty vehicles. It brings us all one step closer to changing our world for the better.
Access the FCmove product brochure: