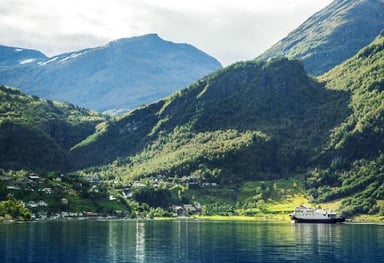 At Ballard, sustainability is an integral part of all that we do. Our products power fuel cell electric vehicles with a lower lifetime environmental impact than any other technology. When fueled by green hydrogen, Ballard fuel cells deliver true zero-emission mobility to even the hardest-to-decarbonize sectors.
We are committed to producing products and doing business in a way that benefits both our planet and our stakeholders. Since we released our first Environmental, Social, and Governance (ESG) report in 2019, we've continued our dedication to these areas, developing our first-ever stakeholder-informed ESG strategy in late 2021.
As we embarked on the creation of our ESG strategy, it was critically important to us that it be built around our core purpose—to be Here for Life™, embody our corporate vision, inspire our customers and employees, level-set ESG within the organization, and differentiate our investor value proposition.
In this blog, you'll learn about our process for creating our ESG strategy, and how we're addressing each area of most importance to our stakeholders.
How We Built Our ESG Strategy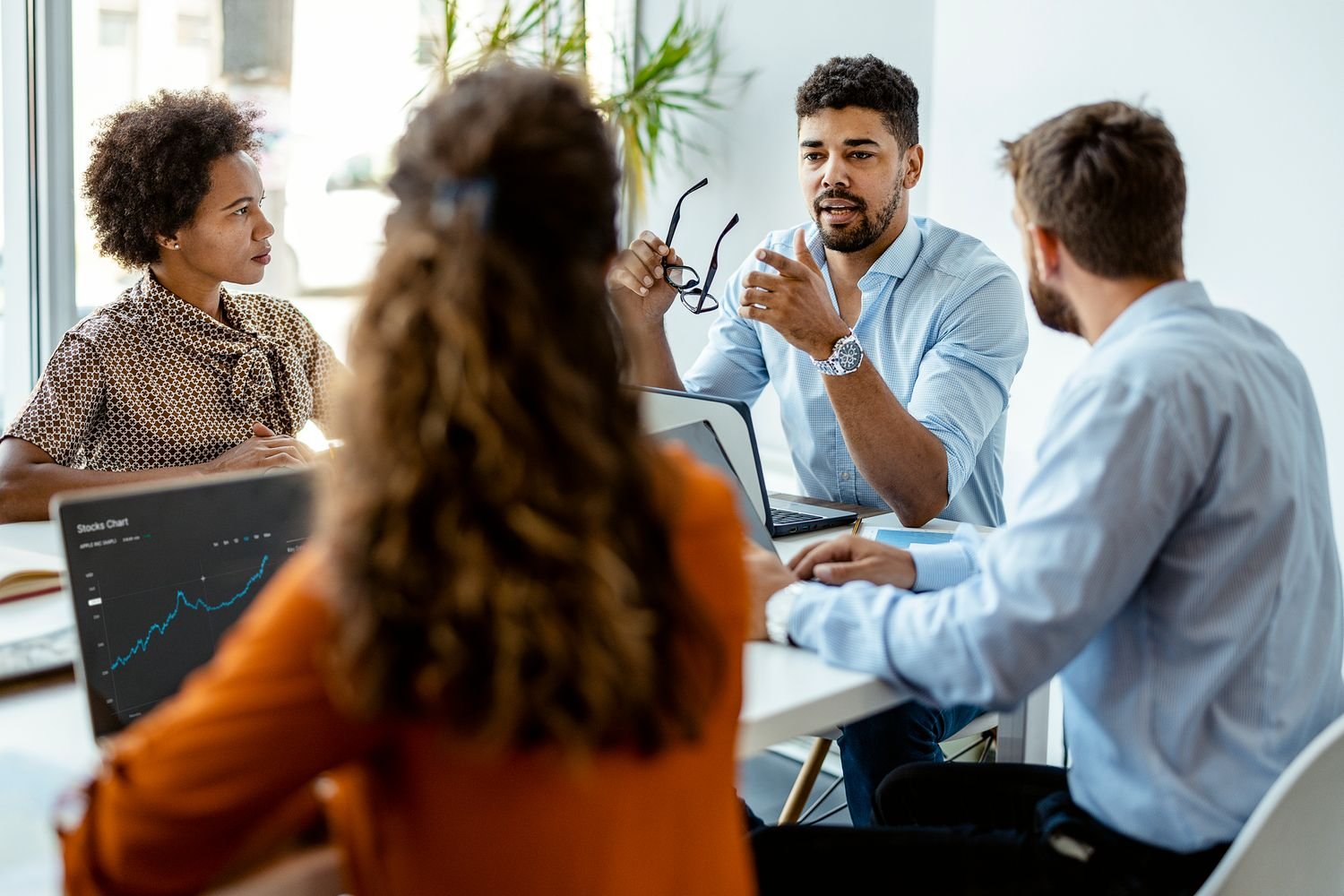 Our ESG strategy is built upon our engagement with, and perspectives of, multiple stakeholders. This included our board of directors, executive leadership, functional leadership, and employees, as well as representatives of customers, suppliers, community, and investors. In addition, we considered industry leading reporting frameworks such as Sustainability Accounting Standards Board (SASB), Global Reporting Initiative (GRI) and the Task Force for Climate-related Financial Disclosures (TCFD), in line with the priorities of our shareholders and customers.
We shortlisted a selection of ESG topics that were deemed most relevant for our business, industry, and sector. By using surveys and engagement workshops with our stakeholder groups, we identified those ESG topics most important to Ballard. From this input, and grounded in our values-led approach of Here for Life™, we created a strategy which addresses each of the priority topics and supports future-proofing our business, planet, and communities.
The graphic below, our materiality matrix, illustrates the shortlisted topics and the material topics we identified as priorities through this process.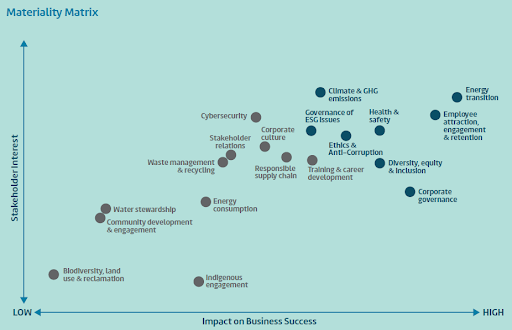 Our ESG strategy reflects a focus on three critical workstreams. The first addresses the opportunity to continue advancing the maturity of our ESG practice. The second and third address actions against the seven identified material ESG topics, categorized under the headings of Environment, Social, and Governance. Throughout 2022, we will continue to advance these strategic workstreams and set targets, goals, and key performance indicators.
With a focus on the ESG topics most important to our stakeholders, our strategy is threefold:
Solidify the Foundation – strengthening the foundational ESG competencies most important to Ballard and our stakeholders.
Embed Differentiators – focusing on the areas where our business can have the greatest impact including energy transition, employee attraction, engagement and retention, and climate and greenhouse gas emissions.
Reinforce Table Stakes – concentrating on ESG topics where we are already investing significant attention. These include health and safety, ethics and anti-corruption, corporate governance, and diversity, equity, and inclusion.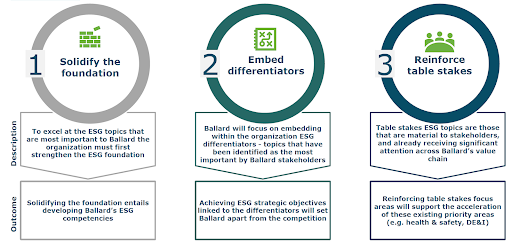 Environmental: Our Global Impact
Energy Transition Impact
As the world moves toward a future of zero emission mobility and power, we at Ballard are here to support this global energy transition and offer our customers products that align directly with their own decarbonization strategies and net zero goals. Our ESG strategy looks to reimagine and accelerate the impact of this energy transition by delivering fuel cell power products and solutions that support a cleaner, resilient future, here for the life of the planet and all of the creatures that live on it.
Climate and GHG Emissions
In 2019, we launched "Mission Carbon Zero," an initiative to guide our organization toward a further reduction in environmental impact, with the goal of being carbon neutral by 2030. We currently engage in an annual inventory of corporate emissions, and Life Cycle Assessments of our fuel cell stacks and heavy-duty power modules. These calculations allow us to effectively evaluate and track our carbon footprint, and help guide our long-term strategies for removing and offsetting our emissions.
This year, we are creating a concrete action plan to map out how we will meet our goal of being carbon neutral by 2030. Because transparency is important to us, our customers and stakeholders are informed of the results of our Life Cycle Assessments and our progress toward carbon zero through our annual ESG report.
Social: Our People Strategies
At Ballard, our success is driven by the incredible people that make up our global organization. Building on previous successes in people-centric material topics, our social strategies address:
Employee Attraction, Engagement, and Retention
Attracting, engaging, and retaining world-class, dedicated, and purpose-driven talent is critical to delivering on our vision to deliver fuel cell power for a sustainable planet and the desired outcomes of our business strategy. Our people drive our success and contribute to our distinctive Ballard corporate culture. We strive to continually strengthen our employee value proposition and focus on making Ballard a great place to work. Our ESG strategy includes a strong focus on our people programs and initiatives. We are working to continually improve Ballard's work environment based on a shared purpose, mutual trust and respect, and psychological safety. To pursue an environment where diversity, equity, and inclusion are valued, and where every employee knows what is expected of them in their job, is supported in their career development, and is recognized and competitively rewarded for their performance.
Health and Safety
Ballard has always had an unwavering commitment to the highest levels of health and safety for all. Our ESG strategy builds on the health and safety culture and standards already in place and strives to achieve a workplace culture in which safety and health are embraced by all. We track both leading and lagging indicators related to health and safety, with targets that are set on an annual basis. Our annual ESG report offers transparency to our performance.
Diversity, Equity, and Inclusion
Ensuring a work environment of mutual trust and respect, where diversity, equity, and inclusion are valued, and where every employee feels welcome is a key priority to our efforts around diversity, equity, and inclusion. We are proud of our diverse team today and believe that the varied set of experiences, ideas, and perspectives are critical to our business success. As a company, we see diversity as our strength, equity as our promise, and inclusion ingrained in our culture. Our ESG strategy seeks to progress programs and initiatives that continue to embed diversity, equity, and inclusion in our culture and our lived employee experience.
Governance: Ethics and Expertise
Today, strong governance practices are embedded in the way we do business and with specific attention to addressing environmental, social, and governance issues. Building on this expertise, we recently named a Director of Environmental, Social, and Governance to further drive the coordinated execution of our ESG strategy, act as a center of ESG excellence, and deliver transparent reporting of our progress to stakeholders. Our ESG strategy looks to continue to advance environmental and social issues within our governance framework addressing the following focused material topics:
Corporate Governance and Governance of ESG: Maximization of value creation through strong governance that makes effective and risk-adjusted decisions. Further embedding environmental and social factors into our strategy, risk management practices, stakeholder engagement, and performance monitoring.
Ethics and Anti-Corruption: We have an unwavering commitment to integrity and do what's right, every time, without fail. Our ESG strategy looks to build on the existing practices we have today and disclose relevant metrics and targets within our ESG reporting.
Final Thoughts: The Path to Carbon Neutral
At Ballard, we've long been a leader in environmental solutions, focusing on sustainable practices with transparency and striving to ensure that we and our customers continue to minimize our impact on the world around us.
Our expertise, passion, and commitment to sustainability set us apart. Moving forward, our ESG strategy will focus our efforts to deliver the highest positive impact and long-term value possible, guided by stakeholder input.
Ballard is here for the long haul and committed to providing solutions for the life of the planet and all the creatures that live on it.