Today was a milestone for Ballard: we announced our new brand look and message. Our communications—with customers, employees, partners and the media—is taking a new and exciting direction, and we are excited to share the story of this brand update and what it means.

Why now?
Why make a change now? There are a couple of reasons why this is the time to shift how we communicate our mission to the world.
First, we are gradually coming out of a global pandemic. For many companies, COVID-19 accelerated a transition to digital that was already underway. People are coming together online, and valuing brands that have a compelling story; brands whose core values are inspirational. Our story, at Ballard, is a perfect fit for these times: we are all about improving the quality of life for current and future generations as we work towards a cleaner future.
As many governments look past the economic challenges of the pandemic, they are seeking to rebuild a cleaner, greener economy. Again, the Ballard story is a perfect fit.
The second reason is more pressing: our competitive landscape has changed. We need to communicate—and differentiate—in a new context.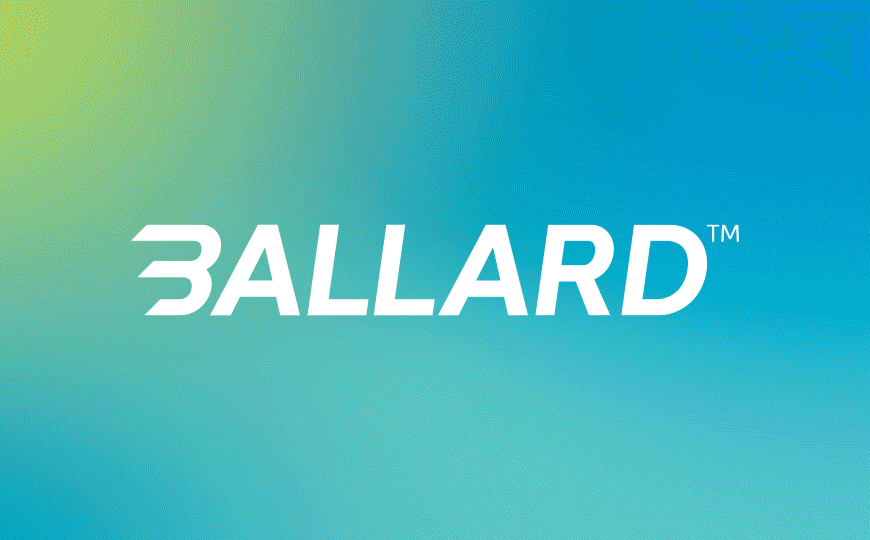 Power to Change the World®: a powerful tagline for a radical proposal
At Ballard, we've been developing fuel cell stacks since 1986. Throughout our recent years of global growth, we have employed the familiar Ballard logo with the supporting tagline, Power to Change the World®.
They were powerful and effective in a world that saw zero-emission power as a radical idea.
But today, zero-emission power is no longer radical. The global transition to clean energy is well underway. The role of hydrogen in the decarbonization of hard-to-abate sectors is widely accepted.
Companies need a partner that can guide them to the zero emissions future
Today, the people that we need to communicate with—the OEMs, fleet operators, and policymakers—understand that the world is changing. They are not questioning whether they need to embrace zero-emissions energy. They know they must. The conversation now is how to do it, and who they should partner with.
They are faced with important decisions that will have long-term implications for their companies, their countries, and their shareholders. Demand is growing for hydrogen solutions and the market is accelerating quickly. They are looking for a trusted, knowledgeable partner with a clear purpose to help decarbonization, with decades of proven real-world experience in implementing fuel cell solutions, and the stability to stand behind them for decades to come.
They want a partner who is Here for life™.
We are a new Ballard, and that message should be upfront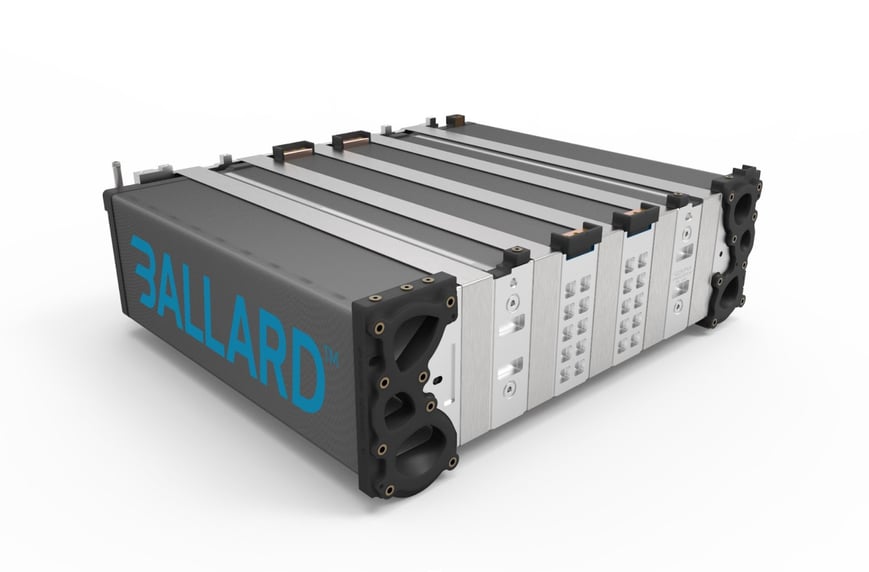 Our technology leads our industry, but we are not resting on past successes. We are entering a new phase of expansion, development, and innovation. We are scaling up our manufacturing and investing in the future.
As global demand grows, we are preparing ourselves to meet it.
We now have global annual production capacity approaching 2 Gigawatts of fuel cells. We believe this is the largest production capacity in the world dedicated to fuel cells for commercial vehicles.
Our brand needs to reflect our tremendous future growth. It should position us as the leader and a reliable long-term partner who will be there as the industry scales and matures.
The new logo: familiar but refreshed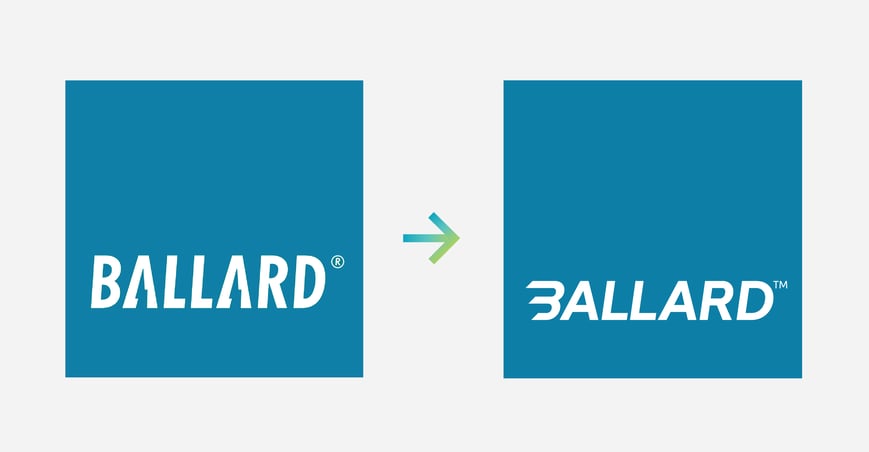 The new logo is still recognizably Ballard. We retain our traditional logo shape and color, which we call "Ballard blue". After 40+ years of building brand equity we did not want to lose any of our brand's power. To reflect our goals, mission, and purpose, the new logo is perpetually in forward motion. It is a visual demonstration of our ability to advance and innovate, while holding to the values that brought us to where we are today.
The tagline: Here for life™

Our new tagline is deceptively simple, but it contains multiple layers of texture and meaning. (This is analogous to our membrane electrode assemblies—MEAs—used in our fuel cells: they are deceptively simple, but are built with layers of complexity.)
It states that we are a global presence, and that we are here for the long haul. That we can be trusted as a long-term partner, through the entire customer journey, before and after the sale.
It has a secondary, equally powerful and inspiring meaning: that Ballard's vision and fuel cell products are here for the life of our planet and its living creatures. Our vision is to deliver fuel cell power for a sustainable planet. Decarbonization is part of our DNA.
Thirdly, our products are designed with long durability and life cycle costs as key design criteria, to match the life cycle of the vehicle.
The Ballard value proposition
Our new branding, which encompasses the logo and tagline and guidelines for using them in every application and media, are all in support of the core Ballard value proposition, which is:
We are experts at PEM fuel cells. You can trust us.


Our products work. They have been designed and validated with the use cases in mind, to achieve high levels of proven reliability, durability, ease of integration, and cost competitiveness.


Our focus is on our customers. Put simply, we have your back. We will drive customer satisfaction through the entire customer lifecycle, including after-sales Customer Care.
We are Here for life™:
We make life easier and better for our customers, employees, stakeholders, and community.


We provide hope for the future.


We help preserve the earth so people can look forward to a future for themselves and future generations.
What do you think?
We're proud and grateful that our legacy logo and tagline, Power to Change the World®, served us and our customers well for many years. Now we're ready to move forward with our new look and tagline Here for life™, and we're excited for you to join us in this new chapter. Discover more at www.ballard.com
Now we'd love to hear from you. What do you think of our new branding? Does it inspire you? How well do you think it represents the Ballard you know?