As GHG emissions from essential trucking applications, such as freight and logistics, increase at a faster rate than any other sector, market-ready solutions for zero-emission trucks are becoming a key priority. For fleet operators looking to decarbonize their operations, the power and range of fuel cells are an attractive option, but efficient vehicle integration is a critical requirement for operators to make a seamless transition.
The zero-emission fuel cell electric vehicles (FCEV) developed by QUANTRON will integrate Ballard fuel cell products for various truck applications in Europe and the US, including for last-mile delivery, tractor units for long-distance haulage, and refuse collection vehicles. Ballard will be the exclusive fuel cell supplier to QUANTRON for these truck platforms.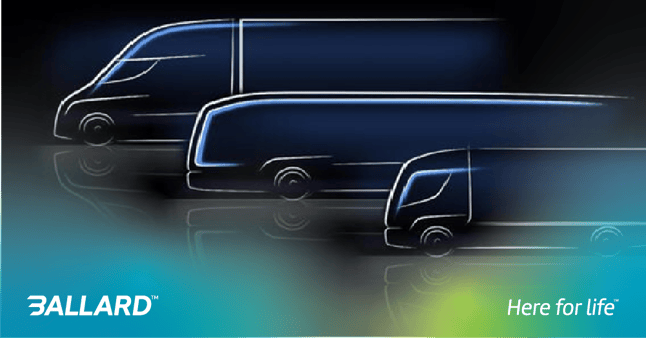 QUANTRON recently launched 'Vision 2025' to build a strong brand DNA and create a unique identity for its vehicles.
Michael Perschke, CEO, QUANTRON AG, and Ballard's Nicolas Pocard, Vice President, Marketing and Strategic Partnerships, met up to discuss the benefits of a vehicle integration expert and leading fuel cell supplier joining forces.
Q: Having worked together for the past year, what do you see as the strengths of the QUANTRON and Ballard partnership?
Michael: I generally think the market is very excited about the partnership between QUANTRON and Ballard. QUANTRON is perceived as an agile and innovative player with a strong pedigree in refitment of commercial vehicles, gained from the Haller Group, while Ballard is widely recognized as a best-of-breed fuel cell supplier based on the company's on-the-road experience. From QUANTRON's perspective, we're now taking our competence in retrofitting zero-emission drivetrains to the next level by applying what we have learned in light commercial vehicles to heavy-duty trucks and, by partnering with Ballard, we're now able to provide a complete solution built around proven Ballard fuel cell capability.
Nicolas: I fully agree. Ballard's core activity is to develop fuel cell engines. We're not a vehicle integrator, but one strength Ballard brings to the collaboration is our deep fuel cell technology knowledge and expertise to help our partner bring fuel cell trucks faster to market.
In addition to the agility Michael mentions, I think the strong technical team Michael and Andreas Haller [Founder and Chairman of the Board] have created in QUANTRON makes for an ideal partnership. Both parties are fully dedicated to advance electromobility, we understand the benefits of hydrogen and how it complements battery electric mobility. This is important as zero-emission capability isn't a battle between batteries and fuel cells – there are cases where battery electric makes 100% sense, and equally, there are cases where you need fuel cell power to avoid compromising the range and payload of your vehicle. QUANTRON understands this very well and is investing in developing the market. For Ballard, this means we have a partner that is ready to mobilize resources quickly to address demand from end-users that need to switch to zero-emission mobility.
Q: How have your customers – current and potential – responded to the partnership?
Michael: I think our customers see a logical connection; two strong and experienced partners, with a solid understanding of customer requirements and what is needed to put a high performing and robust FCEV truck on the road. We've had similar feedback from investors appreciating Ballard coming onboard as an anchor technology investor, adding that extra mile to QUANTRON's journey to become a specialty OEM. By combining our expertise, we're closer to eye-level with the big established OEMs who may not have the same level of technical expertise in fuel cell systems and their integration. I also think it shows that Ballard "walks the talk" by investing in being faster and more agile.
Nicolas: Absolutely, this partnership is about accelerating the adoption of fuel cells and bringing fleets of fuel cell trucks on the road, not just two-five units for a trial. We are not waiting on the sidelines for the market to happen, we are investing in a solution. We can also put this in the context of the investments we're making in product development of larger fuel cells for the heavy-duty market. In parallel, we are also acting on our vision to bring fuel cell vehicles on the road through investment in battery manufacturer Forsee Power and the acquisition of powertrain integration specialist, Ballard Motive Solutions (BMS).
Q: You both mention that speed to market is critical – what can QUANTRON and Ballard offer customers that is different from the established OEMs?
Nicolas: Speed is important as there are few offerings in the market today. Most solutions are battery electric options for lighter vehicles and last-mile deliveries, but when it comes to heavy-duty trucks – or even lighter vehicles for longer distances, long hours, multiple shifts, etc. – there are very few options for fleet operators to choose from as they are looking at decarbonizing their trucks.
Michael: One special feature that QUANTRON brings to the customer is that we offer our customers not only the vehicles, but a complete ecosystem called "QUANTRON as a Service". In cooperation with Ballard, QUANTRON will become a platform for hydrogen solutions and realize the production of green H2 and electricity as well as the distribution of hydrogen via QUANTRON refilling stations for hydrogen and charging solutions for the zero-emission fleet.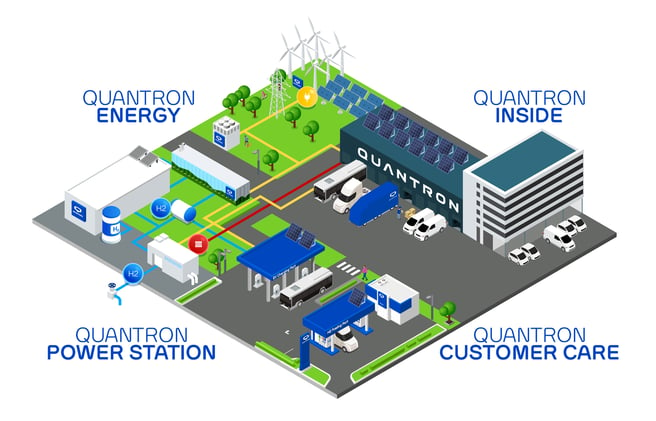 "QUANTRON as a Service"
Q: Which customer groups are the most likely early adopters of FCEV trucks?
Michael: Certain industries and use-cases, such as freight and logistics involving heavy goods, wholesale, and chilled food distribution, are clear examples of applications with a demanding duty cycle that is draining on the battery of electric trucks.
Similarly, applications with challenging topographies and long routes will benefit from the power and longer range of fuel cells. Having said that, I believe the real driving force for early adopters will be companies that want to trailblaze to meet ESG compliance and for whom zero-emissions operations are at the top of their strategic priorities.
Nicolas: "Yes, companies with a strong ESG mandate, such as delivery companies, know their customers don't want a diesel truck to deliver their goods – they want a clean vehicle. These companies have already made a strong commitment to significantly reduce or offset their carbon footprint. Smaller operators that are under pressure to be competitive are likely to still rely on funded or subsidized programs until FCEVs reach volumes that will make them cost comparative to electric alternatives.
Q: What have been the main barriers to adoption of FCEV trucks up to this point?
Michael: For the early adopters, it includes understanding what it takes to become a trailblazer – understanding their zero-emission options, what suits their use-cases (or duty cycles) and setting targets. It is solution-selling, not product-selling. This is another key strength of the QUANTRON and Ballard partnership – both companies understand the importance of helping clients understand where they stand with their CO2 footprint as well as their decarbonization challenges.
Nicolas: When looking at what is slowing down the adoption of hydrogen mobility in heavy- and mid-duty trucks, it should not be defined by the integration of the powertrain, fuel cell, battery, or vehicle integration. Ballard's most recent investments – Forsee, BMS and QUANTRON – all serve the vision to simplify the powertrain integration, lower lifecycle cost, improve vehicle performance, and then bring those products to market faster in a truck, by using the expertise of QUANTRON.
Q: Is the costs of FCEV trucks a barrier?
Nicolas: Today we cannot deny that a fuel cell truck is more expensive than a diesel truck. We're competing with an established and mature industry that is manufacturing hundreds of thousands, if not millions, of vehicles. So, yes, I do think we have a price barrier today.
We're addressing this at the fuel cell level by aggressively driving cost reduction through investment in innovation, and simplifying products by going from multiple stack systems to single-stack design. We try to significantly reduce components and simplify systems as well as industrialize and scale up our manufacturing processes.
Michael: In the meantime, buyers can get some support through the government incentives that are available in certain countries. E.g., in Germany, incentives cover up to 80% of the cost difference between a new fuel cell truck and a diesel truck. This kind of support is essential at this early stage of market development where low volumes compete with the cost of mature technology.
Nicolas: However, as an industry, not just Ballard, we have a really good line of sight on cost reduction. Yes, today fuel cells are more expensive, but the industry is on a path to drive costs down fundamentally. When you look at the bill of material, there is no reason why a fuel cell should be more expensive than a diesel engine whenever we make it at scale. I think that's a very important part of it. We're not depending on a lot of commodities and raw materials which can fluctuate. It's all about product design and performance manufacturing - and the industry knows how to do that well.
Q: Can you give us a glimpse of what is next to come?
Michael: The next exciting step for QUANTRON is to unveil our heavy-duty vehicle at the IAA Transportation event in Hannover, Germany, in September. You can expect to see the first hydrogen vehicles in late spring 2023. As a second step, we are working on realizing the production of green hydrogen and electricity as a platform for hydrogen solutions and offering QUANTRON refuelling stations with zero-emission solutions in the future. We also plan to expand the company globally, starting with the opening of our U.S. office and have further plans for Middle East.
---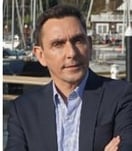 Nicolas Pocard, Vice President of Marketing and Strategic Partnerships, brings more than 20 years of experience in international business development and Marketing to Ballard. Among his responsibilities, Nicolas looks after corporate market strategy, marketing activities, government relations, and strategic partnerships for Ballard. Nicolas is the Chair of the Board of the Canadian Hydrogen and Fuel Cell Association (CHFCA) and board member of Forsee Power.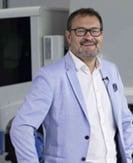 Michael Perschke has been CEO of QUANTRON AG since September 2021 and is focused on developing QUANTRON as a manufacturer, while expanding the company's investor network in North American and Asian markets. Michael has many years of international expertise with leading automotive companies, holding senior directorship roles with Audi AG, Audi India, and Volkswagen Group – as well as founding luxury electric vehicle manufacturer Automobili Pininfarina.