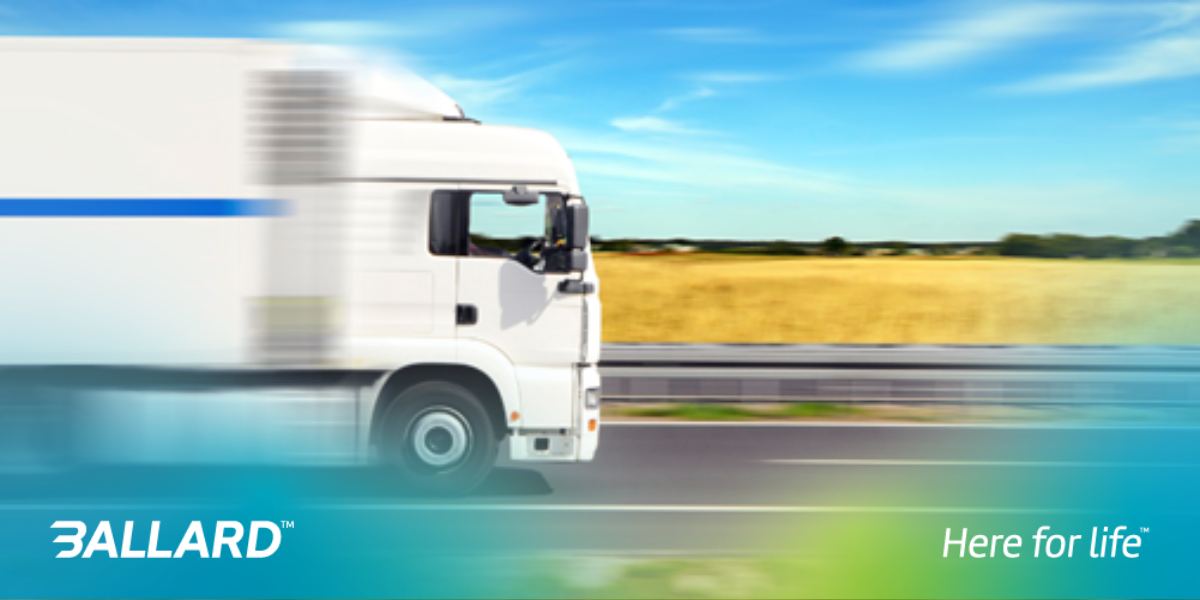 The transportation sector accounts for roughly 37% of global CO₂ emissions. As a significant emissions contributor within this space, freight and long-haul transport is among the most obvious sectors to decarbonize – yet it is one of the hardest to abate. Demanding duty cycles and long driving ranges at highway speed make heavy-duty trucks ideal candidates for zero-emission fuel cells but the roadmap for technology availability and vehicle deployment requires alignment.
Having fronted several field and pilot studies, Ballard Motive Solutions' Richard Kemp-Harper, strategy director, and Michael Ward, head of projects, strategy, share key learnings and recommendations from recent UK and Scottish Government studies. To learn more, download the Scottish Hydrogen Freight Trial Feasibility Study here.
Hydrogen fuel cell technology is seen as an important zero-emission propulsion system for numerous medium- and heavy-duty applications.
Much greater energy density than present battery technology enables fuel cell electric vehicles (FCEV) to go further, carry more and sustain a higher average speed than battery electric vehicle (BEV) equivalents. The operational benefits of hydrogen refuelling and fuel storage mean greater scalability and much less vehicle downtime. These differentiators become increasingly apparent when the vehicle application increases in weight, range and/or average speed as well as vehicle availability. Long-haul 44t freight is the obvious high-volume market where the advantages of FCEV are greatest for typical daily duty cycles. But as well as long-haul freight, there are numerous other vehicle applications, with demanding daily duty cycles where hydrogen has significant advantages.
The challenge for the industry is to identify suitable truck applications and develop a roadmap for turning this theory into reality.
Ballard Motive Solutions has led feasibility projects for the UK's Department for Transport (DfT) and Scottish Enterprise to investigate the feasibility of developing and deploying 18, 26, 40 & 44t FCEV medium- and heavy-duty vehicles for a range of uses and duty cycles. Detailed modelling and design exercises for key operations have provided useful insights to inform the roadmap:
Medium- and heavy-duty vehicles require continuous average traction power of 200-300kW to run at motorway speeds and represent the most demanding applications for both power and energy.
There are a range of other applications for both medium- and heavy-duty trucks where the average traction power is significantly lower, but daily total energy and other duty cycle demands are still high.
To carry out a typical daily long-haul duty cycle, 70-80kg of hydrogen is required, probably requiring 700bar or liquid hydrogen storage and refuelling.
The supply chain is still developing components for heavy-duty vehicles, still working towards the requirements of the heaviest vehicles. This includes fuel cells, multi-speed integrated e-axles and power electronics.
700bar refuelling infrastructure for large volume hydrogen storage is not yet available. Similarly liquid hydrogen vessels, supply and infrastructure are not yet mature and not available in the UK.
The major vehicle OEMs are taking a low-risk approach, developing vehicles for the latter end of the decade. New OEMs are investing in vehicle development presently, however predominantly in Europe for the right-hand-drive/40t market. New UK-based OEMs have so far developed FCEV vehicles as a battery range extender on medium-duty vehicles.
As heavy-duty hydrogen vehicles are entering the market, applications with greater weight, range and/or average speed required for their duty cycle are the greatest challenge.
However, applications with a medium weight and lower average speeds can be achieved with current technology and deployed soon. As technology and infrastructure improves, we would generally expect to see the following in the UK: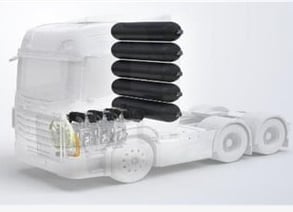 Ballard is aligned to this UK roadmap through our product development pipeline.
FCmove™-HD (70kW) and FCmove™-HD+ (100kW) are available and in vehicles now, including a large number of buses in the UK. The roadmap includes fuel cells of increasing power up to 380kW for the heaviest vehicles. Our FCmove™ product line is also aligned to the other aspects of the vehicle, infrastructure, and supply chain readiness.
In development, is the new FCmove™-XD, which is based on a new platform that will be tailored to the demands of heavy-duty truck applications. This is a multi-year development program that will see the platform being continuously refined to become the ultimate heavy-duty, high-speed product.
The near-term focus for deployment of zero-emission trucks in the UK should align with the technology roadmap for the range of components.
Public transport and municipal vehicle markets present a significant opportunity for both BEV and FCEV, and benefits would be highly visible. Being a public sector service, the government has greater ability to influence and show commitment to net-zero targets which many local authorities have set for the end of the decade. The technology to introduce either BEV or FCEV for these types of vehicles is available now, and each deployment should be carefully appraised to select the correct technology. Uptake of FCEV now in these easy-to-reach segments will support the longer-held ambition of zero-emission long-haul freight and contribute significantly to the decarbonization of the transportation sector.
---
Article Contributors: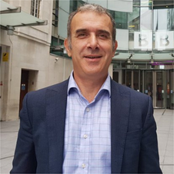 Richard Kemp-Harper
Director of Strategy, BMS
Richard has extensive experience in the development and implementation of innovation strategies at national and sector levels, including leading the UK funding programs for hydrogen and fuel cells for InnovateUK. He brings knowledge and connections in both transport and energy sectors and leads business and partnership development across all areas of BMS' work.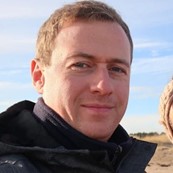 Michael Ward
Head of Projects, Strategy, BMS
With more than a decade of experience in senior engineering roles, Michael joined BMS as head of projects, strategy, in November 2021. Focused on hydrogen-powered heavy-duty fleets, projects have involved zero-emission wholesale logistics, analysis and deployment planning, and national freight trial feasibility.