Market demand for zero-emission commercial vehicles is strong and growing, driven by policies that target the year 2030 and beyond. According to a recent McKinsey report, emissions reductions must focus on heavy-duty vehicles to be truly effective.
As a global leader in zero-emission vehicle technologies, Ballard is devoting tremendous efforts to developing and refining hydrogen fuel cell solutions for commercial trucks.
This blog provides a sneak-peek preview of our Concept Engine for long-haul trucks, which we are developing in partnership with the MAHLE Group, a Tier 1 automotive industry supplier and technology pioneer.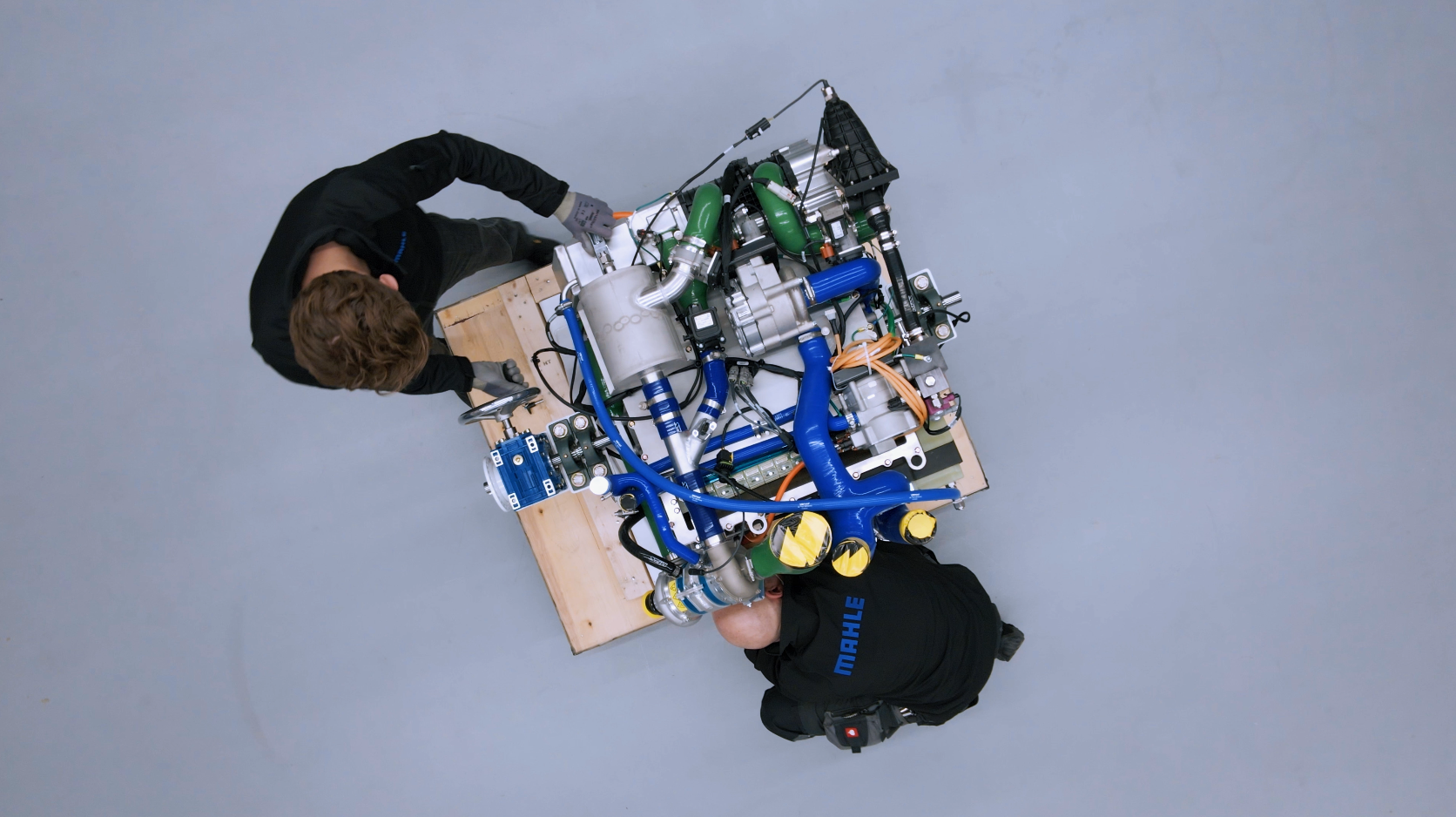 MAHLE engineers with Ballard's FCmove™-XD FC engine
Battery vs. fuel cell electric powertrains: comparing efficiency, scalability and practicality
At first glance, battery electric powertrains have higher energy efficiency than hydrogen fuel cells. A better true comparison considers factors such as fuel sources, refueling, power, range, and total cost of ownership (TCO).
Consider the source of the renewable energy as well as the load factor which includes the possible curtailment due to demand or grid throughput shortage. If the lost renewable energy is used instead to produce renewable hydrogen, the systemic output is higher than in any single-technology world.
When fleets of heavy-duty vehicles rely on the local power grid for recharging and as the number of charging stations grows, will the grid's reliability suffer? What will be the costs to enhance entire grids?
Green hydrogen is a carrier and storage for renewable energy but also a low carbon fuel for heavy transportation. It will complement energy delivered by the grid in order to meet growing demand for zero emission vehicles.
Battery-powered electric vehicles could be limited in range, especially when faced with heavy payloads, steep hills and extreme temperatures. They also require significant recharging time. Battery-powered electric trucks will require driving and delivery schedule modifications to accommodate recharging breaks and commercial roadways will have to find the space for recharging stations sufficient for charging numerous simultaneous heavy-duty trucks.
Fuel cell vehicles, on the other hand, have longer range and consistent power delivery through the duty cycle, in heat and cold. They can be refueled in minutes, at compact fueling stations.
In a zero-emission fleet, battery electric and fuel cell electric will each have their place, working together to enable a faster, more comprehensive, and more affordable transition to net-zero.
Ballard's strategy for heavy-duty mobility
From the logistics sector, demand is strong for zero-emission vehicles that require no compromise to operations. While several manufacturers have development projects underway to meet the challenges of zero-emission heavy-duty powertrains, none have released a fully commercial product.
We at Ballard are actively working on heavy-duty mobility solutions, through a three-pillar approach:
Investing in R&D to improve our product performance and reduce life cycle costs
Partnering with industry leaders like MAHLE to industrialize fuel cell engines
Through the acquisition of Arcola Energy (now Ballard Motive Solutions), and through investing in battery company Forsee Power, we are accelerating powertrain optimization and supporting new fuel cell vehicle platform development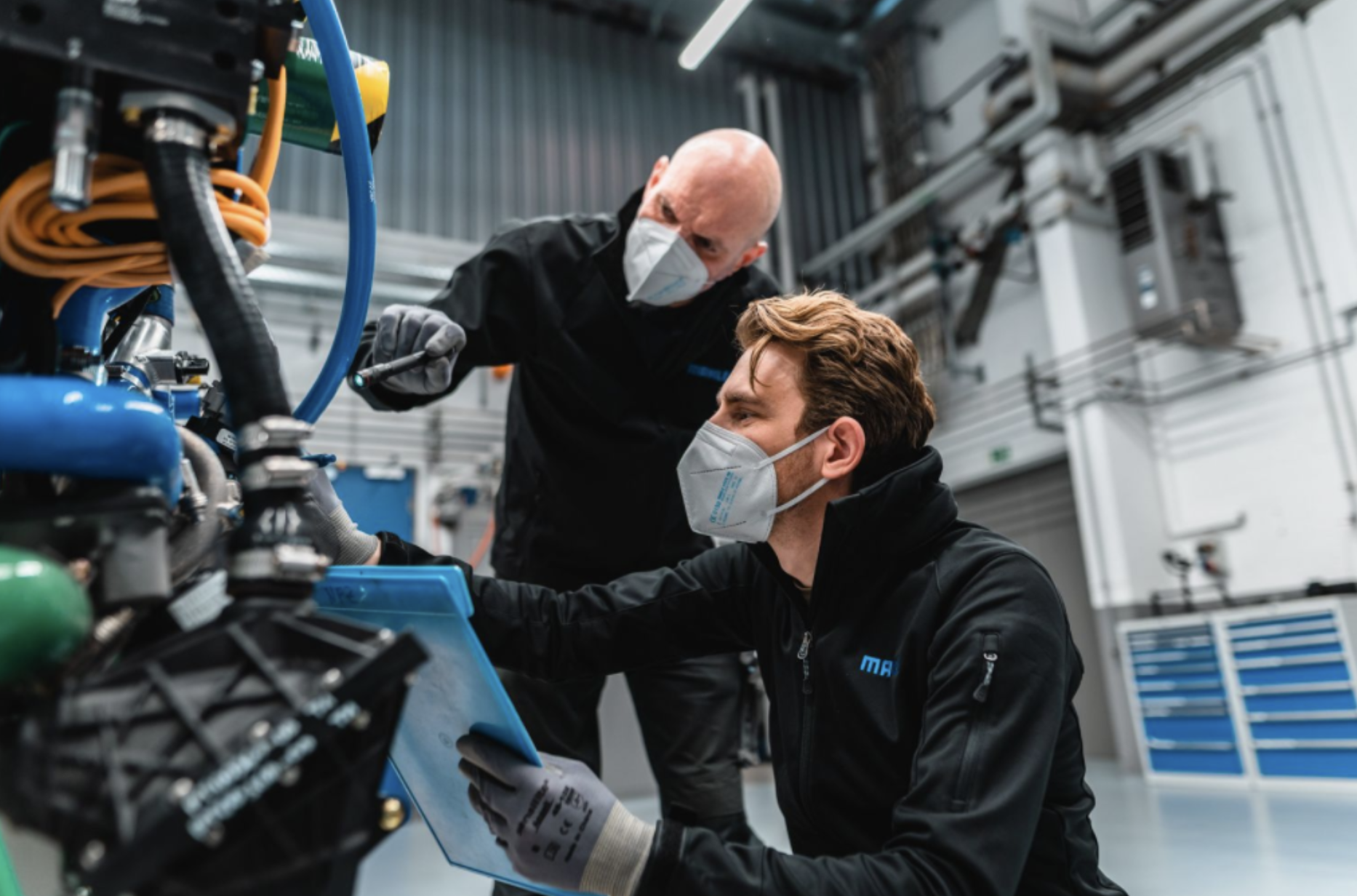 MAHLE engineers preparing Ballard's Fuel Cell engine for the next phase. (Courtesy of MAHLE)
Collaborating with MAHLE on the Concept Engine
Our latest platform for the medium-duty truck and bus market is the FCmove-HD+ (100 kW) FC engine, launched in September 2021.
To develop our future product platform, with a power output from 180kW to 360kW, we have partnered with MAHLE specifically to address requirements of heavy duty and long haul trucks. With our combined expertise and experience, we intend to ensure that fuel cells will be the lowest-cost solution for heavy duty trucks within ten years.
The first milestone achievement of this joint project is the delivery of this 120kW fuel cell module for our concept engine to the MAHLE team in Stuttgart.
A Compact, Energy-Dense Fuel Cell Stack and an Integrated Engine
Because long-haul heavy duty trucks typically have limited engine space—and to maximize freight and cargo capacity—we developed a compact, energy dense stack and an integrated engine. The FCgen™-HPS Fuel Cell stack used in the concept module was based on earlier passenger car designs, which featured high power density in limited space.
The concept module also draws on our years of experience in bus and truck powertrains—which are in use globally, with over 100 million kms in service. Our designs have proven durability—our fuel cell life has exceeded 30,000 hours in vehicle operation —thanks to our carbon bipolar plates and proprietary MEAs specifically designed for heavy-duty applications.
The Concept Engine is the central building block, which MAHLE will now test and integrate with their components, including the balance-of-plant, thermal management and power electronics, and the system assembly. The joint project between Ballard and MAHLE is a multi-year development program, in which our teams will continue maturing and refining the products to meet the quality and performance expectations of the truck industry.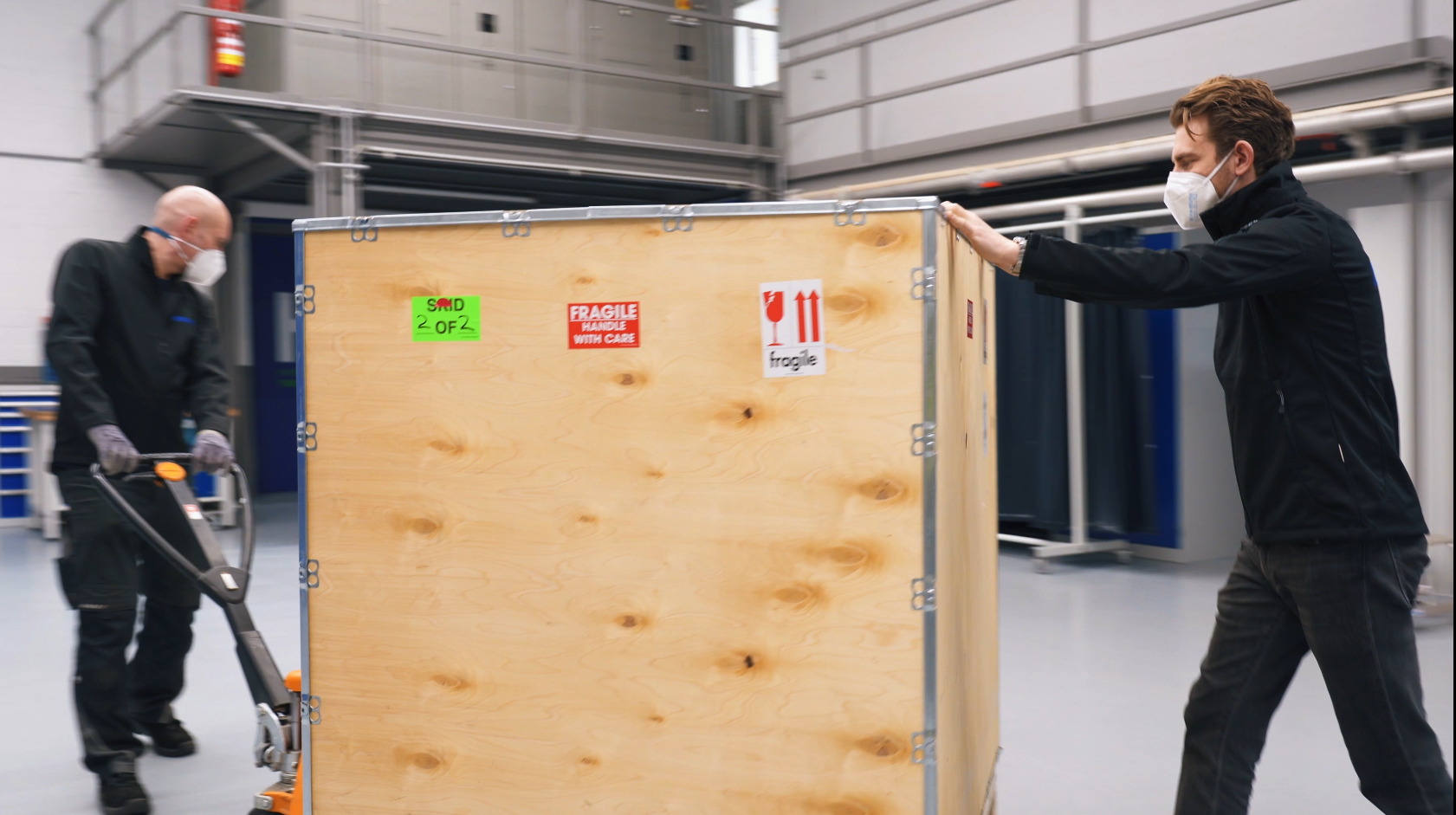 MAHLE engineers transporting the Concept Engine
Concept Engine: Designed for Heavy-Duty Vehicles
High Power for Heavy Payloads: the 120kW module is a building block for systems that can deliver up to 240kW power, to serve the needs of heavy Class 8 and long-haul freight trucks and coaches that require more power and longer range than transit buses or short-range delivery vehicles.

Easier Maintenance for Lower TCO: the module design features reduced weight, fewer parts and a more compact design. A key new feature, the "Open Engine Concept Design", provides better access to parts and the subsystem, for easier maintenance and ultimately, a lower total life cycle cost.

Robust, Reliable Design: For long-haul trucks delivering critical goods, reliability and robustness are essential—and the Concept Engine's reduced parts count and simplified integration design are key factors in dependable long-term performance.

Durability you can Trust: The Concept Engine is based on field-proven technologies and designs, and our vast experience in heavy-duty transport.

Fuel Efficiency for Economical Operation: Fuel costs are a major component of a Class 8 truck's TCO. Fuel efficiency is also key for a manageable heat rejection system.

Freeze Start for Cold Weather: Because commercial trucks have to power up and deliver the goods, even in midwinter in the worst mountain roads.
What's Next For Zero-Emission Trucking?
Across the industry, the transition to zero-emission powertrains is moving at unprecedented speed. We at Ballard are serving the early adopters who are leading the shift to hydrogen fuel cell power for heavy-duty trucks. By the end of the decade, experts project that the sector's transition will be well underway.
While we focus on the fuel cell engines and powertrain integration, the industry is making progress on reducing fueling costs and improving the hydrogen infrastructure, which will cause major reductions in total cost of ownership and help accelerate adoption.
We are committed to product leadership, and to tailoring our fuel cell solution to our customers' needs. We are extremely optimistic about the value of our collaboration with MAHLE—combining their strength in the automotive value chain with our leadership in hydrogen fuel cell technology and products.