For the freight industry, change is coming: it's rolling down the road and gaining speed every day. That change is zero-emission trucks.
As freight transportation is expected to increase 40% by 2050, the move toward cleaner trucking is being accelerated by government regulations and consumer pressure, with some manufacturers making significant investments.
For heavy transport applications, there is growing consensus that the most suitable powertrain is hydrogen fuel cell electric.
Fuel cells deliver the range, payload capacity, refuel time and all-weather performance that commercial trucking needs.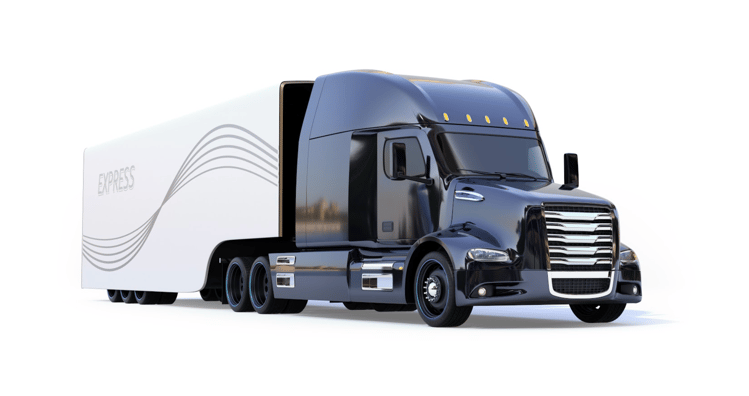 Although pressure on the industry is increasing, many transport operators and vehicle OEMs are finding it difficult to make the first steps.
They know that the transition to zero-emission fleets is inevitable, but they want the changeover to be efficient, smooth, and cost-effective, and they're not sure where to begin.
So in this article, we'll help bridge that gap by outlining Ballard's roadmap to zero-emission freight transport for truck operators and vehicle OEMs.
Fuel cells: the high-performance option for commercial trucking
Among the zero-emissions alternatives, only hydrogen fuel cells offer enough power, range, payload performance, and refueling speed to compare with diesel:
Climbing power and highway speed: Only fuel cell trucks can sustain highway speed for long periods and climb mountains with uncompromised performance. Battery electric trucks just don't compare.
Long range: Fuel cell trucks can travel hundreds of miles between refueling—about double the range of battery electric trucks. The difference is even more striking with heavier payloads.
Payload that compares to diesel: Fuel cell heavy-duty trucks have almost the same payload as diesel trucks, and in some cases are direct route-for-route replacements. Battery electric truck payloads may be 30% less than diesel for a heavy duty (class 8) truck.
Refueling takes minutes: Fuel cell trucks are refueled in less than 12 minutes, compared to two to five hours to recharge an electric truck battery.



Fuel cell trucks are especially well suited to long-haul trucking, long duty cycles and for heavyweight cargo like beverage trucks and drayage trucks.
This includes medium to heavy duty (class 4 to 8) vehicles more than 200 miles/350km per day.
The time to start the transition is now
While we're in an earlier phase, the transition to zero-emission truck fleets has definitely begun.
Truck emission regulations are now in place in Europe and China, and are being developed in California. OEMs and operators are under pressure to change out their diesel powertrains.
Fuel cells are an established, mature zero-emissions technology for heavy duty powertrains and their value for truck applications is being recognized with growing investments by companies such as Daimler Truck, Volvo, Nikola, Bosch, Cummins and Weichai.
It's clear that hydrogen will be a key player in the decarbonization of the heavy-duty transportation sector (which is more difficult to abate than light duty vehicles, where most use cases are a good match for batteries since they require lower range and utilization.)
Furthermore, the cost of low-carbon hydrogen has been dropping year after year, driven by the current low cost of renewable energy and the emergence of carbon capture technology.
Ballard-powered trucks are on the road today
For OEMs and transport operators, Ballard is the fuel cell technology partner with global experience. Over 2,000 Ballard-powered fuel cell trucks have been deployed in China since 2018.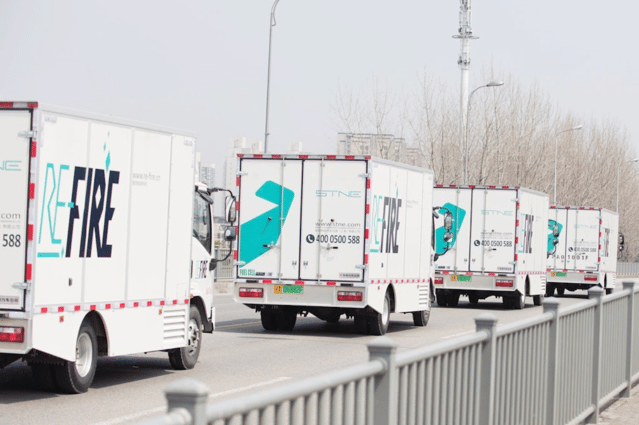 Commercial Trucks in China powered by Ballard Fuel Cells
These are the world's largest operating fleets of fuel cell powered commercial vehicles.
To date, commercial trucks and buses with Ballard fuel cell technology inside have travelled more than 30 million kilometres and one million operating hours on the road.
Ballard has the product roadmap to get you there faster
At Ballard, we're continually improving our technologies.
Over the years, we've significantly reduced the lifecycle cost of our fuel cells while improving performance, and our product roadmap is designed to make our products more accessible to truck operators and OEMs.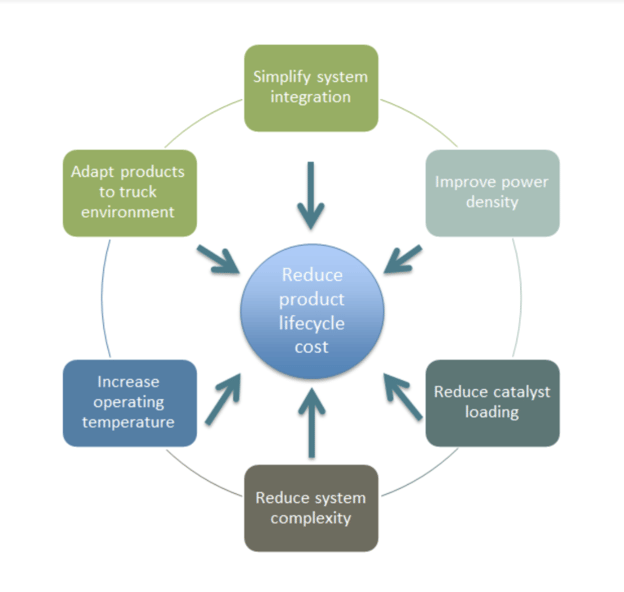 Our fuel cell products must meet strict technical and performance truck requirements, with:
High power density to fit in tight engine spaces: Ballard stack technology can deliver more than 4kW/L.
High durability: we've already proven our stack lifetime, exceeding 30,000 hours in bus operation.
Low lifecycle cost to deliver an affordable vehicle: annual maintenance costs for fuel cell systems not exceeding diesel engine and refurbishing of the fuel cell stack.
Easy vehicle integration: we provide "engine bay" or "rooftop" flexible configurations.
Higher operating temperatures minimize radiator size requirements.
Because different vehicles have different power requirements based on their size and usage, Ballard is committed to offering a complete range of fuel cell product configurations and sizes, from 45kW to 400kW over the next few years.
We've already launched the first product of our new FCmove™ platform with a 70kW version. We'll be making new product release announcements in the coming months.
We are committed to the freight transport industry
Ballard is a long-term partner, with a commitment to assisting freight operators and OEMs adopt fuel cell technology. We:
Continually invest in product and technology development to improve performance and reduce both initial costs and total cost of operation of fuel cell trucks. And costs are trending downward. According to a 2020 Deloitte-Ballard report that explores medium and heavy duty trucks:
"In less than 10 years, it will become cheaper to run a fuel cell electric vehicle than it is to run a battery electric vehicle or an internal combustion engine vehicle for certain commercial applications."
Seek new industrial partnerships to accelerate the industrialization and cost reduction of fuel cell engines.
Engage in pilot fleet deployments by working with industry partners across the hydrogen eco-system to foster deployment of fuel cell electric trucks for early applications such as garbage collection, regional delivery, and drayage trucks.
Develop new business offerings such as "vehicle as a service" for truck fleet operators that include the vehicle, hydrogen fuel, and financing options to reduce adoption risks.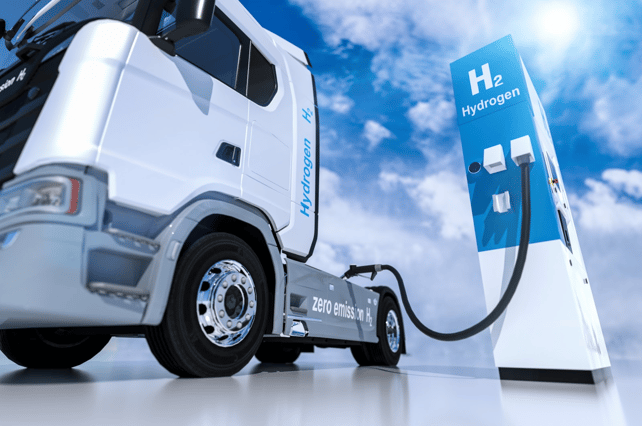 Meeting the remaining challenges to widespread adoption
To expedite the widespread deployment of fuel cell trucks, some cost and infrastructure factors still need to be addressed—but efforts are underway:
Cost and availability of hydrogen must improve to reach $5/kg at the pump in order to reach parity with diesel.
The overall powertrain integration of trucks must be further addressed to reduce the number of subsystems including cooling, power conversion, and controllers.
Costs must continue to drop for fuel cell systems and on-board hydrogen storage to achieve parity with incumbent diesel powertrains.
Today's leaders are creating change
The world is finally making its move toward clean energy—with governments, and some automotive companies leading the way.
At Ballard, we believe that fuel cells offer the cleanest, best-performing alternative to diesel power for trucking and we are developing a range of high performance durable fuel cell systems to meet the industry requirements.
For a forward-looking OEM or fleet operator, we have the technology, the expertise, the intellectual property, and the road experience to make fuel cell trucks cleaner, more accessible and more affordable.
Our product road map uses standard technology building blocks to serve a variety of transport applications in order to enable the widespread adoption of fuel cell based zero emission mobility.