Jurisdictions around the world are increasingly developing zero-emissions guidelines. Policymakers, along with the public, are demanding cleaner air, and more viable solutions to climate change.
A key area of contention is the use of diesel-powered vehicles. This includes the use of shunting locomotives in rail yards.
Why?
There are thousands of diesel locomotives operating in rail yards around the world. They account for about five percent of all rail emissions, but have a disproportionate impact on air quality and health risks in the communities surrounding large urban railyards.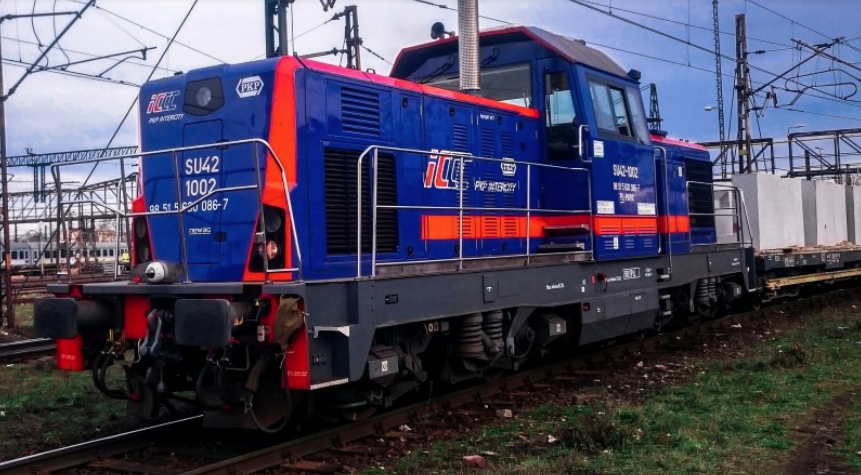 Diesel-powered shunting locomotive. Image source: wikimedia commons
These communities are subject to a high concentration of diesel particulates and nitrogen oxides. Line-haul locomotives also emit these toxins over much larger areas. Furthermore, some of the world's shunting trains are 40 years old and will have to be replaced in the coming years.
So communities and local governments are now looking at how they can evolve to embrace new zero-emission technologies and replace them with cleaner propulsion.
What Exactly is a Shunting Locomotive?
A shunting locomotive, switcher, shunter, yard pilot, switch engine, shifter or yard goat – all are terms used to describe the same vehicle. Shunters are the rail industry's equivalent of tugboats.
They're job specific, relatively low-powered with high torque requirements intended for:
assembling trains ready for a road locomotive to take over,
disassembling a train that has been brought in, and
generally moving rail cars around the yard.
Shunters are designed to get heavy cars rolling quickly - the process usually known as switching (North America) or shunting (UK).
These rail yards are located near the hearts of most port cities or at the crossroads of major rail distribution hubs. This also happens to be the centre of most cities and nearby high-density populations.
What Zero-Emission Solutions Are Available to Reduce Air Pollution in These Communities?
The three zero-emission propulsion options up for consideration are electric, battery and hydrogen fuel cell.
Some communities initially consider powering their shunting locomotives with electricity from the grid. Electric engines are well suited for low power with high torque applications. But when the installation cost of electrifying an entire rail yard with overhead catenary infrastructure gets factored in, this solution almost becomes cost prohibitive.
Battery power is another option, but their systems' recharging requirements limit the availability of the locomotive significantly. This negatively impacts the locomotive's on-the-job performance.
A third option showing real promise is propulsion using zero-emission hydrogen fuel cells.
(Related post: Hydrail: The World is Ready and New Progress Proves It)
How Do Hydrogen Fuel Cell Systems Work in Locomotive Applications?
Fuel cells generate electricity from hydrogen and the emissions generated are water vapour and heat. The electricity is stored in batteries or fed directly into a locomotive's high voltage propulsion systems. The shunting locomotives are refuelled with hydrogen using on-site refilling stations – the only additional infrastructure element needed.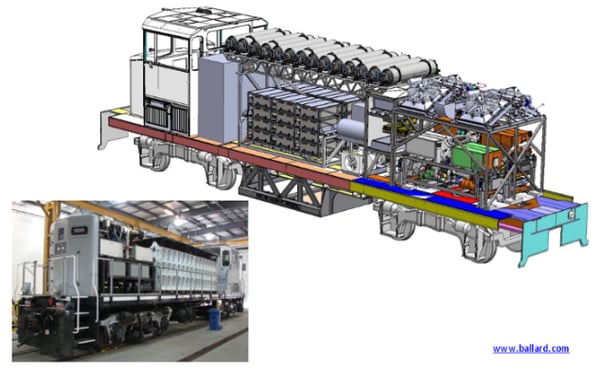 The fuel cell shunters replace diesel powered ones in a 1:1 relationship. The same range and running times for diesel-powered trains apply to their fuel cell replacements.
The difference?
Fuel cell powered trains deliver all the propulsion needed without generating carbon emissions or disruptive engine noise. Fuel cells are solid state devices with no moving parts.
How Are Hydrogen Fuel Cells Being Used in Rail Applications Now?
Hydrogen fuel cell technology is mature and has been used for years in various applications around the world, including in:
Transit buses
Heavy duty trucks
Material handling equipment
Trains
(Related post: High-Tech Hydrogen Trains Are Revolutionizing Mass Transit)
Because of its proven capabilities, there is increasing focus on applying the technology to trains of all types, including shunt locomotives. Using fuel cell shunt locomotives in urban railyards can also prevent illnesses resulting from diesel emissions.
Here are some exciting recent developments:
In Latvia, Ballard and Latvian Railways completed an engineering study to analyze the typical drive cycle of a shunting locomotive in operation. The study shows that a fuel cell/battery hybrid propulsion solution is technically feasible in meeting all operational, space and weight requirements. Enough hydrogen can be stored on board to provide one full day of operation, with one refilling a day.
In California, Ballard and BNSF tested a 250kW fuel cell power module in a hybrid hydrogen shunting locomotive. The study concluded that a fuel cell hybrid shunt locomotive is a viable solution for operation in the LA metro area. The fuel cell shunter combines the environmental advantages of an electric locomotive with the lower infrastructure costs of a diesel-electric locomotive. It also emits very little acoustic noise.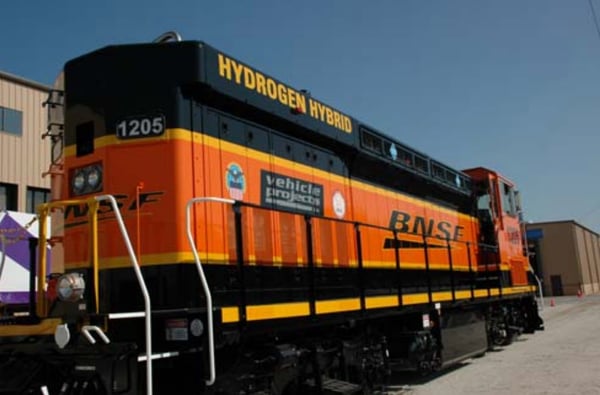 BNSF Fuel Cell Shunting Locomotive, powered by Ballard fuel cells
Conclusion
To help tackle climate change and improve air quality in our communities, rail yards must switch to zero-emission solutions. Hydrogen powered trains are the most viable shunting option from both an operational and financial standpoint. Those who make the switch will benefit from healthier communities, and the world will benefit from fewer climate-altering emissions.
Next Step:
Download the presentation below to learn how Ballard is adapting its leading fuel cell technologies to various rail applications around the world.