For producers of renewable power, the primary challenge is meeting user demand—which requires consistent, predictable patterns—with power from intermittent and, some would say, unpredictable sources. Wind power depends on weather patterns. Solar power is impacted by cloud cover and seasonal shifts in daylight.
As producers well know, renewable power generation will range from surplus to insufficient, sometimes in the same day. Reliable, stable and long-term energy storage is the solution: store the surplus energy at times of peak production, and distribute it at times of peak demand.
The math just makes sense.
Rechargeable batteries are commonly used for renewable energy storage. However, batteries are only viable for short-term storage. For longer storage—from overnight to seasonal—the best solution is hydrogen supported by fuel cells.
The hydrogen is produced by electrolysis using low cost renewable surplus electricity, then stored, and then converted back to electricity using fuel cells—a zero emission and time proven process. The result is reliable, stable, energy at grid scale.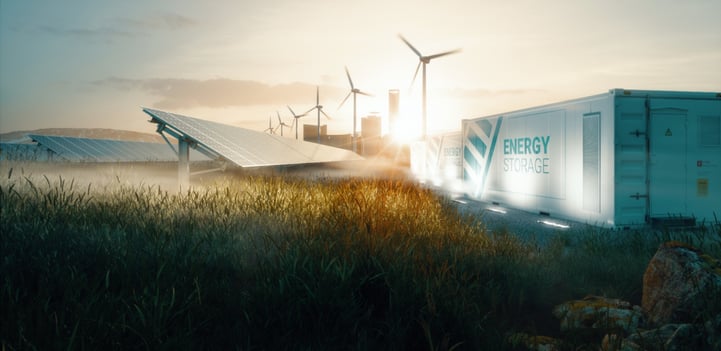 The need for a stable grid
Every power producer is aware of the challenges of providing a stable, balanced energy grid.
Fossil-fuel-based systems have the ability to scale production to meet demand. Some renewable-based power systems have relied on diesel and other fossil fuels at times of peak demand or weaker generation. However, the demand for today and the future is for true zero-emission power.
Rechargeable batteries are insufficient for long-term power
Lithium-ion batteries, the storage technology in most current zero-emission systems, are charged by surplus power in times of peak production, and discharged when production is low or consumption is high.
For grid-level power, lithium-ion batteries present a long list of shortcomings:
Short-term storage: Most battery-based solutions store energy from one to four hours. Longer-lasting solutions (12+ hours) are not cost-effective.
Limited battery life: Batteries last for a finite number of recharge cycles, and their life is shorter in cold weather use.
Overheating risk: The risks are seen when operating temperatures are high, and when batteries are charged in freezing temperatures.
Environmental concerns of lithium: Production of lithium batteries is energy intense with a high carbon footprint, and the disposal of such batteries is an environmental concern. Lithium at a large scale is associated with resource depletion, global warming, ecological toxicity, and human health impacts.
Hydrogen fuel cells: Enabling long-term zero-emission renewable energy storage
(Click image to enlarge)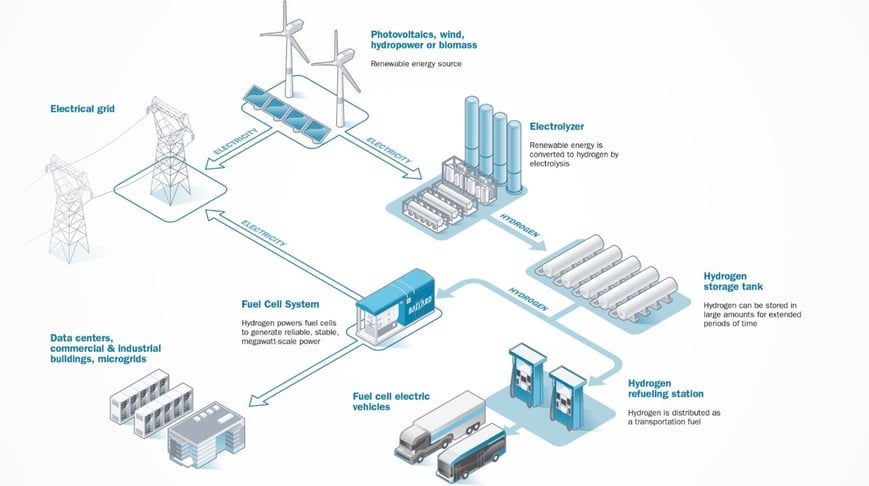 "Green" hydrogen, as it is called, is produced by electrolysis, using renewable electricity. PEM (proton exchange membrane) electrolyzers, which are onsite at the wind/solar power facility, split water molecules into hydrogen and oxygen. The hydrogen is stored in tanks until the power is needed. The hydrogen then powers fuel cells to generate megawatt-scale power—enough reliable, stable, zero-emission energy to power a building, facility, or regional grid.
Green hydrogen can even be stored seasonally: from the summer, when sunlight is plentiful, until the winter season, when days are shorter and darker.
A grid-scale hydrogen fuel cell solution has a far smaller footprint than a battery storage facility of comparable scale, and hydrogen fuel cells require none of the toxic chemicals associated with the manufacture of lithium-ion batteries.
And, for hydrogen fuel cells, a comprehensive recycling/refurbishing infrastructure is in place. Ballard refurbishes fuel cell stacks, with maximum re-use of components and as much as 95% recovery of the platinum in the PEMs.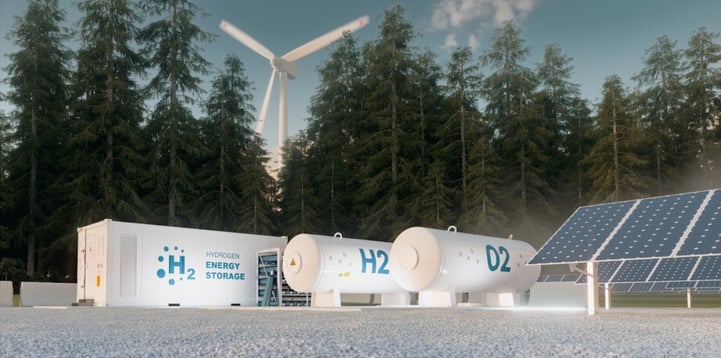 The future is now: Large scale, economical hydrogen production
We at Ballard see exponential growth in the market for megawatt stationary fuel cell solutions. Enormous amounts of surplus green electricity are becoming available with the massive commissioning of large-scale solar and wind projects.
As these installations adopt hydrogen fuel cell solutions of up to hundreds of megawatts, we expect the Levelized Cost of Energy (LCOE) generated from hydrogen-based power-to-power (P2P) to reach parity with the current costs of alternatives, including batteries. That's an amazing statement to make.
These systems, with an integrated architecture of renewable power, electrolysis, hydrogen storage, and a fuel cell system will reduce energy costs and improve grid stability and resiliency. They will increase the penetration of renewable energy, and provide greater energy independence for power providers while increasing energy security for countries that rely on foreign energy sources.
At Ballard, we have the expertise and technology to support energy producers in transitioning to megawatt fuel cell power generation. Ballard isn't new to stationary system development and deployment. New customers will benefit from our experience with the one megawatt ClearGen™ system that successfully operated to provide peak power at Toyota's Torrance California campus starting in 2013. (The system is no longer in operation as Toyota has since relocated their campus away from Torrance, California.)
Underway: Ballard and HDF Energy multi-megawatt systems
A new generation of multi-megawatt power system is currently under development, through a partnership between Ballard Power Systems and HDF Energy.
The Renewstable® power plant is a multi-megawatt baseload power system enabling large-scale storage of intermittent renewable wind or solar energy in the form of hydrogen—through the process of electrolysis—as well as electricity generation using that hydrogen feedstock together with Ballard's fuel cell system.
(Click image to enlarge)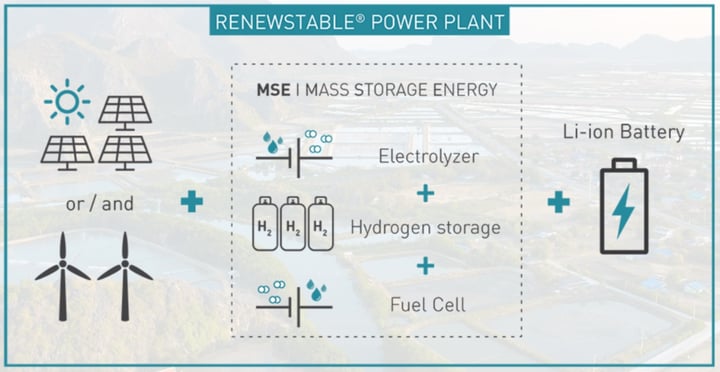 Phase 1 of the project involves the design, building, and delivery of containerized stationary PEM fuel cell systems totaling three megawatts of power, based on our new high-durability FCgen®-LCS fuel cell stack.
Phase 2 will be a technology transfer, which will allow HDF to assemble the fuel cell systems and support global sales of their Renewstable® power plants.
The first installation, in French Guiana, will be the industry's first 90MWh hydrogen-based energy storage system. This landmark system will be completed under the Centrale Electricité de l'Ouest Guyanais (CEOG) project.
Another Ballard-powered one-megawatt system is currently in use in Martinique. Electricity generated by this system is sent to the Martinique electrical grid, supporting an energy diversification strategy.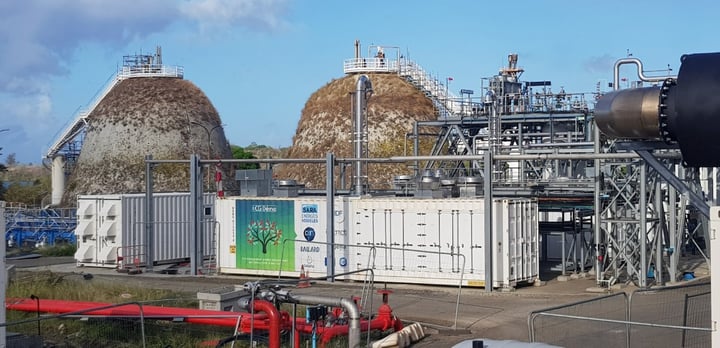 Ballard's experience and fuel cell technology expertise
The HDF stationary systems will be powered by Ballard's latest generation fuel cell stack, the FCgen®-LCS.
The FCgen®-LCS stack was developed for very demanding heavy-duty motive applications, and it's been well proven on the road. Now we're bringing that high performance fuel cell stack to stationary applications. Customers can expect that same long life, high durability, and reliable performance.

Scaling our production capacity to 1.6GW by the end of 2021
Because the FCgen®-LCS fuel cell stack is being used across multiple product lines, we can take advantage of economies of scale to drive down cost. We expect growth in the demand for fuel cell stacks to power both commercial vehicle applications and megawatt-scale stationary systems.
This is one of the reasons we've expanded our MEA production capacity. Ballard's Vancouver, British Columbia facility is already one of the largest fuel cell MEA production operations in the world. Now, we are expanding our capacity for fuel cell stacks and assembly of complete modules by a factor of 6-times.
Reducing our fuel cell stack cost by 70%
With this scale-up in production (and planned additional product innovations), Ballard anticipates a 70% reduction in stack cost.
According to a study published by McKinsey and Ballard, production of fuel cell stacks and balance of plant components to multiple markets from heavy duty mobility to megawatt stationary systems will have a stacking effect to grow volume and drive cost down faster.
Hydrogen fuel cells: the solution for true zero-emission power at grid scale
For renewable power producers, the key to maximizing return on investment is delivering the consistency of power that users demand, with independence from the vagaries of wind and sunlight. For long-lasting, long-term energy storage and clean, stable power, hydrogen fuel cells are the answer.
Ballard is here to facilitate the transition to megawatt hydrogen storage, by providing affordable, reliable, zero-emission fuel cell power generation products to energy producers around the globe.