It's time for cities to get serious about vehicle emissions. Forward-thinking government policymakers know they must develop plans for zero-emission initiatives and subsidy programs.
But it's increasingly essential to look beyond tailpipe emissions. Governments must now consider the entire product lifecycle of electric vehicle powertrains. And zero-emission technology suppliers need to be transparent about the total environmental impacts of their products.
In this blog, we'll share Ballard's approach to total lifecycle sustainability, including waste and energy reduction, and our "Mission Carbon Zero" initiative.

Why the Complete Lifecycle Matters for Zero-Emission Vehicles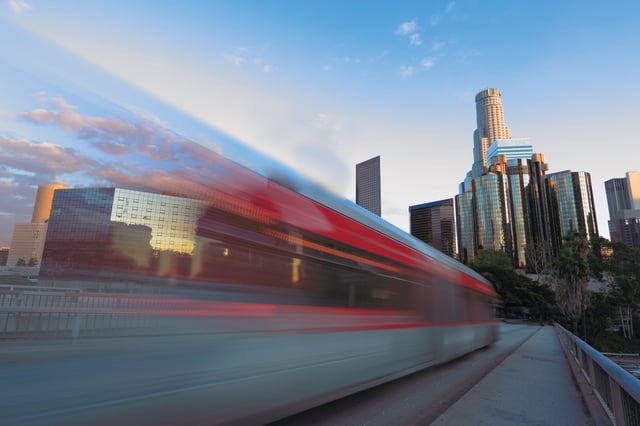 Battery electric vehicles (BEVs) and fuel cell electric vehicles (FCEVs) produce zero direct emissions at the tailpipe. This significantly improves air quality in urban areas. However, a higher percentage of their overall lifetime emissions is actually a result of their manufacturing and end-of-life processes.
During sourcing and manufacturing, BEVs and FCEVs have two major sources of greenhouse gas emissions:
materials used in their energy systems
assembling processes of these energy systems
(Learn more in The Hidden Problems Within the Electric Vehicle Battery Supply Chain.)
In our collective efforts to reduce pollution, it's critical to address the total lifecycle emissions of zero-emission vehicles, including:
sourcing of raw materials
production of the vehicle components
lifetime use and fueling of the vehicle
disposal of the vehicle at the end of its life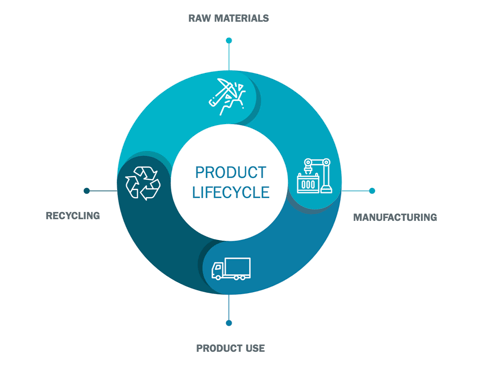 How Ballard Is Doing Our Part for the Environment
As a key component supplier, Ballard is engaged in helping reduce the total lifecycle emissions of FCEVs. We're taking guidance from the Sustainable Development Goals set out by the United Nations in four specific areas: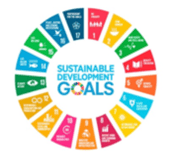 Affordable and clean energy
Industry, innovation and infrastructure
Responsible consumption and production
Climate action
Our technology and products deliver affordable clean energy, while fighting climate change with zero-emission mobility. But we're also focusing our efforts internally to:
reduce our corporate and product carbon footprints.
improve our processes with waste and energy reduction programs and responsible production.
Let's look at each focus area in more depth.
Curbing waste through refurbishment and recycling
Keeping fuel cells out of the landfill demonstrates responsible lifecycle management. The process for recycling hydrogen fuel cells is well-established, and Ballard has extensive experience in this area.
At the end of a fuel cell's life span, we recycle and refurbish the fuel cell stack. Using carbon in our stack bipolar plate design allows us to reuse the plates several times, thereby minimizing waste.
During the fuel cell stack refurbishing process, we integrate a new membrane electrode assembly (MEA) with the re-used bipolar plates and hardware. The old MEA is sent to a specialized facility that reclaims 95% of the platinum.
Refurbished fuel cells achieve the same specifications as a brand new stack, but are built using reused and recycled materials. They're then shipped back to our customers for a new life cycle. Every year, we recycle and refurbish several thousand fuel cell stacks.
(Learn more in our blog: Benefits of Fuel Cells: Refurbishing Leads to Zero Waste.)
Furthermore, with every new generation of products we design, we look at reducing the number of components used and the weight of the fuel cell system, in order to minimize raw material usage. For example, our latest heavy-duty fuel cell module, FCmove™ has 50% fewer components than earlier generations.
Lowering our energy consumption
Ballard has worked with our local electrical power utility and other regional cohorts to share best practices for reducing electricity consumption. We've developed a target list of 42 initiatives designed to achieve this goal. We're committed to eliminating wasted energy without impacting our product development, testing, or manufacturing capacity.
Through the implementation of just a portion of these initiatives in 2017 and 2018, we reduced our electricity consumption by 2.4MWh. That's enough electricity to power 225 typical homes in the province of British Columbia for an entire year. In 2019, we've reduced our electricity consumption even further—by 16.5% compared to 2018.
Additionally, our fuel cell test stations convert hydrogen into electricity, which we then use, thereby reducing our external electricity consumption.
We're also introducing hydrogen recirculation into our fuel cell stack test stations. This will reduce the amount of hydrogen consumed during factory acceptance tests, making fuel cell testing more sustainable, as well as lowering costs.
Reducing our carbon footprint with our Mission Carbon Zero initiative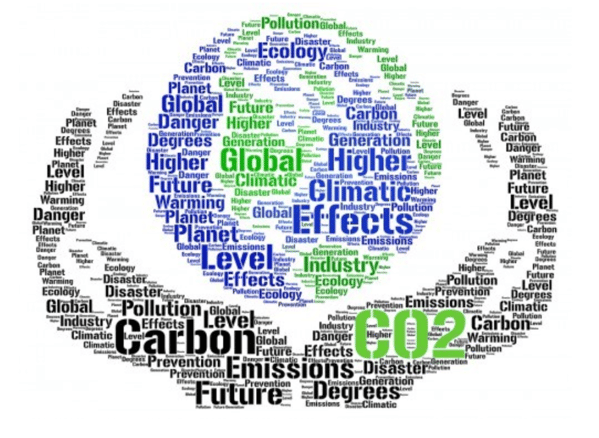 Earlier in 2019, we launched our Mission Carbon Zero project, with the goal of achieving carbon neutrality. As part of this initiative, we're currently working with Offsetters Climate Solutions to measure the carbon footprint of our global operations. The multi-year cross-functional initiative includes:
a corporate emissions inventory (to evaluate and track our annual carbon footprint) for Ballard facilities in Canada and Europe
a lifecycle inventory of our fuel cell stacks and heavy duty power modules (to measure carbon footprint from cradle to gate)
informing our customers about our product LCA (Life-Cycle Assessment)
defining long term strategies and actions to reduce and offset our emission to reach carbon neutrality
reporting on progress towards our emission reduction targets
In adherence to the Greenhouse Gas Protocol Corporate Accounting and Reporting Standard, the Offsetters report will provide us with a baseline to understand our climate impact and identify opportunities to reduce emissions. Watch for the results of the evaluation and our planned next steps in Q1 2020.
Changing our own daily behaviors
Reducing our carbon footprint is not only done with corporate initiatives, but also by changing our everyday behavior. We've launched a series of internal initiatives to sensitize our team to the environmental impact of our decisions and choices.
In 2019, we reduced our non-recyclable solid waste per person by 7% compared to 2018, and so are sending less trash to landfills.
To reduce emissions from commuting to the office we're enabling work-from-home where possible, carpooling, and "bike to work" initiatives as well as the adoption of zero-emission vehicles. We've recently installed level 2 electric charging stations and have worked with Toyota to offer Ballard employees the opportunity to purchase hydrogen fuel cell cars.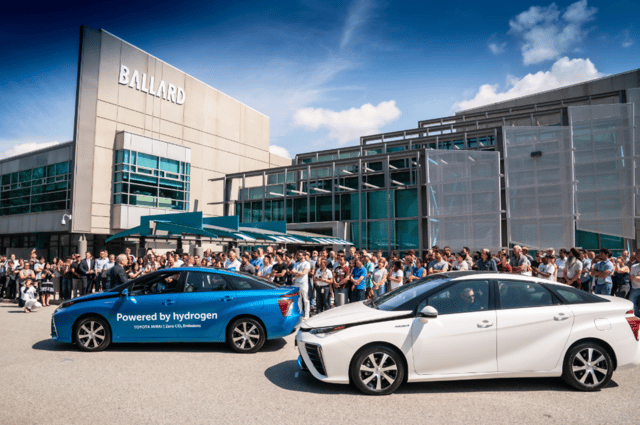 Toyota Mirai hydrogen fuel cell vehicles at Ballard Power Systems in Burnaby, British Columbia
Conclusion - Power to Change the World®
Emission reduction and fighting climate change is in the DNA of our team at Ballard. For the past 40 years, we've been developing fuel cell technology to deliver affordable zero-emission mobility.
However, we also need to lead by example and reduce our company and product carbon footprints to ensure that we deliver sustainable clean energy solutions.
We're passionate about delivering fuel cell power for a truly sustainable planet.
Next Step
Download our brochure, Hydrogen Fuel Cell Vehicles for a Sustainable Future to learn more about how fuel cells have the Power to Change the World. No email required.