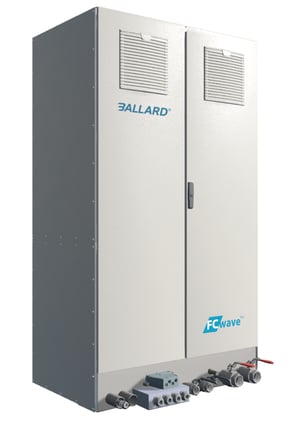 Ballard Power System's DNV certified FCwave™ fuel cell module has been granted Type Approval certification from Lloyd's Register (LR), one of the leading providers of classification and compliance services to the marine and offshore industries.
The 200kW module, designed for the demanding requirements of marine applications, is the first commercially available fuel cell solution which was recently launched on Norwegian operator Norled's MF Hydra ferry.
Søren Østergaard Hansen, General Manager, Marine at Ballard Power Systems Europe, said: "We are very excited to receive the Type Approval from Lloyd's Register. This confirms once again that the unique design of FCwave™ meets the safety and reliability standards for the specific demands of the global marine industry. Additionally, it constitutes an important step in commercializing Ballard's fuel cell technology for marine applications and provides ship builders and operators with confidence in adopting FCwave™ as a futureproof zero-emission technology."
The Type Approval process is a mandatory requirement for voyage and safety critical apparatus installed on any classified vessel. It is a very rigid process involving a series of tests to document the safety characteristics for a variety of situations that can occur at sea as well as efficiency and performance of the fuel cell module.
Søren Østergaard Hansen adds: With certifications from both DNV and Lloyd's Register, many of the major barriers for adoption have been removed by ensuring one-time design approval and simplified integration planning and complexity. Ballard's in-house developed marine fuel cell module, FCwave™, is a true plug-and-play solution, providing an optimal zero-emission replacement for conventional combustion engines on board ships. It is a high-power, adaptable module in a hybrid electric system that incorporates fuel cells working together with batteries to provide efficient, zero-emission power."

In March this year, the world's first zero-emission liquid hydrogen powered ferry, MF Hydra, set sail in Norway, powered by two FCwave™ modules. In early 2024, FCwave™ will also be powering FPS Waal, a retrofitted cargo vessel that will sail on the Rhine River in Holland as well as Zulu06, the first inland cargo transport vessel, which will operate on the river Seine in Paris.