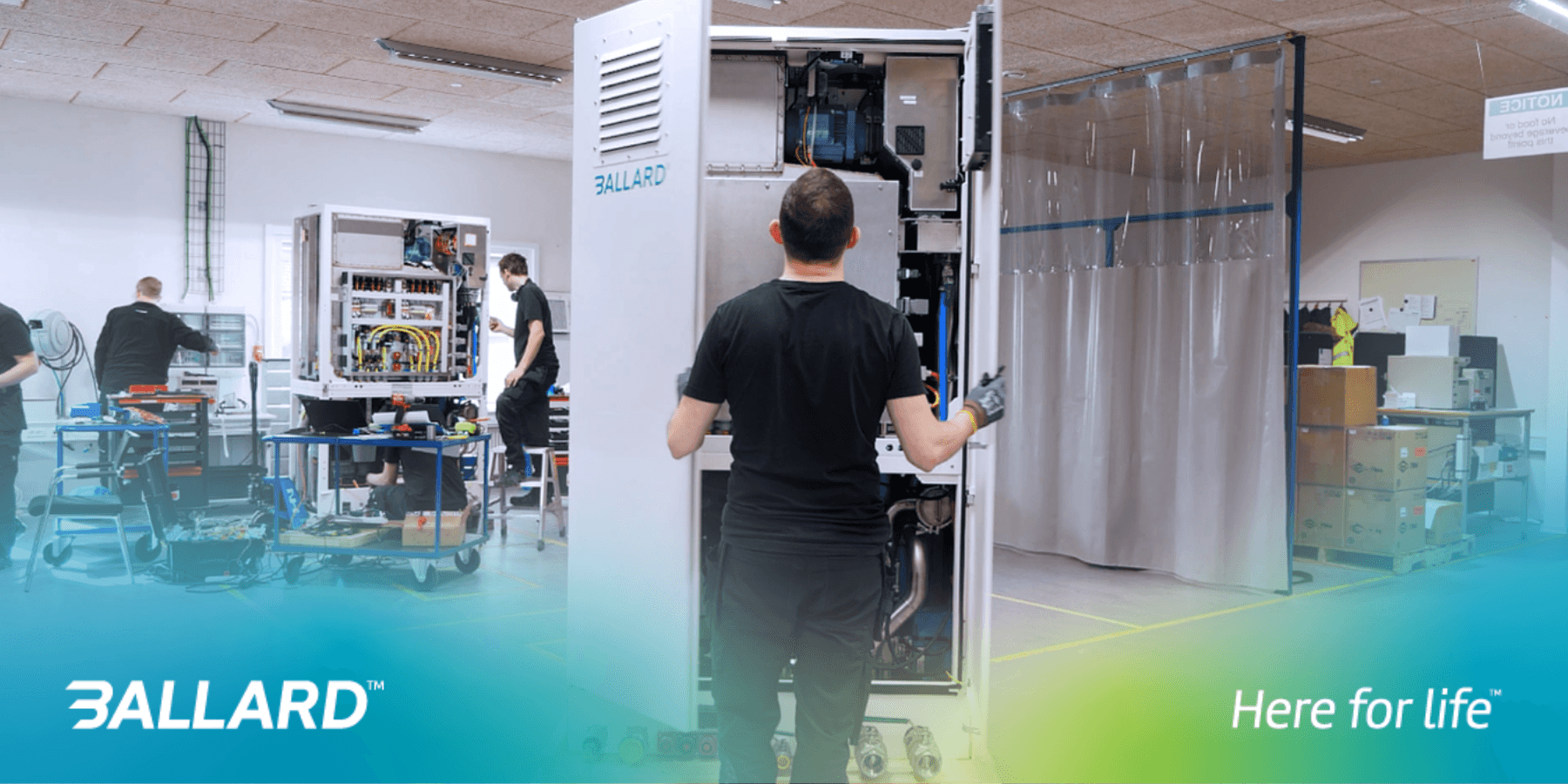 Last year, Ballard's Marine Center of Excellence announced that its in-house-developed marine fuel cell module FCwave™ had received the world's first DNV Type Approval certification. Type Approval certifies that FCwave™ meets specific safety and reliability standards for the unique demands of the global marine industry, providing ship builders and operators with confidence in adopting FCwave™ as a futureproof zero-emission technology.
This is a huge accomplishment for Ballard and a very important step in recognizing fuel cells as a commercially viable zero-emission solution for the marine industry. Type Approval is a requirement for fuel cells to be used commercially in specified marine applications and the certification provides Ballard with an "early mover" advantage in terms of competitiveness and operational experience.
But what the sought-after certification doesn't reveal is the astute design work and extensive internal and external testing that goes into achieving Type Approval - a very rigid process involving a series of tests to document the safety characteristics for a variety of situations that can occur at sea as well as efficiency and performance of the fuel cell module.
We met with Marine System Designer, Peter Vajhøj Blach, to get an insight into what the Type Approval process involves, how the testing was conducted and, ultimately, what the Type Approval means for Ballard's global customers.
Q: Firstly, can you outline what a Type Approval is?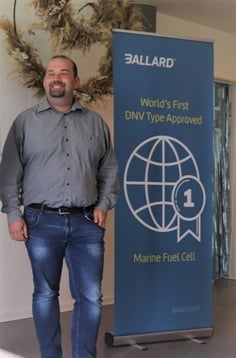 A: The concept of type approving specific products is not new. Basically, when a product is granted a Type Approval it means that it meets a set of regulatory requirements, and the certification is the buyer's assurance that the product has been thoroughly tested and is safe to use.
Especially within the global marine industry, operators rely on official validation that a vessel and its key components meet regulatory, technical, safety and environmental requirements. Therefore, a sea-going vessel is required to be classified by a Classification Society ensuring that the ship's design and workings are fully in accordance with the standards set by their class. In return, you are not only assured that you meet the stringent rules and regulations – you are also getting a mark of quality by an unbiased third party.
This is a well-known process when you want to classify e.g., a diesel engine for a sea-going ship. However, as FCwave™ is the first fuel cell module to receive the certification from Det Norske Veritas (DNV), it was also the very first time that we had to go through the process – and I think it is safe to say that this was a huge learning process for both Ballard and DNV.
Q: What was involved in the Type Approval process?
A: Initiating the Type Approval certification, we teamed up with DNV, one of the world's leading classification and certification bodies for the marine industry. DNV has delivered testing, certification and technical advisory services for centuries, but this was the first time that they were asked to type approve a fuel cell.
As this type of testing had never been carried out previously, the requirements for certifying a marine fuel cell module had to be defined from scratch. Together with DNV we broke down the different steps in the Type Approval process. We looked at the demands for electronic components and the overall test demands. This was then "translated" to a fuel cell module, and a checklist was subsequently developed. This gave us and DNV a very good overview of which specific tests that needed to be carried out.
Once the specific requirements and tests were listed, we had to find the exact equipment and facilities needed to complete the tests that would show how FCwave™ can withstand the harsh environment onboard ships.
One procedure that had to be conducted was the inclining test of FCwave™. Mimicking the movement of a ship, this test is done to determine the stability and to verify that the equipment can function properly in all sea conditions. This includes both the up and down motion caused by waves, but we also tested the module leaning to one side in case a vessel should run aground and tip over. This is done to assure that the equipment can still provide power to the ship even though it is listing to one side.
We were in contact with several suppliers in Europe about the possibility of doing the inclining test of our fuel cell module, however at that time, there were no laboratories or facilities that could meet the test requirements. The majority of suppliers had to build new facilities in order to conduct the testing, and it would be very costly. So, in agreement with DNV, we decided to build the test facilities at Ballard's Marine Center of Excellence in Hobro, Denmark.
Watch the FCwave™ Inclining Testing Video
The module is tested at a static (non-moving) inclination of 22.5° to all sides while running, and then tested while the module tips from side to side (-22.5 to 22.5) over 10 seconds, simulating rough seas.
Now, this might sound like a simple decision, but when it comes to the validation process there are no quick fixes. It really is a very complex test setup with a lot of elements and components that need to interact. We went through some trials and errors, but I am extremely proud of our team and how we worked together on this project - and particularly the fact that we can now offer these unique capabilities in Europe in support of the marine industry as it accelerates its transition towards zero-emission.
For some of the other testing requirements, we worked with the Danish technology consultancy FORCE Technology. A specialist from FORCE Technology visited Ballard in Hobro to test the fuel cell's electromagnetic compatibility (EMC), which determines the risk of the fuel cell disrupting other systems on a ship.
Additionally, FORCE also subjected the module to a series of climatic stress tests to demonstrate that FCwave™ is capable of withstanding the heat in an engine room without incurring any damage. FORCE also did vibration and shock testing to see if the vibrations of a vessel would impact the performance of the fuel cell module.
Following the comprehensive testing and documentation, we were very happy to receive the final Type Approval certification from DNV in April 2022.
Q: What does the Type Approval mean for Ballard's customers?
A: The Type Approval is highly important in building global market confidence in hydrogen fuel cells and has removed some of the barriers for adoption by ensuring a one-time design approval avoiding repetitive design review. With this it enables us to deliver the first deployment-ready fuel cell solution to customers that are ready to take the next step in implementing zero-emission operations.
Having gone through the Type Approval process, we now have the experience, a qualified team, and purpose-built facilities in-house that enable us to do even more testing of our fuel cell products. For each fuel cell module that is shipped, a surveyor from DNV is present to witness the testing of the module - overseeing that the documentation, the safety system and overall performance is all as specified.
In addition, we are also able to bring our customers to our facilities in Denmark, where they can see how the testing is being carried out, and that they can have full confidence in the product they receive from Ballard. For example, when we tested the fuel cell modules for Norled's MF Hydra in Norway, the captain of the ferry was able to oversee the testing on a Teams call, as it was done during the COVID lockdown, but it gave him a very unique and transparent insight into how the fuel cell performs.
Market update: Ballard fuel cells installed onboard the world's first liquid hydrogen-powered ferry
As transport industries accelerate the adoption of fuel cells, it will also create a demand for testing. I am very proud that we can offer extended testing to our customers – not only within marine but across wider transport industries. The facilities have been designed with all of our fuel cell solutions in mind, in such a way that we are also able to apply it to other markets and industries. And the systematic testing and validation will continue to ensure the responsible and safe use of hydrogen and fuel cell technology.
Do you want to get in touch with one of Ballard's marine fuel cell experts? Fill out the form here.