New regulations for zero emission transit are coming, and battery-powered electric buses (BEB) alone will not allow transit bus operators to meet all their operational requirements.
The Innovative Clean Transit regulations proposed by the California Air Resources Board (CARB) are clear: targets indicate that 100% of transit buses should be zero-emission buses (ZEBs) by 2040.To get there, CARB proposes that:
in 2020, transit agencies begin procuring a minimum percentage of ZEBs.
by 2029, 100% of new bus purchases should be ZEB.
Furthermore mayors from 16 cities in California are pushing for the rapid adoption of zero-emission buses.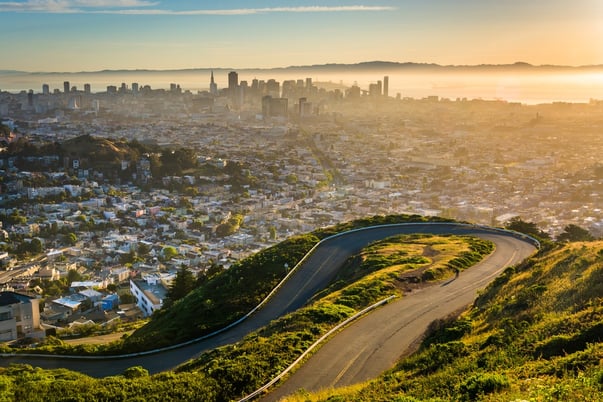 How to Meet Regulations Without Compromising Service Levels
Transit agencies and bus operators will face challenges in meeting the ICT regulations if BEBs are the only option to replace conventional diesel or compressed natural gas (CNG) buses.
Battery electric bus range could be insufficient for some routes and duty cycles:
adding more batteries (weight) to the bus to increase range will reduce operational efficiency and passenger capacity.
as battery performance is affected by climate, route conditions and aging, it will also impact range.
What this means: several existing public transit routes and schedules cannot be served with current or predicted BEB technology. In many cases, BEB technology cannot replace diesel and CNG buses on a 1-to-1 basis. 

Many transit agencies have raised issues of the hidden costs and risks of BEB technology.
Recharging infrastructure
To manage a large BEB fleet, a complex infrastructure of charging stations has to be built either at the bus depot or on the roadside, and in some cases, at both locations. Recharging a 650 kWh BEB battery takes several hours, which imposes real constraints on scheduling logistics.
Additionally, the cost of installing a fast charging station on the roadside in the middle of a city could be significant, with difficult to estimate permitting and civil engineering costs.
But there's more: to keep a huge inventory of batteries charged and maintained, the charging stations may need various chargers of various voltages and various connectors—each with limited interoperability.
Electricity Cost
Transit agencies are also concerned about the high cost and variability of electricity rates. Complexity, lack of long term rate visibility, and a limited control of the supply could make it challenging to set and control operating budgets.
Recycling
As batteries age out of the system, they must be recycled or disposed in environmentally-conscious manners—adding to system-wide costs. When these hidden costs are considered, the financial risks of an all-BEB fleet are significant.
The true 1-to-1 replacement: Fuel Cell Electric Buses
Fuel Cell Electric Buses (FCEB) are hybrid electric buses which use lightweight hydrogen fuel cells to power the electric drive and recharge smaller batteries. FCEBs can directly replace conventional buses in range, power, and passenger capacity. They provide zero-emission performance with no compromise:
Similar range to diesel and CNG buses, requiring no changes to existing routes or schedules
Continuous power while the bus is in operation, for consistent performance throughout a shift
Strong climbing and load-bearing performance, even in extreme temperatures
Lightweight fuel cell system and hydrogen storage for maximum passenger capacity
Recyclable fuel cells (Ballard's

existing processes

recover 95% of precious metals and minimize waste)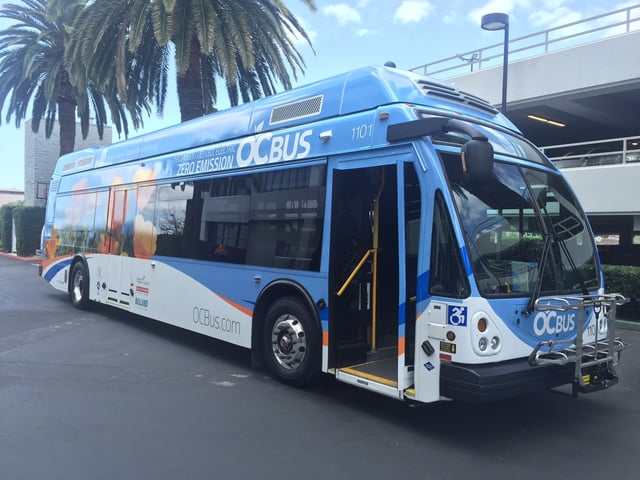 Fuel cell electric bus in operation at Orange County Transportation Authority
8-12 minutes of refueling delivers 300+ miles of continuous service 

The hydrogen refueling infrastructure required for fuel cell buses is relatively simple and scalable. Refueling infrastructure can be installed at existing bus depots.
The procedures for fueling FCEBs are almost identical to those for refueling diesel or compressed natural gas (CNG) vehicles. Refueling is fast—as little as eight minutes—and a fully-fueled FCEB can perform an entire day's route before refueling again.
Hydrogen is a gaseous fuel similar to CNG in terms of operation and equipment. It also offers transit agencies a familiar business model - existing CNG fuel service providers are stepping up to offer turnkey hydrogen refueling supply and operation contracts at a fixed price per kilogram.
Meet future clean transit requirements with less risk
For transit agencies, FCEB technology offers a road-proven, fully commercialized solution for ensuring compliance to future regulations. The solution comes without compromise on performance and operation, and uses a fueling model (on site gas refueling) already familiar to many transit agencies.
How to manage costs?
Today, funding and incentives are available in California to assist transit agencies in this zero emission bus transition. CARB's Hybrid and Zero-Emission Truck and Bus Voucher Incentive Project (HVIP) includes a $300,000 voucher for each new FCEB procured.
However, regulators must allow transit agencies to remain eligible to apply for funds in conjunction with the Innovative Clean Transit regulations until the vehicle cost reaches parity with conventional buses.
The clock is ticking, and agencies are moving toward ZEB solutions
Across California the reality is sinking in: new regulations are coming, and the zero-emission transition is underway. In less time than expected, transit agencies are faced with choosing a ZEB solution that will carry them into the future—and securing funding for their chosen technology.
 Some funding sources, like HVIP, require quick decisions.
BEBs alone will not be able to meet 100% of transit agencies' operational requirements without affecting quality of service. An all-BEB fleet also cannot provide the scalability needed to convert 100 or more bus depots to zero-emission.
FCEBs have the service range, the power, the load-bearing and hill-climbing capabilities, the fast refueling times and the scalable refueling infrastructure. FCEBs address the major operational realities of transit operators, offering a true 1-to-1 replacement of conventional buses.
To meet new regulations and mandates, and to successfully transition to zero-emission transit, operators will need both BEBs and FCEBs to provide the current level of service without compromise.