Here at Ballard, we're thrilled to announce the release of FCmove™ HD+, our newest and most innovative fuel cell power engine designed specifically for heavy-duty mobility applications.
In today's blog, you'll learn how FCmove™ HD+ complements our family of fuel cell power products, plus key product information including applications, specific benefits for OEMs and fleet operators, and more.
Whether you're a bus or truck operator just learning about zero-emission mobility or you already know that your organization needs to transition to clean energy, or you are an OEM developing zero-emission commercial vehicles, this information is for you!

Innovative technology, part of the FCmove™ family of products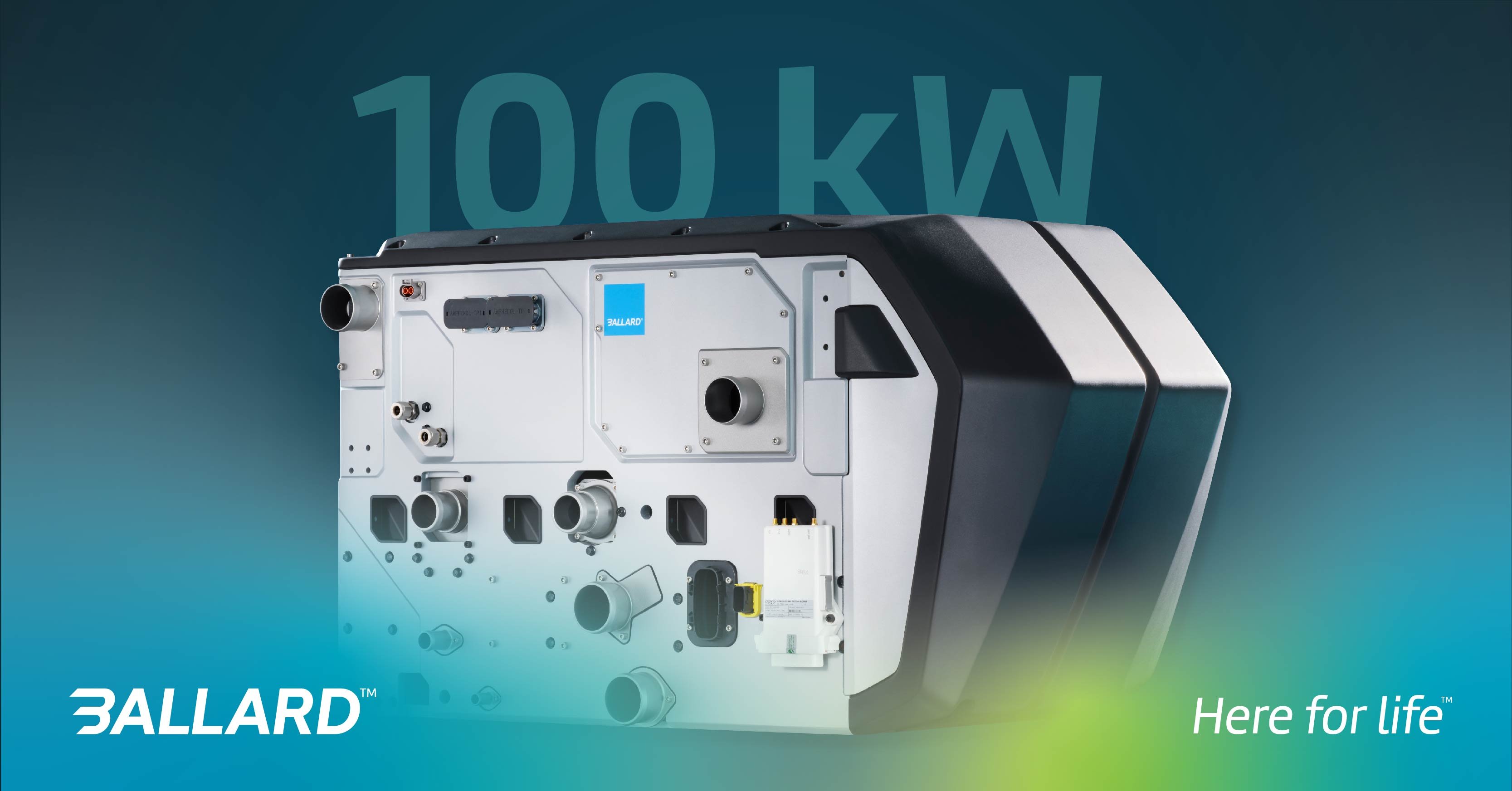 The FCmove™ platform is Ballard's eighth-generation heavy-duty power module and is the result of four decades of dedicated fuel cell technology innovation.​
We are now expanding the FCmove™ platform to offer a family of engines for multiple commercial vehicle applications, providing zero-emission fuel cell power for medium- and heavy-duty trucks as well as transit buses.
Each fuel cell module in the FCmove™ family boasts an innovative design that lowers life cycle costs, delivers industry-leading reliability, and offers unparalleled ease of integration. Our product range includes 70kW and 100kW engines, which are designed to address the range of power requirements for commercial vehicles.
Our FCmove™-HD+ product platform builds on everything we've learned from our previous ground-breaking designs. FCmove™ engines incorporate key technologies that we've been developing, refining, and testing for years. The end result is a design that's simpler, more robust, and fully integrated.
Get to know the FCmove™-HD+ fuel cell engine
We're proud to be launching FCmove™-HD+ (100kW), the second engine in the FCmove family of products, featuring our patented PEM fuel cell technology. This product is our most powerful and flexible fuel cell engine. It's a major advancement in the competitiveness of fuel cell solutions in the power generation ecosystem. ​
FCmove™-HD+ demonstrates both our technology leadership and our expertise in designing high-quality systems specifically for heavy-duty applications. Our long-standing experience—validated with over 100 million kilometers of on the road by buses and trucks powered by Ballard fuel cells reduces technology adoption challenges ​for our customers.
Key Features and Benefits At a Glance:
Compact and innovative—easy to install, service, and maintain.
High-performing power and a wide operating range across a range of climates, temperatures (-30C - +50C), geographies, and operating conditions.
Smaller and more compact than our previous generation of fuel cell engines, while delivering more power.
Allows for engine bay and rooftop configurations for easy integration into buses and trucks.
Lower total life cycle cost - with fewer parts, more robust and durable components, and simplified preventive maintenance
Sustainable product with lower carbon footprint than the battery equivalent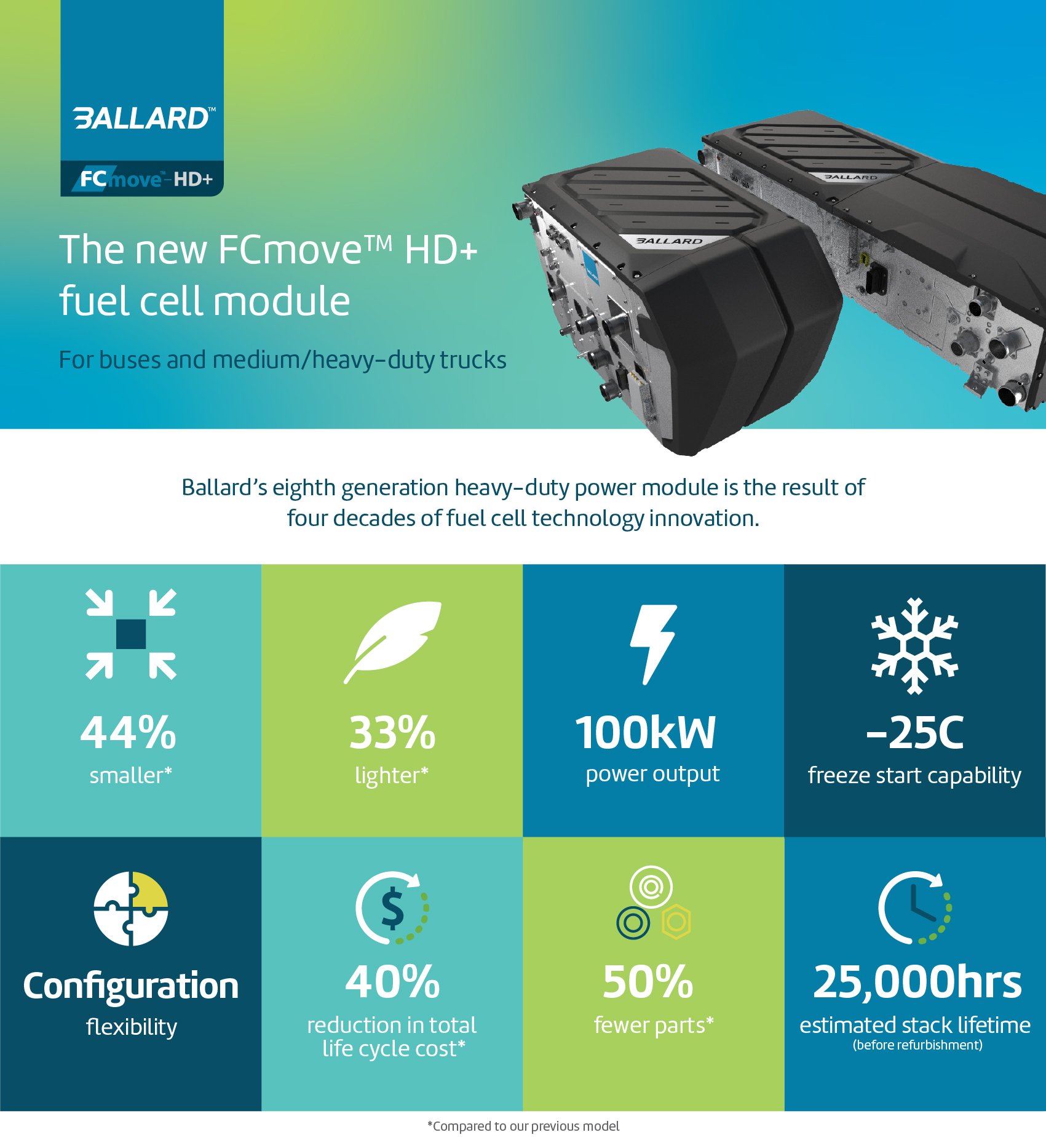 Why choose hydrogen fuel cells for buses and trucks?
FCmove™-HD+ answers the commercial vehicle industry's urgent need for zero-emission sustainable solutions.
Since the transport sector is one of the biggest contributors to air pollution—responsible for 24% of global GHG emissions—OEMs and fleet operators are now facing increasing pressure via legislation and public policy to reduce carbon emissions.
Fuel cells are a proven, practical solution for commercial vehicles, including: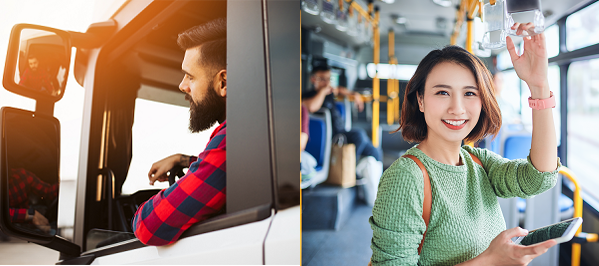 Fuel cell commercial vehicles are a 1-to-1 replacement for legacy diesel vehicles. Already, fuel cell electric buses and trucks have been deployed all over the world.
There are over 8,000 fuel cell buses and trucks in operation worldwide today, 3,500 of which are powered by Ballard technology.
As of today, those vehicles with Ballard fuel cells have accumulated 100 million kilometers in service—a milestone for our industry.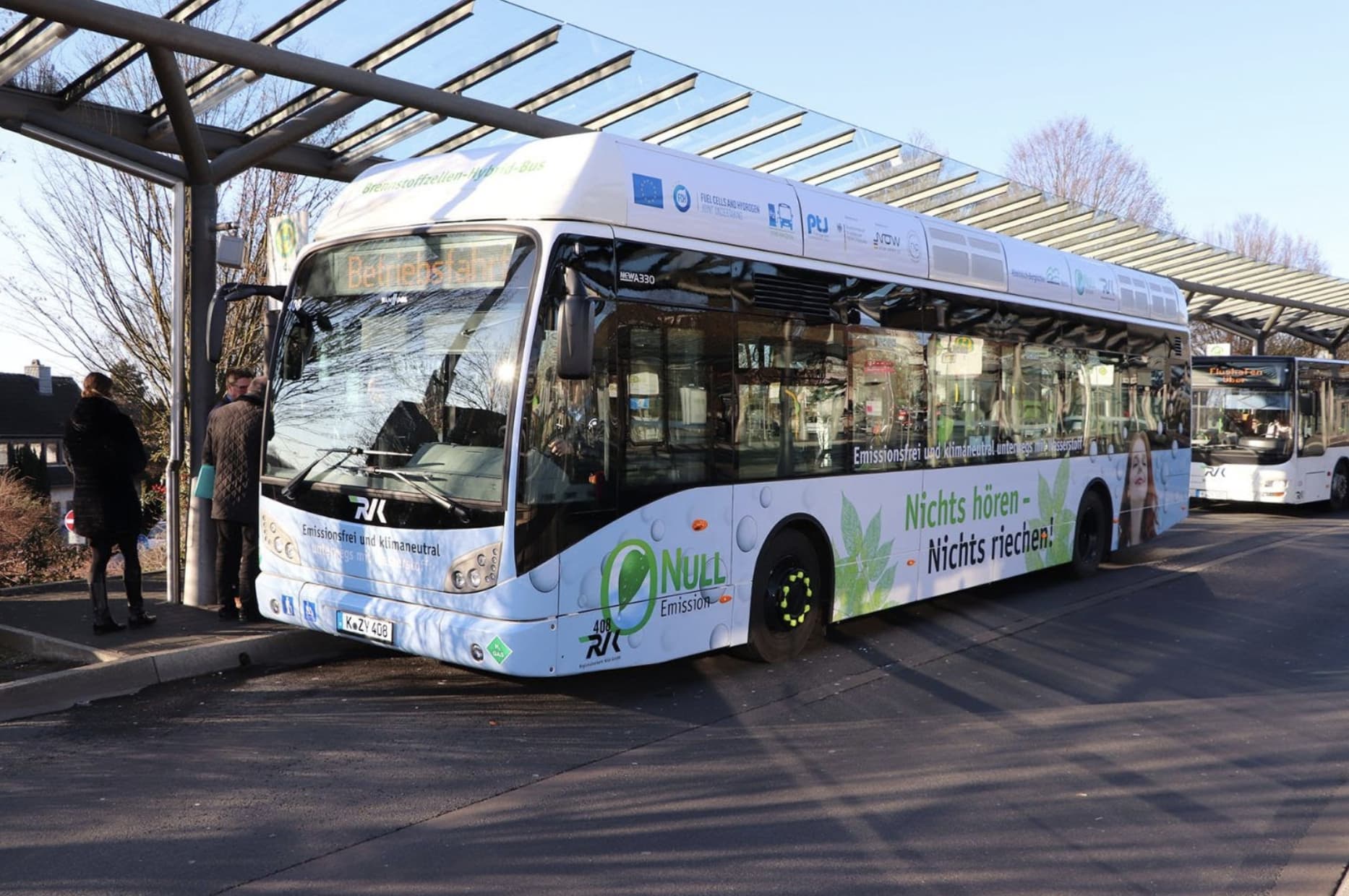 Van Hool A330 Fuel Cell bus with Ballard Fuel Cell Engine Installed - Photo courtesy Cologne-region public transport operator Regionalverkehr Köln (RVK) Germany
Fuel cells provide robust zero-emission propulsion for commercial vehicles, allowing OEMs and operators to meet emissions mandates and provide more sustainable alternatives for their customers, without any compromise on payload, passenger capacity, or vehicle availability.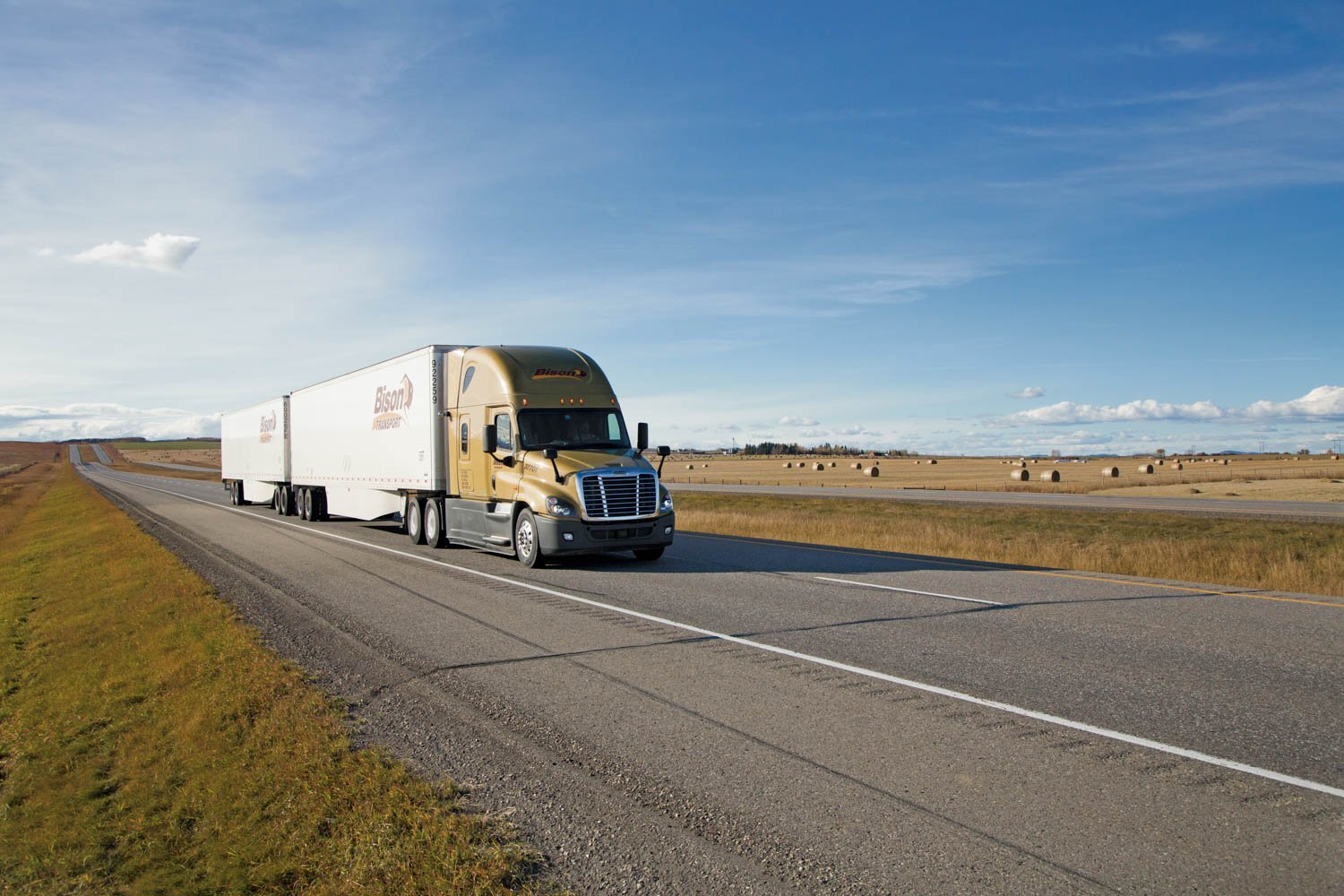 Bison Transport is one of Ballard's partners, implementing fuel cell power into their B-train tractor-trailer long haul transport trucks in Alberta, Canada
The high energy density of hydrogen (by weight) allows fuel cell-powered vehicles to have more energy onboard, allowing for longer routes compared to batteries.
Fuel cells provide higher uptime compared to batteries, due to fast refueling times (less than 10 min), leading to increased vehicle utilization.
Hydrogen offers flexible, scalable, compact centralized infrastructure well adapted for fleets.
OEMs and fleet operators can leverage economies of scale for cost reduction.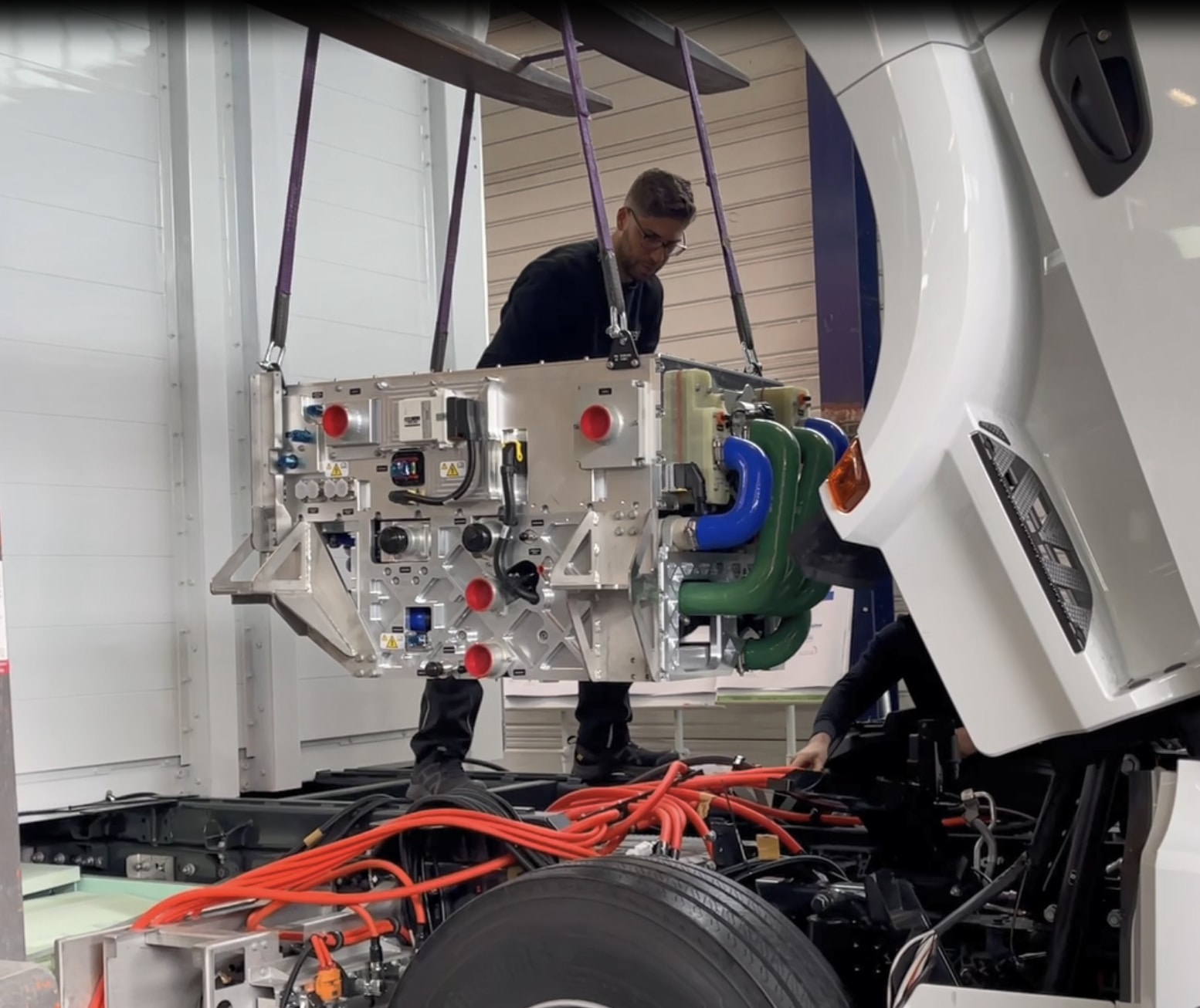 The FCmove™ fuel cell power engine being lowered into a truck chassis
Ballard's commitment to customer satisfaction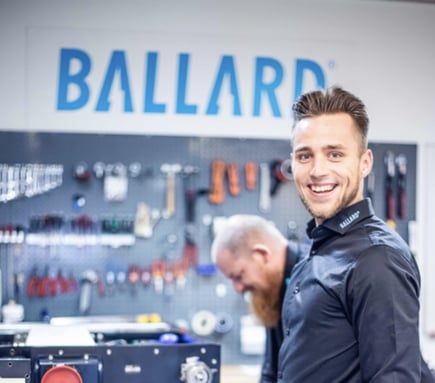 At Ballard, we design, build, and test every core technology component, producing optimized fuel cell products for commercial applications.
We designed the FCmove™-HD+ fuel cell engine with our customers in mind, ensuring it would be easy for OEMs and operators to adopt. The product is easy to integrate, requires low maintenance, and Ballard's Customer Care team is there to support you every step of the way, from pre-sale through to powertrain and vehicle integration support, training, and ongoing maintenance.
We are a knowledgeable partner for vehicle integrators and OEMs, delivering the precise features and specs that your customers require. And for operators, we're a partner that understands your business challenges and delivers valuable, innovative solutions.
We understand the challenges involved in adopting new technology, and our expertise and partnerships help navigate the journey for our customers. We're excited and ready to help you on your journey towards zero-emission transportation!
For more information on the complete FCmove™ family of fuel cell modules, check out the brochure below.