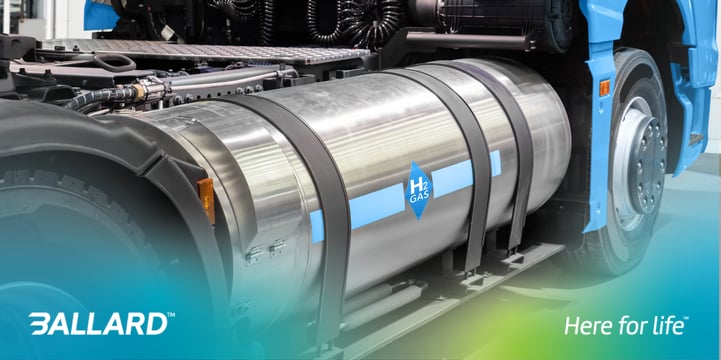 The U.S. Department of Energy's (DOE) office of Clean Energy Demonstrations (OCED) recent funding announcement represents an important step-change in scaling up U.S. deployment of zero-emission technologies. Established in December 2021, the OCED funding is intended to encourage scaling of the emerging technologies needed to tackle the country's most significant climate challenges and help achieve the government's overarching net zero emissions targets by 2050.
Managing more than $26B in funding to deliver clean energy demonstration projects at scale, the OCED is a multi-technology office focused on developmental programs involving clean hydrogen, carbon management, advanced nuclear reactors, long-duration energy storage, and industrial decarbonization.
Here, Ballard's Tim Sasseen, market development director, explains the OCED's latest $1bn clean hydrogen initiative launched in June 2023, how this enhances the landscape for hydrogen supply, infrastructure, and supplementary zero-emission vehicles, and how this increased funding and support can establish hydrogen as a cost-effective, viable fuel for future public transit and heavy-duty mobility.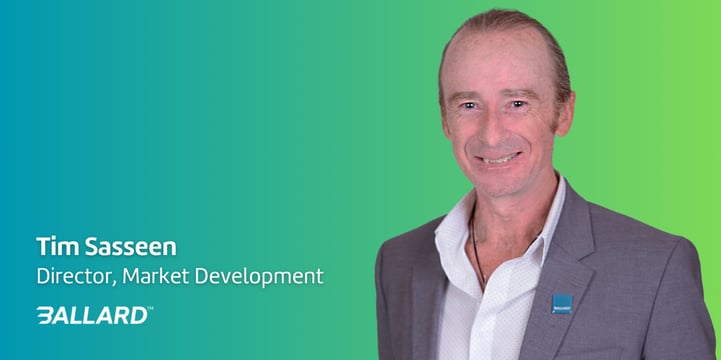 Paving the way for large scale zero-emission deployment
The OCED is a recently formed office within the DOE with a mandate to fill the critical gap between development and commercialization. This is an important point of progress in the U.S. as it will fundamentally change the way the country grows and deploys clean energy technology. The U.S. Federal Government has historically funded energy technology research and development through tax incentives and left the deployment of that technology up to the free market.
Market dynamics, such as the 'chicken-and-egg' infrastructure problem, and long durations for a return on investment, has meant the U.S.'s transition to renewables has been slower than other major markets.
This is all changed with the latest bipartisan infrastructure law and the Inflation Reduction Act (IRA). Now the U.S. is addressing that critical phase of pre-commercial deployment, bridging the challenging gap between product release after R&D and self-sustained commercialization where incentives are no longer needed.
Pilot deployments of new technology are needed at a scale large enough to meaningfully represent the dynamics of a mature industry, and drive manufacturing to rapidly reduce capital costs.
This is the major focus of the OCED – delivering large-scale deployments. The office has authority over $26 billion for deployments in energy, which is significant as it provides almost a third of the $90bn of demonstrations that the International Energy Administration estimates – which will be needed to help meet the nation's net zero target of 2050.
The fuel cell industry is poised to benefit directly from the OCED's deployment-specific planned programs. In fact, hydrogen is one of six key focus areas, so we anticipate a lot of activity from the OCED this year.
Forging a clear path for hydrogen power
The U.S. Federal Government must be commended for actively listening to those within the hydrogen and fuel cell industry. The bipartisan infrastructure law is very much in alignment with the regional supplier/consumer 'hub' model that the industry has been advocating for several years. The Infrastructure Investment and Jobs Act's (IIJA) Hydrogen Hubs initiative pledges $7bn for the development of up to 10 such centers, which aims to create networks of hydrogen producers, consumers, and local connective infrastructure to accelerate the use of hydrogen as a clean energy carrier. That is now matched up with the OCED's Notice of Intent to fund $1bn of real-world deployments.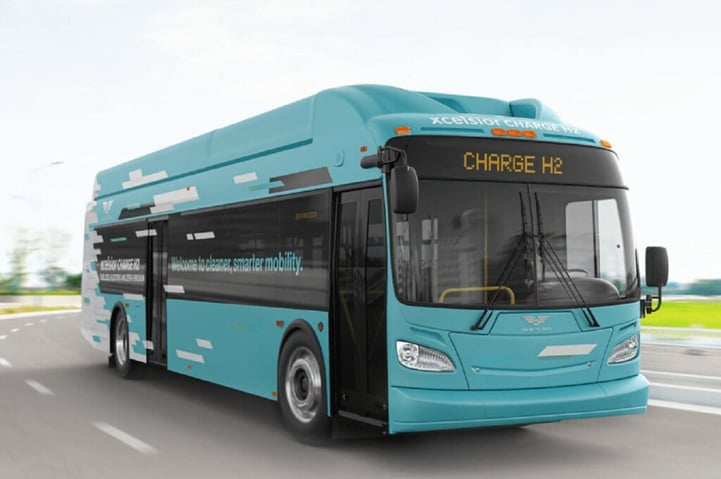 The DOE funded Hydrogen Hubs will be required to produce between 50 and 100 tons per day, and the $1bn will fund the end consumers for this truly unprecedented amount of clean hydrogen.
To put this in perspective, a Class 8 semi-truck could quite easily consume something like 50kg per day – so that means 1,000kg or just one ton of hydrogen per day could feasibly supply 200 fuel cell electric trucks – more than has been deployed to-date. A meaningful off-taker for a Hydrogen Hub making 100 tons per day means the need for fleets ten times this size or more – and before the end of the decade.
Of course, this hydrogen supply will not only serve the transportation sector, but much of it will go into industrial applications like steelmaking and heating, or into natural gas pipeline injection or the production of ammonia. But the OCED's mandate includes getting hydrogen into transportation and into end-use demonstrations like grid support.
Fulfilling the complete hydrogen picture, the success of the DOE hydrogen hubs relies upon not only the production of carbon-free hydrogen, but that this hydrogen is used effectively in applications that replace carbon emitting alternatives and create real emissions impacts.
The coordination between these Hydrogen Hubs and related OCED activities are impressive, and they've established the foundation for potential long-term success. The industry today is very optimistic and keen to help to ensure the DOE and OCED succeed.
Changing the industry perception on hydrogen for reliable purchasers
There has been plenty of skepticism in recent times over the cost and availability of hydrogen, but the industry is now seeing a lot of activity for hydrogen producers that stems from the IRA benefits, and they are subsequently looking for fleets to feed. So, having OCED funding very large fleets is going to help that symbiotic process between consumer and producer.
When fuel producers see that there are reliable off-takers, it stimulates them to make further investments. We've already seen major energy companies committing to clean hydrogen production facilities, independent of the financial incentives of the IRA. What's currently holding them back from the projects that they have committed to are interconnection issues and getting through the interconnection queue with their electrolyzer facilities.
But there has also been some hesitation because of the concerns with the 45V clean fuel incentives and the additionality requirements that are being highlighted by some hydrogen sceptics. These restrictions would require new clean hydrogen investments funded by the IRA to be produced only from new, dedicated, renewable resources.
There is concerted support from major utilities to prevent these restrictions from hampering clean hydrogen growth. The electrical utilities are beginning to understand that hydrogen can help stabilize the grid through controllable loads such as electrolyzers. It can absorb and store otherwise curtailed renewable overproduction and provide much needed capacity power for the grid. Additionality requirements lock grid operators out of these benefits during a time when they need it most.
If additionality does not cause delays in construction, we should see cheaper clean hydrogen prices within the next year or two. This confidence stems from existing offers for hydrogen as low as $5.50/kg for zero-carbon hydrogen in California.
That specific project was delayed because of an interconnection queue, so we don't have access to that yet. However, we're hearing about producers setting up in Nevada and Arizona to provide California with that clean hydrogen. The more deployments that we hear about, particularly through OCED efforts, the more it's going to stimulate people to look beyond just the most direct paths or the easiest incentives and put in these investments for clean hydrogen plants.
How OCED funding impacts the future
There is an area of transit that has not been addressed for zero-emissions, and that's private transit. We see a lot of, for example, commuter services that take passengers from outside to inside the core city and back out. Those services have not had access to FTA funding for zero-emission buses. OCED funding can assist here. One potentially large market for fuel cells is motor coaches, and large commercial motor coach lines could potentially benefit significantly from the OCED programs. Again, this helps to get technology not only on the road but instigates cost reduction that public transit can subsequently benefit from.
In general, the activity of fleets such as trucking fleets around public transit agencies will bring in lower cost fuel resources, more accessible fuel, and a constellation of services for hydrogen that will make it easier for a transit agency to convert over to fuel cell electric buses.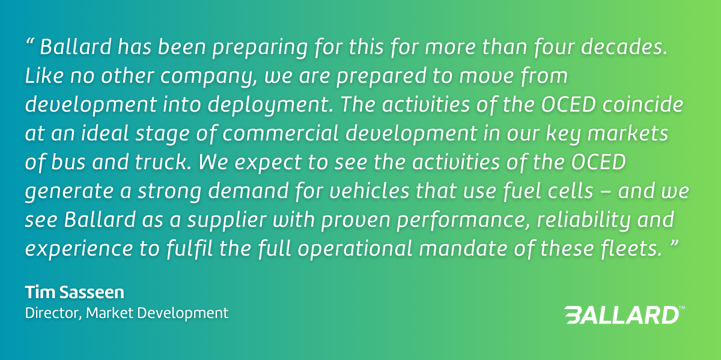 The potential impact of the OCED's efforts on Ballard's business – and the industry in general – cannot be understated, and successful implementation of the initiative's work will see vehicles and infrastructure being in place at the time that hydrogen generation begins at the Hydrogen Hubs. This sets it on a timeline for everything to sync up around 2027/28. If the OCED does its job, we will have gone through smaller scale positive demonstrations between now and 2028.
As a result, in five years' time, we could see deployments at a commercial scale, so that by 2030 fuel cells may reach a high level of commodification. In fact, if the OCED fulfils its mandate, it is possible that we'll see fuel cell propulsion systems that are as commodified as diesel engine drives within that timeframe – and that's an exciting proposition.