Building on intensified financial support of the sector in 2022, the U.S. Department of Transportation's Federal Transit Administration (FTA) is again increasing its level of funding this year to nearly $1.7bn – assisting state and local governments in their efforts to establish and improve low- and zero-emission transit bus fleets and facilities across the country.

The enhanced government backing encourages the purchase and modernization of bus fleets, improvement of bus facilities and development and strengthening of the existing workforce through essential training and upskilling to meet the requirements of a decarbonized transit space.

$1.2bn of the available funding is apportioned to the FTA's Low or No Emission Program (LowNo). This initiative provides fiscal support to state and local government authorities for the purpose of purchasing or leasing zero- and low-emission transit buses – such as fuel cell electric buses (FCEBs) – and also covers the acquisition, construction and leasing of supporting facilities and infrastructure.

Eligible applicants include direct or designated recipients of FTA grants, states and local government authorities. Projects deemed applicable can consist of purchasing or leasing low- and zero-emission buses, constructing new public transport facilities, or rehabilitating and improving existing facilities to accommodate decarbonized transport.

Applicants are required to submit their bid proposals to the FTA and funding is allocated on a competitive basis. The deadline to submit for support in 2023 is
April 13

.



Why Fuel Cell Electric Buses?

Today, there are 122 FCEBs in operation at seven transit agencies in the U.S., primarily in California. There are 132 more FCEBs planned to enter passenger service by 2025. Interest is expanding outside of California, following the 2022 FTA 5339 Zero-Emission Bus Awards, where more than 10 additional agencies applied to transition to zero-emission fleets with FCEBs.

As a reliable and cost-comparative alternative to other low- and no-emission buses, FCEBs offer a one-to-one replacement to traditional powertrains, while hydrogen refueling stations are scalable to meet fleet transition requirements – attractive elements that are contributing to an increasing number of transit agencies adopting and deploying FCEBs in the U.S.

With FCEB adoption enjoying an upward trend, there is increased operator confidence relating to FCEB safety, reliability, performance and costs. There is a growing number of successful real-world deployments providing tangible resources for transit operators transitioning to zero-emission fleets.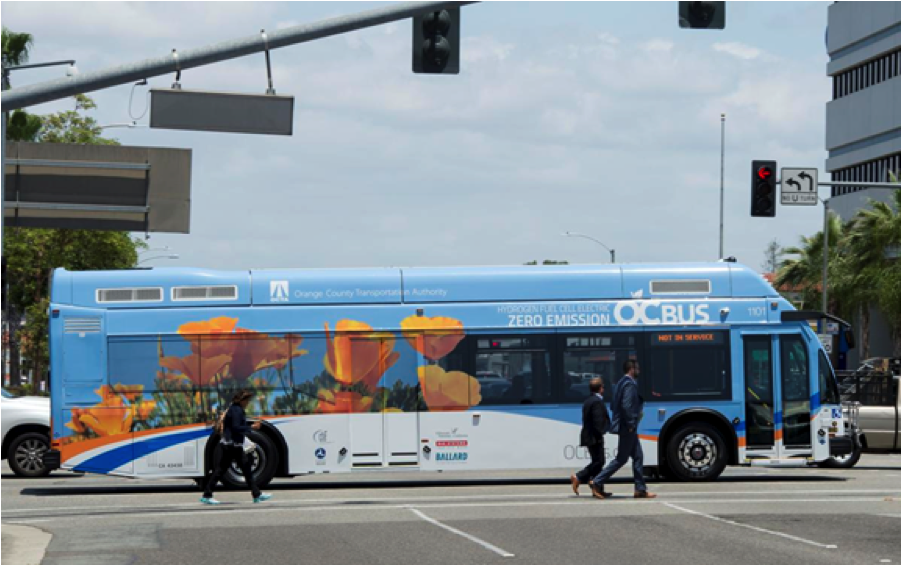 Safety
Compared to the fossil fuels that have been used for decades to power vehicles, hydrogen presents an equally safe source of energy. When it comes to in-vehicle protection, FCEBs possess safety features that include on-board leak detection and "safe shutdown" sensors. Additionally, the vehicle's robust hydrogen storage tanks are strategically placed and designed to safely expel the tank's contents, if required.
Performance
FCEBs have zero tailpipe emissions and produce nothing but water vapor - meaning no nitrogen oxides, sulfur dioxides or particulate matters. As a result, FCEBs present an attractive solution for agencies and organizations working to enhance decarbonization in the public transport space and mitigate the myriad negative impacts of air pollution brought about by carbon-led vehicles.
Despite their comparative infancy in the industry, FCEBs offer conventional full vehicle performance – including range, refueling time, gradeability and speed, for even the most challenging transit routes and in all weather conditions. Cold weather applications offer extended range, additional heat for the passenger cabin, and eliminate the need for auxiliary diesel heaters often used in battery-electric bus deployments. Furthermore, fuel economy keeps increasing with technology and powertrain integration improvements.
Commercial availability
Since entering the market nearly 20 years ago, FCEBs have grown in popularity and scale of adoption around the world, with transit agencies in different global regions determined on decarbonizing existing fleets with zero-emission alternatives.
More than 2,000 FCEBs are currently operating in service in countries around the world, including Canada, China, Denmark, France, Germany, Italy, Japan, Norway, Poland, South Korea, Spain, UK and the U.S. – with millions of kilometers in passenger service in a wide range of climates and route conditions.
In North America, California continues to lead the way in FCEB deployment, with agencies such as AC Transit, Foothill Transit, Orange County Transit and SunLine Transit operating FCEBs in their regular service routes.

Why Ballard?

It has never been easier to engage, plan and request support to make an FCEB fleet a reality for your agency – with more funding than ever now available to help transit agencies and operators in the technology, infrastructure, and training transition. As an expert in hydrogen fuel cell technology, its application in powering a range of mid- and heavy-duty vehicles, and previous involvement in the FTA's LowNo program, Ballard has the expertise to help prepare for your larger zero-emissions transition plan with pragmatic approaches and proven solutions. Our fuel cell power products are proven with more than 150 million km on the road in operation in over 70 cities worldwide. Product performance and our promise for extensive support will ensure the success of your FCEB deployment.

At Ballard, we have substantial experience of working with transit agencies on successful applications for LowNo funding. We understand the FTA's regulations and requirements, and we are well positioned to support you in developing the plans and system obligations that are key to a competitive grant application.

For many organizations in North America, LowNo grants have already kickstarted their transition. The funding is ideal for agencies that have publicly committed to a net-zero future but need help with the costs.

To find out more information and how to get the right support, attend Ballard's FCEB webinar on LowNo grant proposal writing and submission on Wednesday, March 29, where a panel of industry experts will show you how to structure a funding application for a FCEB fleet.

Please register here