When multi-national mining company Anglo American launched the world's largest hydrogen-powered mining truck at the Mogalakwena mine in South Africa, it also unveiled a feat of engineering and science that will deliver climate change to benefit future generations.

The 300-ton nuGen™ zero-emission haulage solution (ZEHS) features eight 100kW Ballard fuel cell modules – enough to power around 1600 homes. It is an engineering achievement that draws on green hydrogen and mobility expertise and inspired Anglo American to involve the next generation of STEM (science, technology, engineering, and math) ambassadors to get involved in solutions that will drive South Africa's long-term net-zero ambitions.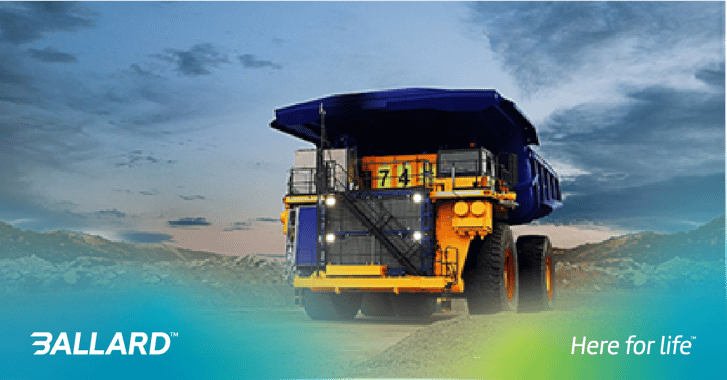 Anglo American's prototype is the first step to converting the company's entire mining haulage truck fleet to hydrogen, with the potential to support the development of South Africa's hydrogen economy.

In the build-up to the nuGen™ mining truck's launch on May 6, 2022, Anglo American and Ballard Motive Solutions (BMS), partnered on a unique educational program that engaged more than 300 students at five schools in the Limpopo community around South Africa's largest open cast platinum mine. The program was designed by Anglo Americans platinum-group metals (PGM) team and Ballard Motive Solutions' head of education, Arlan Harris, to inspire and involve 13-15yr old students in STEM subjects – including hydrogen production, infrastructure and zero-emission transport solutions that can have a real and significant impact on climate change.
"The collaboration between Ballard and Anglo American paves the way for the competition to become a part of an ongoing hydrogen education program with industry and government support to create a network of young learners and professionals trained in science communication and hydrogen technology."
- Tony O'Neill, Technical Director, Anglo American
Starting in April 2022, the Limpopo Hydrogen Challenge was delivered as a series of fun and educational sessions that saw students building and racing hydrogen-powered model vehicles using bespoke LEGO® kits. Supporting the nuGen™ launch by engaging the local community, the program was closely tied to Anglo American's decarbonization objectives which also encompass education and skills development goals.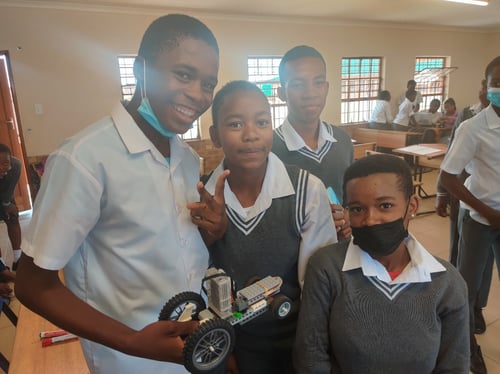 The Limpopo Hydrogen Challenge engaged more than 300 students aiming to guide the next generation towards careers in engineering, environmental sciences, and the development of cleaner, greener transport.
The two-week program challenged students to create their own hydrogen fuel cell vehicle from a kit of LEGO components, a LEGO battery motor, and a custom-designed miniature hydrogen fuel cell power supply. Teams attended a series of workshops where they discovered more about the decarbonization of transport and how it will help to meet South Africa's climate change targets. Cooperation was encouraged to employ reiterative processes – encouraging the use of engineering principles to design and build the most efficient vehicle that could travel the furthest distance using a 1.5W hydrogen fuel cell.

Following training from Ballard Motive Solutions Education staff, events were led by Innovate Create Transform (ICT) champions from Anglo American – a group of seven young adults from Anglo American's "ICT Champions" programme – who introduced participants to hydrogen fuel cells and their applications, electrolysis, the benefits of renewable energies over fossil fuels and locally relevant projects.
Across 10 workshops, groups also engaged in practical activities involving iteration-based scientific inquiry, designing for efficiency, and mechanical engineering.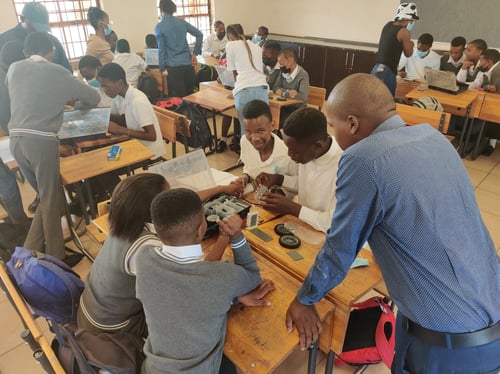 Students were mentored by Anglo American's ICT champions who led 10 two-hour workshops at the five participating schools, as well as the 15-team grand final.
Heading up the programme, Ballard Motive Solutions' Arlan Harris, found that the Limpopo hydrogen challenge brought visibility of STEM education in an accessible and fun forum, which encouraged young people to explore their potential. The event engaged and informed participants on the role hydrogen and fuel cells can play in reducing emissions on a local, regional and global scale to address the climate crisis.
The program culminated in a high-profile grand final consisting of 15 teams, staged at the Phaladingoe Technical High School on May 9. As well as being an educational activity for schoolchildren, the legacy of the program looks to provide a network of students and professionals trained in hydrogen and science communication.
Ballard Motive Solutions has a long-held interest in education and has delivered hydrogen-focused projects to more than 100,000 students in different regions, countries, and continents over the past decade. Events are held to introduce young people to the importance of the hydrogen economy and encourage them to consider careers within the green energy industry.
"Our experience over many years has shown that our Schools Challenge is an amazing way to engage communities with technology, including children and their parents, schools, and community leaders. The programmes have brought social as well as environmental benefits, opening up conversations about new technology and career opportunities in clean technology."
- Dr. Ben Tod, CEO, Ballard Motive Solutions