In today's blog, we're interviewing Dr. Marco Warth, Director of Corporate Advanced Engineering at MAHLE International. Based in Germany, MAHLE is a leading international development partner and supplier to the automotive industry. With a focus on driving alternative fuel use forward and promoting e-mobility, MAHLE is a technology driver for the mobility of the future.
In our discussion with Dr. Warth, he shared:
MAHLE's vision for fuel cell-powered commercial vehicles.
What challenges need to be addressed in order to see widespread adoption of these vehicles.
How MAHLE is collaborating with Ballard to accelerate the deployment of fuel cell technology.
And more.
Let's get started with our conversation with Dr. Marco Warth.
Dr. Warth, could you please tell us a bit about yourself, what your area of expertise is, and what you are passionate about?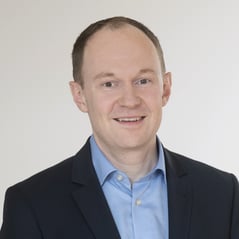 Marco Warth: I'm an engineer. I studied in Zurich at the ETH Swiss Federal Institute of Technology and focused on mechanical and process engineering, as well as computational sciences. I also completed my PhD in system simulation and controls. It sounds very dry if you say it that way, but it was fascinating to understand how highly complex systems interact.
After my studies in 2006, I joined MAHLE where I worked on different types of projects at various locations.
In 2014, I went back to Germany in corporate advanced engineering, which I'm heading up now. I'm using my expertise in less of a technical way and more in sharing possibilities and managing people.
Today MAHLE is known as a full-service, full-product, tier-one supplier. That's what keeps me going on a daily basis—seeing all the different powertrains and technologies that people are developing with great enthusiasm, knowledge, and technical expertise, and bringing these ideas steps further into reality.
The work we do is focused on advanced engineering (a.k.a. "skunk works"), so we don't do very much that is visible to the public. But every now and then we run a lighthouse project that shows what we can or could do, demonstrating just how capable MAHLE is. One of the best-known projects in this category is the MEET vehicle, which is an expression of our take on urban mobility. We have done similar projects on fuel cell powertrains in heavy-duty or truck applications.
Can you tell us about MAHLE's portfolio of solutions for fuel cell drives?
Marco Warth: At MAHLE, we have three focus areas: The first is on all the components from air intake to the exhaust. The second area is dedicated to thermal management; it covers everything from radiators to heat exchangers and chillers to fluid pumps. Our third focus area is the electronics integrated in a fuel cell system. We also have a decade of experience in fuel cell applications for passenger vehicles and a lot of that expertise is transferable to the heavy-duty sector.
What is MAHLE's long-term vision regarding fuel cell powered commercial vehicles?
Marco Warth: In our opinion, the world needs zero to neutral emissions logistics—and a roadmap to get us there. As a company, we are serious about saving the planet in terms of CO2 emissions. To accomplish that, we need a plan and scalable real-world solutions, in particular for long-haul truck applications. I believe fuel cells are the prime solution to power these types of commercial vehicles. We do, however, see the technological areas still to explore and in which to solve problems to make this happen.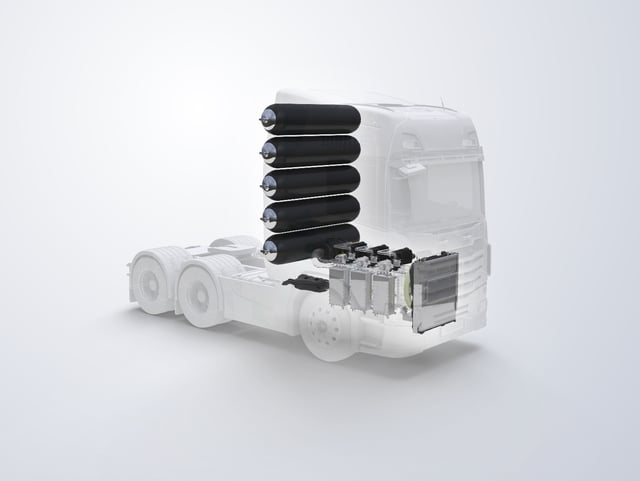 3D prototype of a hydrogen fuel cell-powered 26 tonne truck/class 8 tractor. Image courtesy of MAHLE.
A clear prime step towards CO2 neutrality in the medium- and heavy-duty vehicle category is fuel cells. If we go even lighter than medium-duty, we see fuel cells and also battery electric vehicles in that area too. But certainly for long-haul truck applications—which contribute the majority of the CO2 emissions that we see nowadays—we do need a solution. For us, the prime solution is fuel cells.
In your opinion, what challenges need to be overcome for widespread adoption of fuel cell powered commercial vehicles?
Marco Warth: It is a balance between the cost of fuel cells in application and the infrastructure needed to keep it going. To be truly CO2 neutral, we need green hydrogen, the infrastructure for which is not just at the pump, but actually the generation of hydrogen as well. We've seen tremendous progress in that area. It took us a long time to get here, but things are starting to shape up.
We see a lot of progress now, particularly in Europe where the European Union has aggressively committed to putting the necessary infrastructure in place. This used to be a chicken-and-egg issue: hydrogen infrastructure or vehicles on the road—without the infrastructure, you can't operate the vehicles, but there need to be enough vehicles to justify the infrastructure.
Thankfully government policies have matured to overcome this challenge by incentivizing companies to build the infrastructure. We need to focus and work hard on industrializing the technology to bring the cost down, to make fuel cell powered vehicles as cost attractive as conventionally powered commercial vehicles. Some of the data we are seeing suggests that the total cost of ownership is now aligning with the costs of internal combustion engines—this is very exciting to see.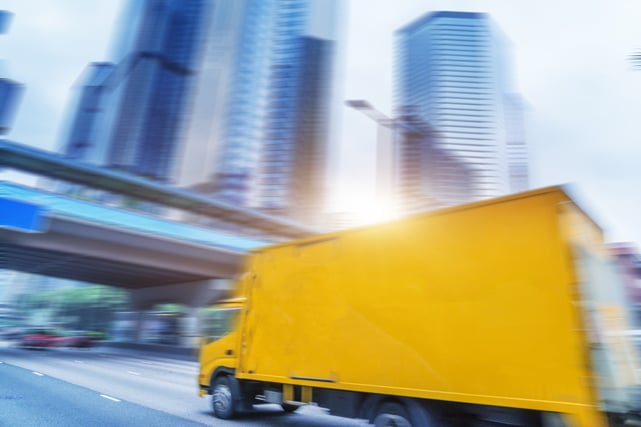 Could you tell us more about the scope of MAHLE's collaboration with Ballard?
Marco Warth: It's an excellent combination of two experts in their respective fields joining forces to advance fuel cell powertrain technology in vehicles. Ballard has been a long-term expert in terms of stack power cell units and MAHLE comes from the general automotive manufacturing field. There are ideal synergies between our two companies.
We can move forward now that the infrastructure is coming into place and have a real impact on the commercial vehicle sector. Together we can speed up development to take advantage of this moment in time. That's the mindset of both companies—we really want to take those next big steps and speed up development. We see the opportunities.
Are customers coming to you for solutions to implement fuel cell technologies in their ecosystem? Are other OEMs coming to you to help solve some of those challenges?
Marco Warth: Yes, absolutely. On the passenger car side, we are manufacturing and helping our customers with components, and have been doing so for more than a decade.
Likewise on the commercial vehicle side, we now see a big increase in interest from OEMs to build vehicles for the future. With the CO2 legislation in Europe coming into force in 2025 and 2030 and its very stringent demands in terms of reduction targets, OEMs are now focused on 2030. The lifespan of commercial vehicles is more than 10 years, so these zero-emission vehicles need to be in the market early to achieve the CO2-neutral target by 2050.
People usually ask why this is happening now. Sometimes when you mention fuel cells, you get an odd look on people's faces and they say, "That's been out there as a holy grail for the past decade or more. Why do you think now is the time to speed up development?"
For us, the commitment from governments to put in the infrastructure to solve that chicken-and-egg problem is the key to move this proven technology forward. People are also becoming more conscious of their CO2 footprint. While public awareness helps move it forward incrementally, it is policy development combined with infrastructure investment that is the biggest driver of wide-scale implementation.

Are there any additional comments you'd like to share with our readers?
Marco Warth: Yes, thanks for asking. The main purpose of MAHLE's partnership with Ballard is to accelerate the deployment of fuel cell technology. Ballard is making great strides in the development and manufacture of its stacks while improving ease of integration and bringing the costs down. The goal is to move forward and to offer the market fully implementable solutions at scale.
By joining forces—combining Ballard's technical understanding and MAHLE's automotive expertise—we can get there together. It's the first step of many. Our collective focus is on medium- and heavy-duty trucks, not passenger cars at this time.