Hydrail: within the rail transportation sector it's the word on everyone's lips.
Why? Because using hydrogen fuel cells to power the traction motors in trains has moved from concept to reality. The momentum behind hydrail is building:
international conferences and symposia have sprung up
major train manufacturers have systems available or in development
major railway operators and regions have committed to beginning the transition.
The world wants to replace diesel trains, and hydrogen train technology is ready to take its place.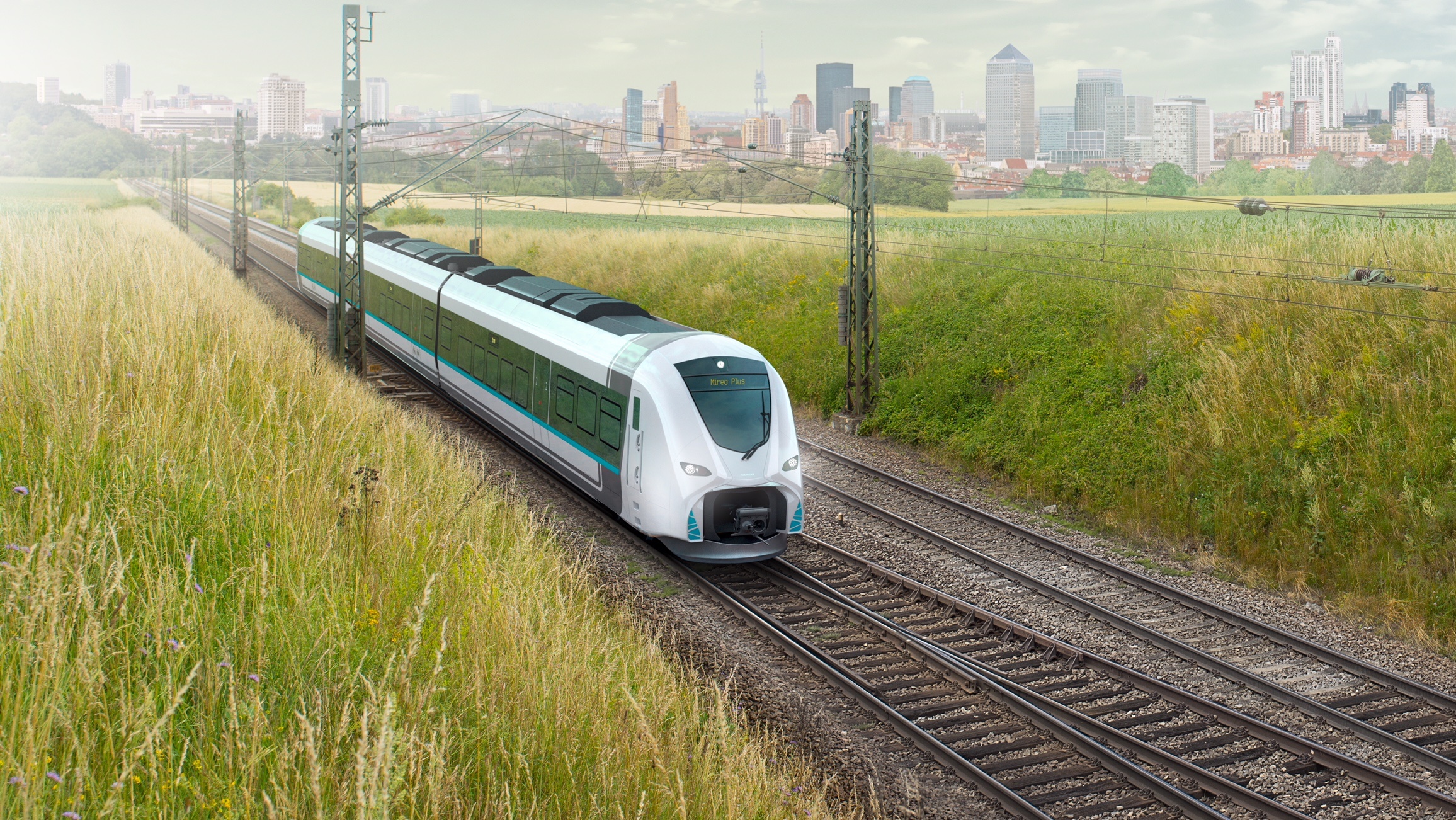 Siemens Mireo Hydrogen Regional Train
The Status Quo Must Change: Hydrogen Train Technology is the Answer

CO2 emissions from diesel transit trains are a major contributor to global warming and to regional air pollution, especially in urban areas. Authorities are under growing pressure to reduce carbon emissions, and diesel trains are an obvious target: trains are large, visible polluters, seen by every urban commuter and nearby resident.
As a result, many transit and rail systems operators are facing tough new emissions targets. Zero-emission trains are the fastest route to meeting those goals. And hydrogen fuel cell train technology is the most cost-effective solution. As more transit authorities embrace hydrail, the transition from diesel may take place far more quickly than anyone expects.
(Related post: High-Tech Hydrogen Trains are Revolutionizing Mass Transit)
Hydrogen Fuel Cell Trains: Electric Trains With No Overhead Lines
Until recently, the only effective zero-emission solution was to power electric trains from a grid of overhead power lines called catenary wires. Installation and maintenance of such a grid—of poles, wires and electrical infrastructure, comes with a massive cost. Electrification of existing tracks also includes major civil engineering work on bridges and overpasses.
Hydrogen trains, on the other hand, require no electrification infrastructure. They run on existing unmodified tracks. The trains are 100% electric. Each train generates its own electricity from its own hydrogen fuel cell, just as a diesel train carries its own diesel fuel.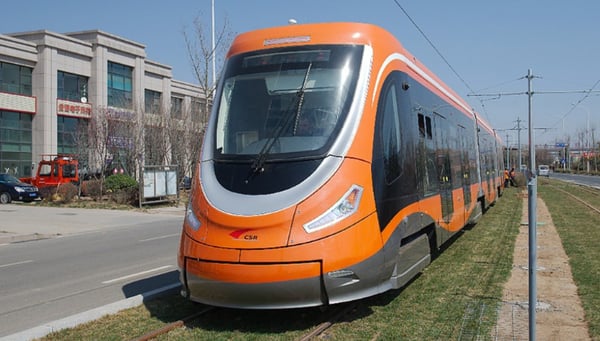 Hydrogen Fuel Cell Tram Line in Foshan, China.
The hydrogen fuel cells are refueled with hydrogen. Refueling takes about the same time as refueling a traditional diesel engine.
A Direct Diesel Replacement for Commuter Trains and Shunt Systems
Nearly any train route that is served by diesel trains can be served by a hydrail train. From regional and commuter train routes to shunt and yard systems, the replacement is one-to-one. No new infrastructure is required, beyond the hydrogen refuelling stations.
(Related post: The Next Generation of Shunting Locomotives Uses Fuel Cell Power)
How Do Hydrogen Trains Work?
Hydrail uses a hybrid configuration of hydrogen fuel cells, batteries and electric traction motors. The fuel source is hydrogen. The fuel cells convert the hydrogen into electricity, which feeds the batteries to provide a stable power source for the traction motors. The train's brakes recharge the batteries, which store any excess energy for later use, and further contribute to fuel efficiency.
Respected Manufacturers Are Developing Proven Systems
Hydrogen fuel cell technology has matured and proven itself in industrial and motive applications across the globe. The focus on hydrogen train technology is increasing and so is the interest. Alstom, a world leader in the development of systems, equipment and services in the railway sector, has developed the first hydrogen fuel cell-powered passenger train.
Development is underway from other established and respected manufacturers. Systems are in planning stages or already under development in Germany, the United Kingdom, Switzerland, Austria, France, China and Canada.
Innovative Hydrail Systems Available and In Development Today
In Germany, Ballard is collaborating with Siemens on a joint fuel cell development program

for the Mireo train structure. Together, Ballard and Siemens are developing a new generation of hydrogen powered trains with extra long lifecycle, high power density, and improved efficiency. The technology will be ready by 2021.
Alstom's regional hydrogen train Coradia iLint has completed its initial test phase. It can travel at up to 140 kilometers per hour for up to 1,600 kilometers.
In Foshan, China the China Railway Rolling Stock Corporation (CRRC) is supplying eight hydrogen fuel cell trams (powered by Ballard) for a new light rail line. The full-scale hydrail system is expected to be complete in 2019.
In Tangshan, China the world's first hydrogen-powered tram (built by CRRC-TRC) is on demonstration trial, serving 5 stations on a 14 km line powered by Ballard fuel cell power modules.
In Toronto, Canada the regional transit authority has produced a major study on the viability of hydrail. The report's recommendation embrace the technology and, if built, would be the world's, and proposed the largest-scale hydrail system to date.
In the UK, the UK Rail Safety and Standards Board is working with Alstom to develop a hydrogen-powered train with a pilot system expected by 2019 or early 2020.
The World's Largest-Scale Hydrail System Is in the Planning Phase
Metrolinx, the Greater Toronto Area's transit authority, recently published a comprehensive report that shows:
Hydrogen trains are an attractive alternative to track electrification.
A system for Toronto's regional GO transit is technically feasible to build and operate.
The system's overall lifetime costs would be equal to those of conventional overhead electrification.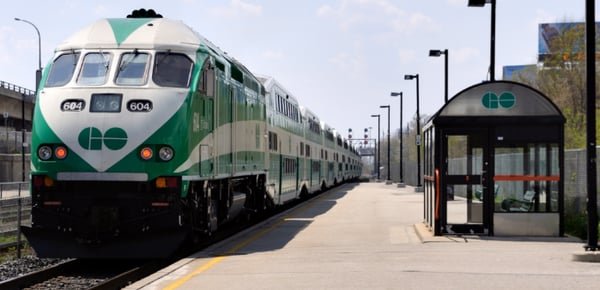 GO Transit Train in Toronto, Canada. Image source: Wikimedia Commons
As a result of the report, they have announced their intention to begin operating the world's largest zero-emission hydrail train system in Toronto by 2025.
How and Where Does Hydrail Deliver Savings?
A hydrail train system provides significant savings in capital and operating costs. The capital cost savings are potentially enormous: because no overhead electrical catenary lines (and the associated electrical infrastructure and road crossings) are required, system installation and deployment is far more cost effective.
Operating costs are lower over the lifespan of the system. Because hydrogen fuel cell trains run on hydrogen, they do not require grid-sourced electricity while they are in operation. This allows system operators to draw electricity from the grid at off-peak times, when electrical rates are lower. In addition, the trains' regenerative braking system recharges the batteries, which both saves on energy costs and results in less wear and tear, and contributes to lower maintenance costs.
The Switch is Underway: Let's Move Forward Together
Zero-emission vehicles are the way of the future. As rail system and transit authorities face increasing pressure to reduce their carbon footprints, hydrail technology offers a viable and cost-effective zero-emission solution.
Hydrogen fuel cell technology is field proven in heavy-duty transport of all kinds, and Ballard is a global leader with an ongoing commitment to continual R&D and steady improvement. Ballard fuel cell technology is purpose-built to perform in the extremely demanding drive cycle of commuter and cargo trains, in extreme climates and conditions, over a range of duty cycles with no compromise in performance. The world is ready for hydrail.
Next Step:
Download the presentation below to learn how Ballard is adapting its leading fuel cell technologies to various rail applications around the world.