To some, the concept of using fuel cells for backup power might seem like a complicated task. How can a technology, like fuel cells, be placed on sites simply, and provide the needed power?
Wouldn't it be easier with banks of batteries or diesel generators?
In this blog, you'll learn why fuel cell backup power solutions are just as easy—if not easier—to install at existing and new mission-critical infrastructure sites, such as communication network hubs. You'll also discover why choosing fuel cell solutions can make your job much simpler.

Why the Nordic Countries Need Better Backup Power Solutions
Today, many site operators in Europe are facing new regulations which will impose a minimum amount of backup time. This minimum ranges from a few hours to 72 hours for critical infrastructure sites.
What does this mean for operators?
It means they'll have to choose the right solution to address this new reality. Most operators look at the most common backup power options:
Batteries - which increase the required footprint of the system.
Diesel-powered generators - which can be noisy and come with specialized maintenance requirements.
Since regulations and site power requirements will continue to change, network operators need flexible solutions—within budget—that don't compromise reliability.
Hydrogen Fuel Cell Technology: Making Backup Simple
Fuel cell backup power provides this flexibility, will maintaining high reliability and availability.
Fuel cell backup power systems are developed for easy installation, which is why they have been built as either 1.7 kW or 5 kW modules. They can be coupled to meet the power output requirements. This makes fuel cell systems highly flexible and easy to upgrade or relocate.
(Related post: Fuel Cell Backup Power: Solution for Critical Infrastructure?)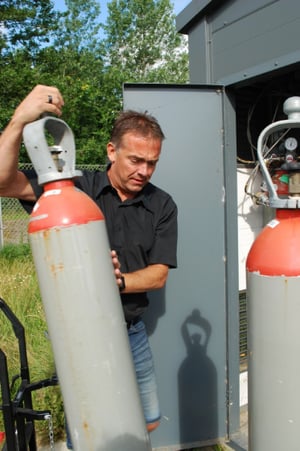 A great example is Ballard's FCgen-H2PM® as it has many features that reduce the need for scheduled maintenance. The systems have both remote monitoring and automatic self-testing, which means that they'll send out an alert if an issue is found during the monthly self-test.

This saves operators unnecessary site trips.

The system will also send out an alert when hydrogen bottles need to be changed. But since hydrogen doesn't age or degrade, this doesn't happen very often. In fact, hydrogen can be stored for years. This ensures the system will be ready to go when needed.

Of course, this means that hydrogen does need to be transported to the site. A simple solution is to place extra hydrogen bottles on site during the initial installation. This greatly simplifies the refueling logistics.

In addition, composite bottles have started to replace steel bottles, decreasing the weight of the bottles significantly. Hydrogen is also much more readily available across the Nordic countries, thanks to the extensive, expanding infrastructure.

Ballard's Proven Technology: 100% Reliability and Availability

Over the years, Ballard has shipped more than 3,000 backup power systems globally, which have been installed and serviced by us and our trained partners.

In 2007, Ballard installed the first fuel cell backup power systems on 11 operational critical data network sites across Denmark. These 11 systems have been functioning without issues, and thousands more have since been installed. Operators enjoy a reliability and availability of 100%.

In 2015, Ballard Europe partnered with Relacom to maintain this high level of availability and reliability across the Nordic region.

Mikael Hausberg, Head of Power Market Sales and Business Development at Relacom shares:"Fuel cells are exciting and promising. We enjoy the simplicity and the fact that they're so easy to design into both existing and new installations—and how easy they are to install."

He highly values the fuel cell backup power systems' remote monitoring and self-testing as it "makes them almost free from preventive maintenance, since we only need to go to site every five years when filters need to be checked during our regular site visits."

Now, Relacom is installing systems in Norway and has several specialists trained by Ballard Europe on the FCgen-H2PM®'s solution design, installation, commissioning and servicing. Mikael Hausberg is "excited to see the next installations in Norway and to help sustain the same exceptional reliability that has been proven in Denmark".
Conclusion
Today, we install new systems in less than a day because of the simplicity and ease of integration. Our team is highly trained and performs regular service checks every day.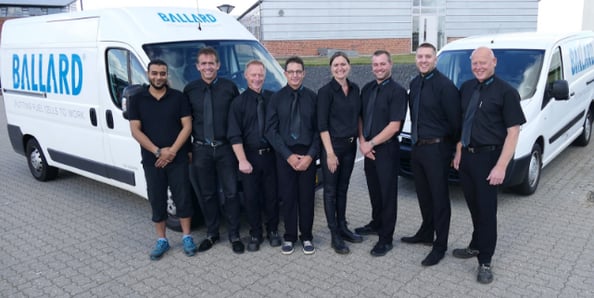 The Ballard Europe service team
All logistics challenges have been solved. Our partnership with Relacom has strengthened our Nordic presence and increased our response time in Norway and Sweden significantly.
With the fuel cell backup power systems' high reliability and low maintenance, the choice is simple, effective, and safe. We at Ballard Europe continue to invest time and money in improving our services, maintaining reliability, and keeping Scandinavia's critical infrastructure supported and secure.
Next Step
Download our white paper below. From it, you'll learn about:
the proven performance of hydrogen fuel cell backup power systems
how Scandinavia can benefit from this technology
how to compare fuel cell backup power and diesel generator or battery solutions