How is the marine industry responding to the increasing number of emissions regulations?
Today, we interview Ivan Østvik of Norled AS, one of Norway's largest ferry and express boat operators.
Mr. Østvik shares how his company is addressing zero-emission regulations, including their experience with both fuel cell and battery powered ferries.
He also discusses issues around implementing fuel cell technology at scale, and gave us a sneak peak at new ship technologies that Norled is currently working on.
Ballard is supplying the fuel cell power systems for two of Norled's zero-emission ferries. Those systems are being developed by Ballard Marine Center of Expertise in Denmark.
Let's get started with our conversation with Ivan Østvik!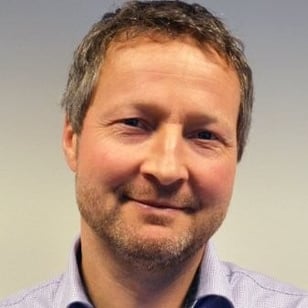 Can you tell us a bit about your background, Ivan?
I'm a project manager at Norled AS, overseeing the development of some of the new ships being built for our fleet. I'm presently working with car ferries and high-speed passenger boats.
I'm a naval architect by profession and I've been working with ship design, marine technology and offshore wind for 25 years now.
My main task at Norled now is to construct the world's first ship to be powered by liquid hydrogen that will be in operation in two years' time.
Can you tell us a little about Norled and the company's mission?
The company's mission is to safely transport people and vehicles from A to B in Norway. We're a very traditional ferry company with a long and rich history in Norway with roots going back to the 1850's.
Norled started developing high-speed boats some decades ago, but the recent history of Norled is the merger of smaller companies.
We're now one of the four large ferry operators in Norway. We currently have 1,200 employees, and operate around 80 ferries and high-speed passenger vessels.
Let's talk about how Norled is incorporating zero-emission technology into its fleet. Why is Norled doing this?
This basically comes from the governmental regulations and requirements.
In 2013, the Norwegian government issued a tender where ferry operators were asked if they could operate zero-emission vessels for one of the routes crossing the Sognefjord in the west of Norway, where ferry crossings form part of the national road network.
This tender competition was won by Norled and resulted in what became the first all-electrical car ferry, MF Ampere. This first ferry has been running on batteries since 2015, and has resulted in about 80 ferry copies, or siblings, that are either in operation, or under construction with plans to be operational by 2021.
Norled now has nearly 20 vessels under construction.
One additional benefit that has become apparent due to the low electricity prices in Norway, is that battery-driven ferries have lower fuel cost than diesel-driven ferries.
Other benefits of running on batteries are silent operation, less vibrations and less maintenance cost. For hybrid vessels, batteries are used for peak shaving and in port modus, reducing costs and emissions.
Besides battery-powered ferries, what other zero-emission technology options are you working with?
We are developing and operating vessels sailing on specific routes with many port stays during the day. The power requirements are such that the batteries can be charged in a safe and efficient way during these port stays.
But of course, we see that battery technology has limitations due to their low power density and recharging time requirements.
This has led us to investigate fuel cells, as quite early in the deployment of this technology, we realized that batteries alone cannot provide sufficient power for all the routes we are operating, because the routes are either too long, the vessel is too large or sailing too fast.
Two years ago, we started seriously looking into fuel cells in response to a new tender for zero-emission powered car ferries through the Norwegian Public Roads Administration, which specifically asked for hydrogen-powered fuel cells for the tender vessels.
This led to Norled starting up technical development in the summer of 2017, where the tender bid was submitted in autumn 2018 and ultimately Norled winning this tender. This hydrogen-driven car ferry is now under construction. It's due to be delivered from the yard and begin operation in summer 2021.
(Read more: Here's Why Fuel Cells Will Power the World's Marine Vessels)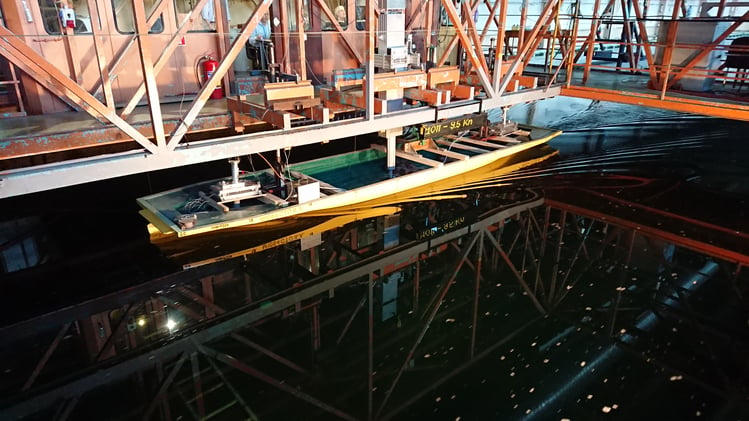 Tank testing of Norled's hydrogen-driven car ferry in model scale conducted at CTO in Poland in July 2019
Why do you think that hydrogen is a good solution for zero-emission marine applications?
It's clean. We see that fuel cell technology is maturing and now available for the maritime industry.
We are working closely together with producers of fuel cells and hydrogen storage, in order to ensure success of this opportunity to construct and operate this innovative ship.
Hydrogen will increase the endurance of a ship that is running all-electric on batteries. It provides an energy storage capacity that is outperforming battery technology.
From Norled's perspective, what is the value proposition for marine operators to embrace a fuel cell solution?
The advantage of the fuel cell solution is that we get endurance. By loading onboard hydrogen in sufficient quantities, we can simply operate the longer routes, sail faster and/or operate larger ships with higher power requirements.
With the battery solution, you need to charge every time you're in a port. So, if something is wrong at the charging station or you miss it for some reason, you risk not being able to sail until the ferry has been charged—leading to delays and fines for lost route production.
A hybrid solution, finding the right combination between batteries and fuel cells, will ultimately provide safe and efficient zero-emission operations for all Norwegian car ferry routes, as some of these routes have power requirements that are too tough for battery-alone operations.
(To learn how ABB Marine & Ports is working with fuel cell technology, read: What Role Will Hydrogen Play in the Marine Industry?)
Are you working on anything specific to implement that technology and are there some operational objectives that you need to work around?
We are building the world's first ship that will run on liquid hydrogen, to be in operation in 2021. We see that liquid hydrogen provides more energy on board in the same space, when compared to compressed hydrogen or batteries.
For this ship we need to develop a completely new bunkering operation with associated technology. In the end, Norled needs to prove to the authorities that the ship operation and related bunkering operations are safe enough to be given a license to operate.
We are applying risk-based design methods in parallel to the technology developments.
Who are some of your partners in this development?
For liquid onboard storage, we use Linde Engineering in Germany. And for fuel cells we use Ballard Power Systems Europe, which is building up its maritime center of expertise in Denmark. We use Gexcon for safety and risk analysis.
The system integrator is Westcon Power & Automation located at Karmøy, Norway. The ship builder is Westcon Yards in Ølen and the ship design is conducted by LMG Marin in Bergen, Norway.
What are the issues around implementation of fuel cell technology at scale?
It's early days for fuel cell-driven ferries.
We're taking on the development of a second ferry to run on hydrogen and potentially high-speed passenger boats, where we're considering installing a hydrogen fuel cell system onboard. To scale the fuel cell system size and hydrogen storage onboard seems to be an achievable task at hand.
On the other hand, we're facing the question of "How shall we get hydrogen supplied to vessels that are running megawatt fuel cell systems?"
The supply chain is in the early development phase in Norway. We know how to produce hydrogen but there are no factories or big producers that can readily supply us with tons of hydrogen every day. So that's our main headache right now.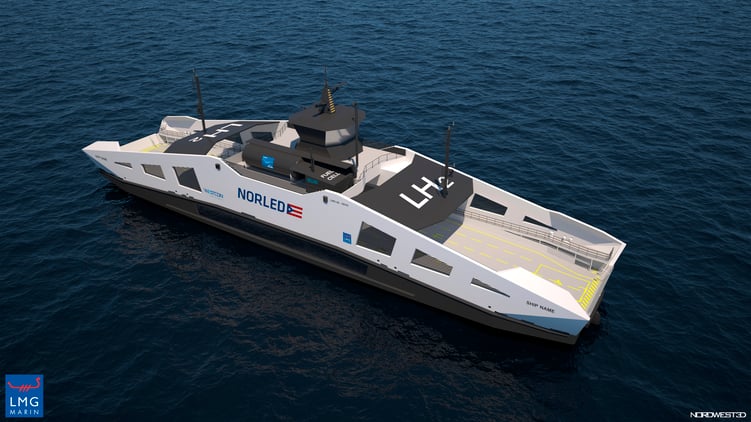 Artist impression of Norled's hydrogen-driven ferry to be named "MF Hydra". Steel cutting has started at Westcon Yard and ship design is in progress by LMG Marin in Bergen, Norway
The first car ferry that we are building now is a small sized project with a small amount—150 kg/day—of hydrogen needed.
Moving into 2020, a tender project for ferries with megawatts of fuel cells will start up in the north of Norway where up to 10 tons of hydrogen are needed every day for the ferry route. For this ferry route we need to build up hydrogen production facilities not too far away from the ferry route.
What is your long-term vision for zero emission marine mobility?
The vision of Norled is, that by 2030, most of our vessels will be running on zero-emission energy.
Are there any other comments you'd like to share with our readers?
We are also working on our next ship technology challenge to get high-speed ferries running on hydrogen. We've just developed a concept called ZEFF - Zero Emission Fast Ferries.
This is certainly something that will catch attention. It's capable of running on hydrogen and fuel cells, whilst we also will utilize hydrofoils to lift the hull out of the water in order to reduce resistance.
We're now operating around 30 high-speed displacement catamarans, where the hydrofoil concept will reduce the resistance by some 40% compared to the catamaran concept.
This is anticipated to be the enabler for zero-emission passenger transport in urban areas and we could see several urban transport system developments in the coming decade.
Zero-emission sea transport will be an efficient and cost-competitive way to transport people in the future, using a very low-cost infrastructure, and is a nice way to travel.
Thanks for sharing your story, and the story of Norled AS, Mr. Østvik!
Here's a look at some more key benefits of fuel cell technology for marine transport:
(Click infographic to enlarge.)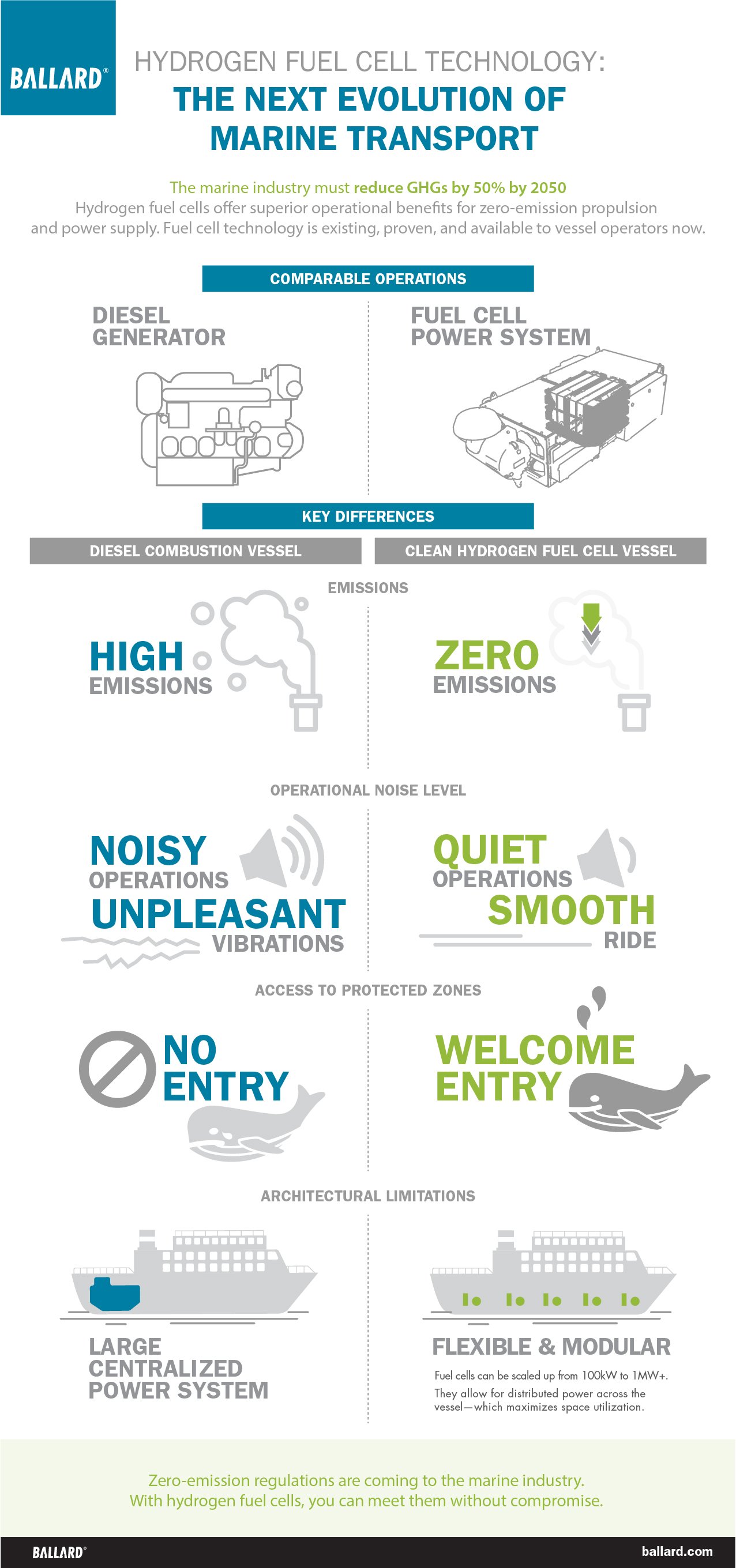 Next Step:
Download our brochure Fuel Cell Power for Marine Vessels. In this brochure, you'll learn why fuel cell technology is the most viable solution for marine vessels by looking at:
3 areas of early fuel cell marine applications
4 key benefits of using fuel cells for marine applications
4 major Ballard-powered marine fuel cell projects