Have you heard about the new emissions regulations coming to the marine industry? What can ship operators do to comply, and start reducing their GHG emissions?
For this blog, we interviewed Klaus Vanska of ABB Marine and Ports, who discussed his company's exploration of low-and zero-emission solutions for marine vessels.
Here's a look at what's happening in the industry now, and what part fuel cell technology will play in the upcoming transition to cleaner fuels.
The Future of Marine Transport: Q & A with Klaus Vanska of ABB Marine & Ports
Can you tell us a bit about ABB Marine & Ports and your mandate?

Klaus: ABB is one of the world's leading enablers of sustainable transportation, including marine vessels. ABB's role as a front runner in clean-transportation technologies is to equip the marine industry with electric, digital and connected solutions that maximize the full potential of vessels. This will ultimately enable a safe, efficient and sustainable maritime industry.
In my role, I work with all related stakeholders to develop solutions which meet regulations and offer the best value proposition to the end user. I build relationships with those we can do sustainable business with in long term.
How are climate change and emission reduction policies affecting the marine world?
Klaus: There's no doubt they are affecting us. Until now the focus has mostly been on criteria emissions like Nitrogen Oxides (NOx), Sulphur Oxides (SOx) and Particulate Matter (PM), which have been regulated by the International Maritime Organization (IMO). The next step will be a global 0.5% Sulphur limit which is coming in 2020.
But focus is also shifting more and more to GHG emissions. Earlier this year, IMO released their greenhouse gas emissions policy, with a target to reduce their GHG emissions by 50% before 2050 compared to the 2008 level. This will have a big impact on the whole industry.
What sorts of demands are you getting from your customers now?
Klaus: While the rules are not yet clear and it's only been strategy until now, at the global level the whole industry is studying alternatives. Questions are coming in from each and every perspective.
Some of our customers are very interested about the possibilities associated with fuel cells. As such, they're ready to invest in small scale fuel cell systems. This allows them to learn about the challenges and opportunities so they'll be better prepared to scale them up when the time comes. It's a safe way to proceed, for now, because these clients learn about this new technology, but their vessel's operation is not yet dependent on it. They get the benefits of a clean power source as they learn how to implement the systems to scale.
In 2023, IMO is going to release new regulations that vessel operators will need to adopt and comply with. This obviously means that ships have to progressively move to using cleaner fuels. So there will either have to be cleaner fuels for existing technology, say internal combustion engines, or there will have to be completely new technologies which are emission free.
In addition to IMO rules there are locally regulated emission control areas which have their own requirements. These requirements could mandate zero emission operation during port call or sailing in some specific area.
Public awareness of emissions has also increased, which puts environmental values more top of mind for ship owners.
Why is hydrogen and fuel cell technology appropriate for marine applications?
Klaus: There are a couple of different fuel considerations at the moment. The options are synthetic fuels, ammonia, battery installations and hydrogen fuel cell solutions. And of course it's good that there are a number of those options.
Personally I'm an advocate for the diversity of solutions because this challenges different industries to further develop their technologies. If I'm comparing those different alternatives I would say that synthetic fuels and ammonia would work with existing internal combustion engines to some extent.
New technologies like batteries and fuel cells also have a role to play. Batteries work best for vessels with very short routes, and which have frequent charging possibilities. But when we're looking at longer routes and bigger vessels, fuel cells become a viable option.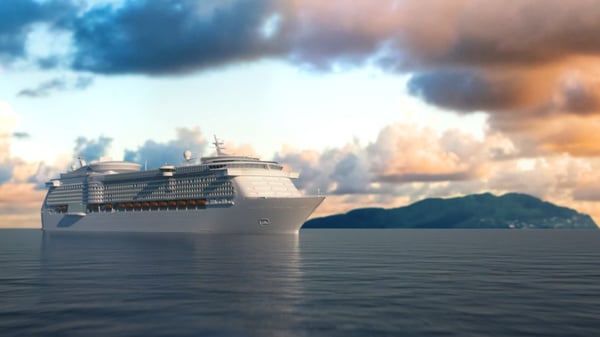 In a couple of years we will see synthetic fuels and hydrogen being much more cost competitive than they are now, while renewable production will increase in areas where this capacity exists. The current cost limitations and lack of a complete hydrogen delivery chain make embracing the technology difficult for ship owners.
Fuel has been, and is still the biggest factor in the operational cost of a large vessel. If the alternative fuel prices are equal, the efficiency of the system is going to play a very big role. When comparing the current model, which uses an internal combustion engine, and fuel cells, there is a very big difference in the efficiency. Meaning that, in the future, while alternative fuels for different technologies will have almost equal cost, the winning solution is the one having highest efficiency.
Of course, we now have to compare fuel costs with a future mindset. Not at today's level, because nowadays you can burn heavy fuel oil and it's way cheaper, but you won't have that option in the future. But we believe that those alternative fuel costs will be competitive with current fuel costs in the future while volumes grow up.
(To learn more about the benefits of fuel cells for marine, see It's High Time to Think About Fuel Cells for Marine Vessels)
What are some of the best short term and long term applications for fuel cell powered ships?
Klaus: The latest transition has been moving towards LNG engines and LNG fuels. LNG is now complying with IMO rules for NOx and SOx, but not yet for greenhouse gas emissions. This means the next transition will be moving away from the use of current heavy fuel oil and LNG to the zero-GHG-emission alternatives
In the short term, in small short sea shipping vessels where the scale of hydrogen is way lower and the ships have the possibility for more frequent bunkering, current hydrogen technology with pressurized tanks can be applied straight away.
For bigger vessels, we have to begin to install fuel cell systems which may serve as zero emission port call power supply. In doing this, the industry will learn how to use and maintain them.
However, hydrogen fuel availability and crucial infrastructure is not yet developed at the needed scale. This is a real challenge because the vessel owners are not willing to invest in that. Plus they're not willing to have two different fuels on board the vessel. It means we possibly need to develop on-board systems reforming hydrogen from LNG to power fuel cells. This doesn't comply with the coming regulation, but it's a step in right direction. I'm certain we'll see a lot of innovations in this sector in the coming years.
In the long term, hand in hand with renewable hydrogen production growth, global logistic chain development and port bunkering infrastructure development, fuel cells will be one good emission-free alternative to power marine vessels. Furthermore, they also reduce the ships' noise and vibration levels remarkably.
Can you tell us about ABB's partnership with Ballard?
Klaus: We started two and a half years ago by sharing our knowledge with those who were able to create a vision on how this market may develop. We saw at that time that Ballard's technology matched our business intentions and the marine segment quite well.
Our first fuel cell system demonstration installation, including control, converter and transformer technology from ABB and a FCvelocity® proton exchange membrane (PEM) fuel cell engine from Ballard Power Systems, was on display at the Royal Caribbean Technology Display Days event in New York, on November 8-10 in 2017.
In June 2018, ABB and Ballard Power Systems signed a Memorandum of Understanding (MoU) on developing the next-generation fuel cell power system for sustainable marine e-mobility—with a focus on creating a pioneering megawatt-scale solution suitable for powering larger ships.
What is ABB's long term vision regarding hydrogen propulsion for marine?
Klaus: We believe that modern ships will be built on the foundation of electricity. This expands their range of viable energy sources beyond traditional fuel to technologies like batteries and fuel cells.
If you were to peer into the future, what does it look like?
Klaus: We believe that the next generation of ships will be electric, digital and connected. The electrical backbone, integrated with automation and control systems, will also transform the industry from merely connected operations to collaborative and automated operations.
With the addition of electrification, we are staying in touch with other mega-trends in the shipping industry which are moving towards more automated and autonomous shipping. This requires more maintenance-free systems onboard the vessels. We see that fuel cells are really supporting that strategy as well. Fuel cells are not that maintenance-intensive when compared to internal combustion engines.
Do the reduced maintenance costs become part of the evaluation when looking at total cost of ownership?
Klaus: Yes, they do. When we're looking at total cost of ownership, maintenance is one of the factors we consider along with fuel costs and cost of capital expenditures. Having solid state systems on board requires less maintenance as there are fewer moving parts. This means you can reorganize and reduce work done by specialized personnel onboard, making vessel operations more automated and autonomous, and consequently safer.
However, the biggest factor today and in the future, is still the cost of the fuel. But, we have to look past today and into the future. I believe hydrogen will play a significant role in our transition away from fossil fuels.
Next Step
For more information on our technology solution capabilities and current fuel cell projects for marine applications, download our white paper below.