Considering a zero-emission fuel cell solution for your heavy-duty vehicles? If so, it's essential to become familiar with this technology.
Fuel cells offer a unique value proposition for the electrification of heavy duty vehicles, including:
longer range than a battery only electric solution
heavier payload capacity, and
higher vehicle utilization, thanks to quick refueling.
More and more OEMs are looking at integrating fuel cells into their bus and truck programs. But many aren't familiar with fuel cell technology, and don't know where to start.
Choosing the right fuel cell technology partner will ensure your journey toward zero-emissions is a success. In this article, we share five recommendations when vetting your potential hydrogen fuel cell partner.
5 Considerations When Evaluating Fuel Cell Suppliers
1. Choose the right product for the application
Buses and trucks require long duty cycles. Therefore, fuel cell durability and performance over the long-term is key. A fuel cell system designed for a car will not meet the requirements of a heavy-duty truck. Simply put, heavy-duty vehicles need heavy-duty fuel cells.

Today's conventional diesel and gas vehicles follow this standard. Car engines are designed for cars, and heavy-duty truck engines are designed for heavy-duty trucks. Hydrogen fuel cell design must also be suited to the appropriate vehicle type.

Here are some parameters to consider when evaluating a heavy-duty fuel cell:
Select a fuel cell technology which enables fast on/off cycles like Proton Exchange Membrane (PEM) technology.
The material used in the fuel cell stack construction (e.g. plates) will impact its durability.
The fuel cell's membrane electrode assembly (MEA) should be designed for a lifetime of 20,000 hours or above for heavy duty bus and truck applications.
The balance of plant components should be sized according to demanding duty cycle requirements.
(Ballard has recently developed a new generation of heavy-duty fuel cell stacks. To learn more about our new LCS fuel cell stack, please watch the video below.)
2. Understand your fuel cell manufacturer's technology road map and product life cycle cost
You're about to embark on a long journey, so it's best to think long term.
Evaluating your potential supplier's cost and technology road maps will ensure you're able to meet your commercialization targets. Such road maps must be supported by evidence and key milestones. It should not only look at capital costs, but also maintenance costs, efficiency and durability. These have a key impact on the total cost of ownership.
It might not be in your best interest to choose a supplier with a lower-cost initial prototype for a small volume production series. In fact, your chosen heavy-duty fuel cell system should be manufactured on a large scale, and have the lowest life-cycle cost.
Finally, understanding the core competencies of your fuel cell supplier is also key. This will allow you to identify their strengths, including support processes, along with areas where you can add value to improve the product and reduce cost.
To learn about Ballard's technical leadership, read How Technology Leadership Is Advancing Fuel Cell Commercialization [Interview].
3. Review your fuel cell provider's credentials and qualifications
It's critical to evaluate your supplier's brand reputation and impact. Check their financial stability and resources, including the balance sheet, people, quality control and global footprint.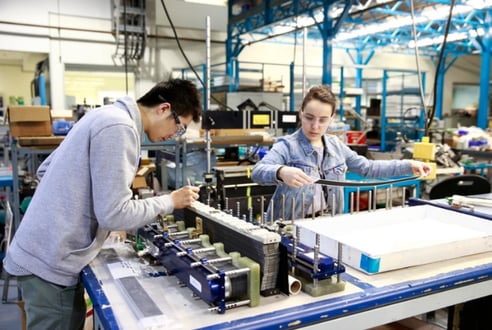 Ballard R&D facilities in Burnaby, Canada
Undertake proper due diligence. Evaluate whether your supplier is stable enough to continue doing business with you long into the future. Check if they have the resources to continue investing in, and improving on their technology.
Don't forget about your supplier's company culture and values. These are extremely important to consider when developing long lasting, valuable partnerships. They're also essential for the successful commercialization of fuel cell vehicles as a whole.
4. Evaluate your supplier's support and service capabilities
When purchasing a fuel cell system, you'll be embarking on the integration of a new technology. Therefore, support with integration and field service is critical, not only at this early phase, but as the technology matures in your ecosystem.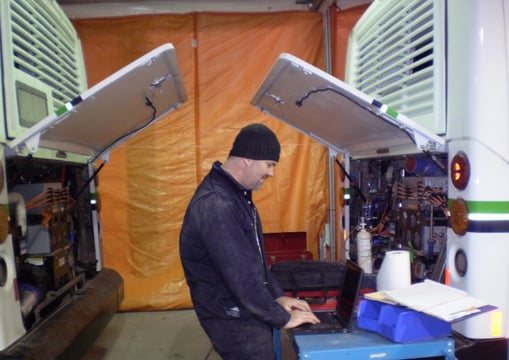 Ballard field service team on site
Your supplier should offer a comprehensive training program to help your team become skilled in working with heavy-duty fuel cell vehicles. They should also have logistics in place to support you with parts on a timely basis when needed.
To learn about Ballard's approach to after-sales service, read The Facts on Fuel Cell Bus Maintenance and Support [Interview].
5. Identify the unique competitive advantages your provider can deliver
Evaluate potential suppliers based on the competitive advantages they can deliver to you.
For example, your supplier could deliver fuel cells that:
Use long lasting materials which deliver on product total life cycle cost targets
Have a flexible design, to ensure performance over a wide range operating conditions
Have a higher operating temperature, to minimize radiator size
Are capable of a

"true" cold start from -25c, with no external energy required
Additional advantages could be that the supplier:
Has the ability to refurbish fuel cell stacks,

re-using key parts and recycling others
Offers vertical integration from the MEA and bi-polar plate design to fuel cell system integration, to ensure they deliver on cost targets.
Conclusion
This is an exciting time, as you begin integrating a new zero-emission technology into your vehicles. Working with the right fuel cell provider will set you up for success, now and in the future.
As the world's fuel cell leader we understand the adoption issues and can help you navigate this process. Whether you embrace our solution or not, we have years of knowledge to share. The journey starts here.
To learn more about choosing a fuel cell technology, contact us for a free application assessment by Ballard Fuel Cell Experts.