VANCOUVER, CANADA - Ballard Power Systems (NASDAQ: BLDP; TSX: BLDP) announced today its plan to materially reduce the costs and scale production capacity of next generation, proprietary graphite bipolar plates, including the introduction of disruptive manufacturing technology.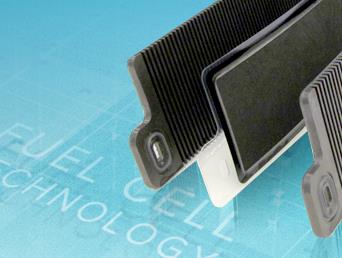 This project is the logical progression after Ballard completed two important milestones – the development of next generation, thin flexible graphite bipolar plates, and an expansion of membrane electrode assembly (MEA) manufacturing capacity in Canada as part of Ballard's "3 by 3" stack cost reduction program. Bipolar plates are the next largest cost item in a fuel cell stack after MEAs, and Ballard expects the implementation of this project, including next generation plate manufacturing processes and the introduction of new lower cost material suppliers, to result in cost savings of up to 70%, following commissioning expected in late 2025.
Ballard's next generation, thin flexible graphite bipolar plates significantly reduce plate materials while enabling high power density stacks, which are critical for certain market applications. Graphite bipolar plates are the optimal choice for Ballard's heavy-duty mobility markets as they offer long durability, re-usability at stack end-of-life, and high power density, while also offering the lowest plate cost at current and scaled volumes.
Beyond product cost savings, the project will increase Ballard's plate manufacturing capacity by approximately 10 times while significantly improving graphite and resin material yield and reducing production takt times. Ballard has also developed several novel manufacturing processes that enable full automation of the bipolar plate production processes, resulting in substantially improved quality throughput, reduced energy demand, and the elimination of water consumption from plate manufacturing. These innovations are expected to be replicable in any future expansion of Ballard's global bipolar plate production footprint.
"We're thrilled to announce a project that delivers economic and environmental value for Ballard. Not only will we be able to reduce the cost of our bipolar plates and improve customer economics, but we will also consume far less energy, water, and material resources in the process," said Mark Biznek, Ballard's Chief Operating Officer. "This investment proves Ballard's innovation in manufacturing technology, in addition to our demonstrated excellence in fuel cell technology innovation and commitment to ESG initiatives."
Lee Sweetland, Vice President of Transformational Projects added, "Our 3 by 3 stack cost reduction has already validated a lower cost and higher quality flexible graphite that enables a 35% reduction in plate thickness and a 45% reduction in raw materials. With stack power densities for our flexible graphite stacks now achieving over 4 kW/L, further investment in next-gen manufacturing processes is forecasted to drive an additional 70% cost reduction for our proprietary bipolar plates, and a clear path towards the US Department of Energy's cost target of $5/kW for the bipolar plate."
Ballard expects to invest approximately $18 million in bipolar plate manufacturing from 2023 through 2025. Expected spending for this project in 2023 was included in Ballard's capital allocation plan for the period, and does not change guidance on planned capital expenditure for 2023.