Europe is a strategic market for Ballard.
Europe is the home of global automotive and heavy duty vehicle manufacturers, who produced 18.4 million motor vehicles in 2015, that is 23% motor vehicles produced globally. 20,000 new buses and coaches are also produced in Europe every year, and these are mainly combustion engine vehicles.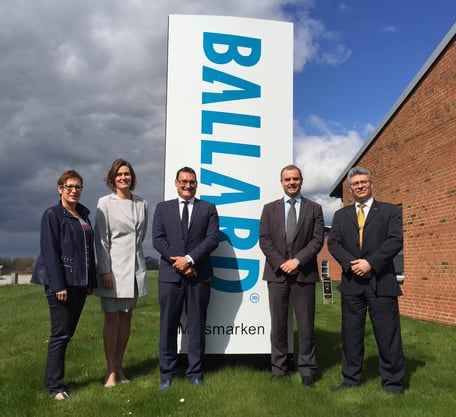 Bart Biebuyck, Executive Director of Fuel Cells and Hydrogen Joint Undertaking (FCHJU), visits Ballard Europe.
Inspiring Commitments are Driving Change in Europe
Europe is shifting to zero-emission transportation with the adoption of new regulations, but is also supporting technology transitions with incentives and government fundings.
Europe has committed to the COP21 (21st Conference of Parties of the United Nations Framework Convention on Climate Change) agreement and has recognized the health impact of air pollution.
Many policy leaders have called for the banning of diesel cars all over Europe, with key countries have already started the process of phasing out diesel vehicles. Several cities have introduced low-emission zones to restrict dirty vehicles from accessing the city centers.
There is already an established ecosystem in Europe for hydrogen fuel supply and infrastructure solutions with qualified fuel cell scientists, technicians and engineers.
Ballard Europe's Key Role in the Zero-Emission Revolution
Ballard has a long and active presence in Europe. We have invested over 25 million Euro during the past 10 years. We have also participated in 15 European funded projects. In the process, we have developed strong relationships with major European automotive companies like Audi, as well as other bus, truck and rail manufacturers.
We are one of Europe's leading fuel cell companies. Ballard has over 50 employees in Europe, many headquartered in Hobro, Denmark, plus presence in Germany, the UK, and France. Our plans are for continued growth of this essential footprint in Europe.
Ballard Europe prides itself in having a complete value chain. Our European Competence Center is located in Hobro, and here we are active in fuel cell system development, production, applications engineering, business development, and after-sales service support.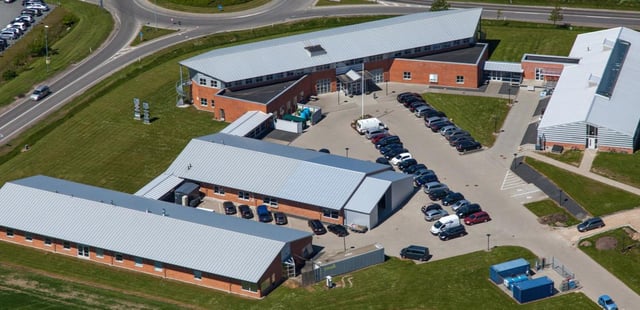 Ballard Europe facility in Hobro, Denmark
There are currently 32 Ballard-powered fuel cell buses in service all across Europe. We also have deployed 450 stationary systems to backup critical communication infrastructure in Europe.
Guided By Our Bold Vision for the Future
We have an ambitious plan for the future. We will leverage our experience developed in the bus sector to continue to enhance market adoption in other similar heavy-duty markets, including truck and rail.
We will focus on the following key areas:
Production: We will locally manufacture, sell and service fuel cell systems for motive applications and power back-up applications.
After-Sales Service: We will continue to provide local full-servicing for backup power systems and heavy-duty fuel cell powertrains. This includes:
Product repair
Application engineering
Onsite services
Spare-part logistics
Training
Performance monitoring
Business Development and Sales: Ballard Europe will continue to grow revenue and in the process increase employment opportunities. We have realistic goals to sell 500 units of heavy-duty power modules per year by 2025.This plan would triple our revenue in Europe for product and service, plus grow Ballard Europe from 50 employees in 2017 to over 150 by 2025.
The Next Steps: Putting our Commitment into Action
We have clear goals that will move us toward our vision. In the coming years, we will:
Work with European industries to create demand for fuel cell buses and trucks through the formation of commercial alliances with OEMs and hydrogen solution providers.
Develop a commercial offer to reach cost parity with other clean transit bus solutions.
Continue to provide technology solutions to leading automotive OEMs in Europe.
Grow our service offering and local presence to support new heavy-duty vehicle deployments.
Set up a pilot line production for our FCVeloCity® motive modules in Denmark within the next two years.
Set up heavy duty power module production line in a strategic European location once critical sales volumes are reached.
Continue to improve the European value of fuel cell electric buses. Today fuel cell buses create more value than any other bus technology and will continue to do so in the near future. Our objective is to increase the European value of FCVeloCity®-HD module to 50%.
Focus on the localization and validation of European components. We will identify European suppliers in order to increase European content. We will test and validate these components and achieve compliance with European regulations.
We will build further competence of Ballard Europe to become our vehicle integration and hydrogen storage competence center.
Conclusion
Ballard Europe is fully committed to Europe and will continue to invest in providing sustainable mobility solutions made and serviced locally.
We look forward to continuing to grow in Europe, and work with local industry, communities, and policymakers to accelerate the shift to zero-emission transportation. Together we can create cleaner, more livable communities, a robust clean energy economy, and inspire other regions to do the same.
For more information on our commitments to Europe, download Ballard's European Vision Brochure below.