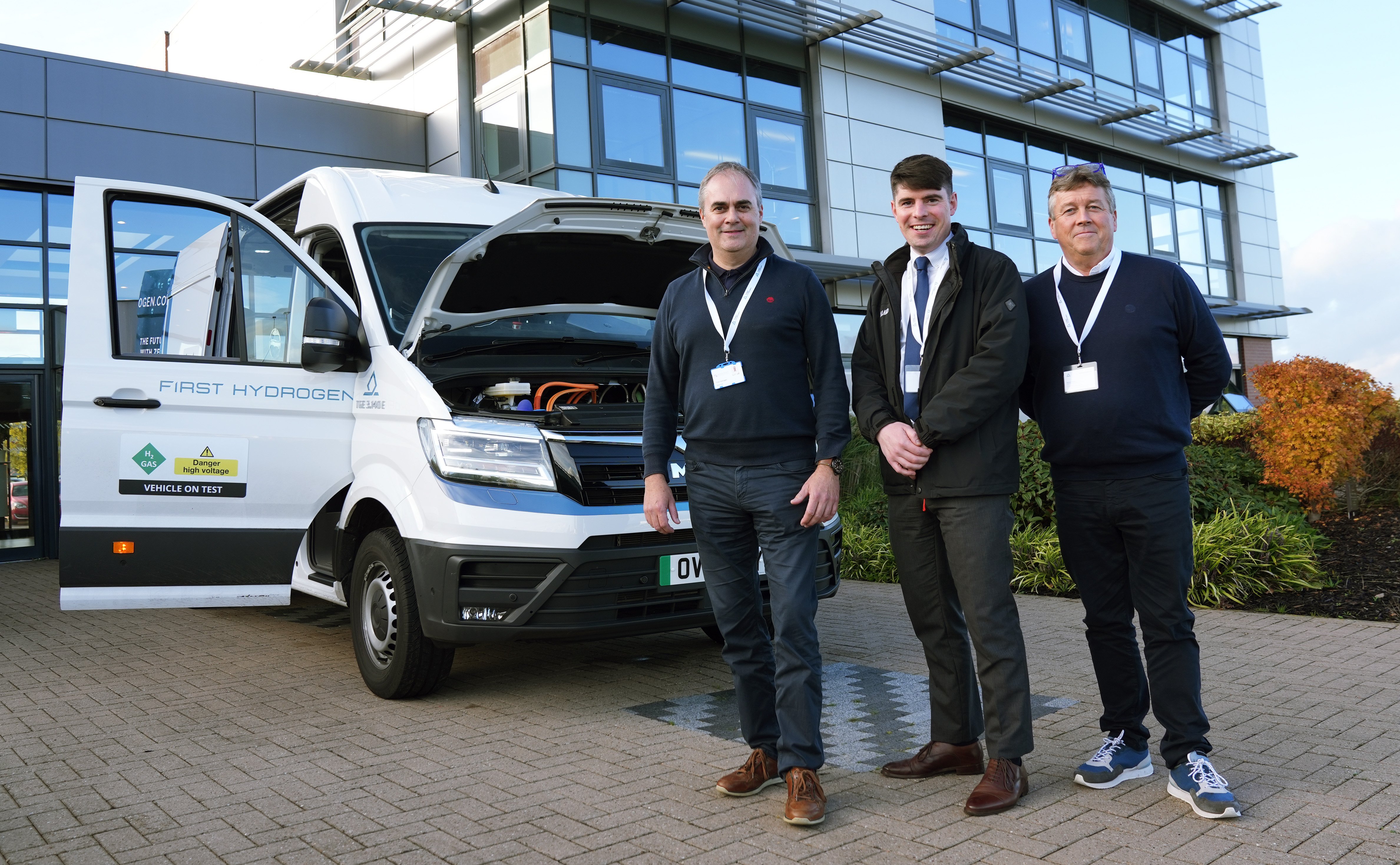 Ballard Power Systems joined the first public drive of industry partner and zero-emissions automotive developer First Hydrogen's fuel cell-powered light commercial demonstrator vehicle (LCV), which took place in Coventry, UK on October 31.
As the fuel cell stack provider for the project, Ballard was present at the HORIBA MIRA proving grounds alongside more than 20 representatives from major UK fleet operators and industry specialists, who had the opportunity to participate in a vehicle walk-around, an under-the-hood viewing of the technology involved, and finally a test drive of the first-of-its-kind hydrogen fuel cell-powered LCV.
Guests from varied industries including Sainsbury's, DPD, Anglo-American, NHS England and Network Rail appreciated the opportunity to get behind the wheel of the 3.5-ton van, with trips around the MIRA test track simulating different duty-cycles while reaching speeds of up to 70 miles per hour - delivered successfully with smooth, quiet, zero-emission operation.

First Hydrogen's next-gen vehicle has now accumulated more than 10,000km through testing with fleet partners across the UK. At the core of the powertrain lies Ballard's 68kW stack which, coupled with a 100kW drive motor and 10kg of onboard hydrogen storage, achieves over 600km range on a single five-minute fill.

Initially announced in Vancouver, Canada in January, First Hydrogen and other members of the UK Aggregated Hydrogen Freight Consortium (AHFC) began testing the LCV in March across a range of industry sectors such as grocery, parcel delivery and roadside assistance, allowing the vehicle to be trialed in a wide range of real-world scenarios and operational settings.
Having completed successful road tests near London and in Aberdeen in 2023, First Hydrogen have demonstrated efficient fuel consumption, allowing the LCV to travel further on a single tank of fuel than alternatively-powered vehicles. This means fewer stops to refuel and lower running costs, reducing the total cost of ownership and presenting an attractive proposition to fleet operators and customers in the segment.
First Hydrogen's LCV offers a scalable solution that can be resized to different model heights and lengths, supporting a modular vehicle range that provides customization to suit operational use and can be exploited in a variety of applications such as express delivery, construction work and emergency services.