Today, we're interviewing Kyle Mulligan, Chief Engineer at Canadian Pacific (CP). Headquartered in Calgary, Canada, CP is a leader in safe and efficient railway operations across North America. Earlier this year, CP announced plans to develop North America's first hydrogen-powered line-haul freight locomotive by retrofitting a diesel-powered locomotive with Ballard fuel cells.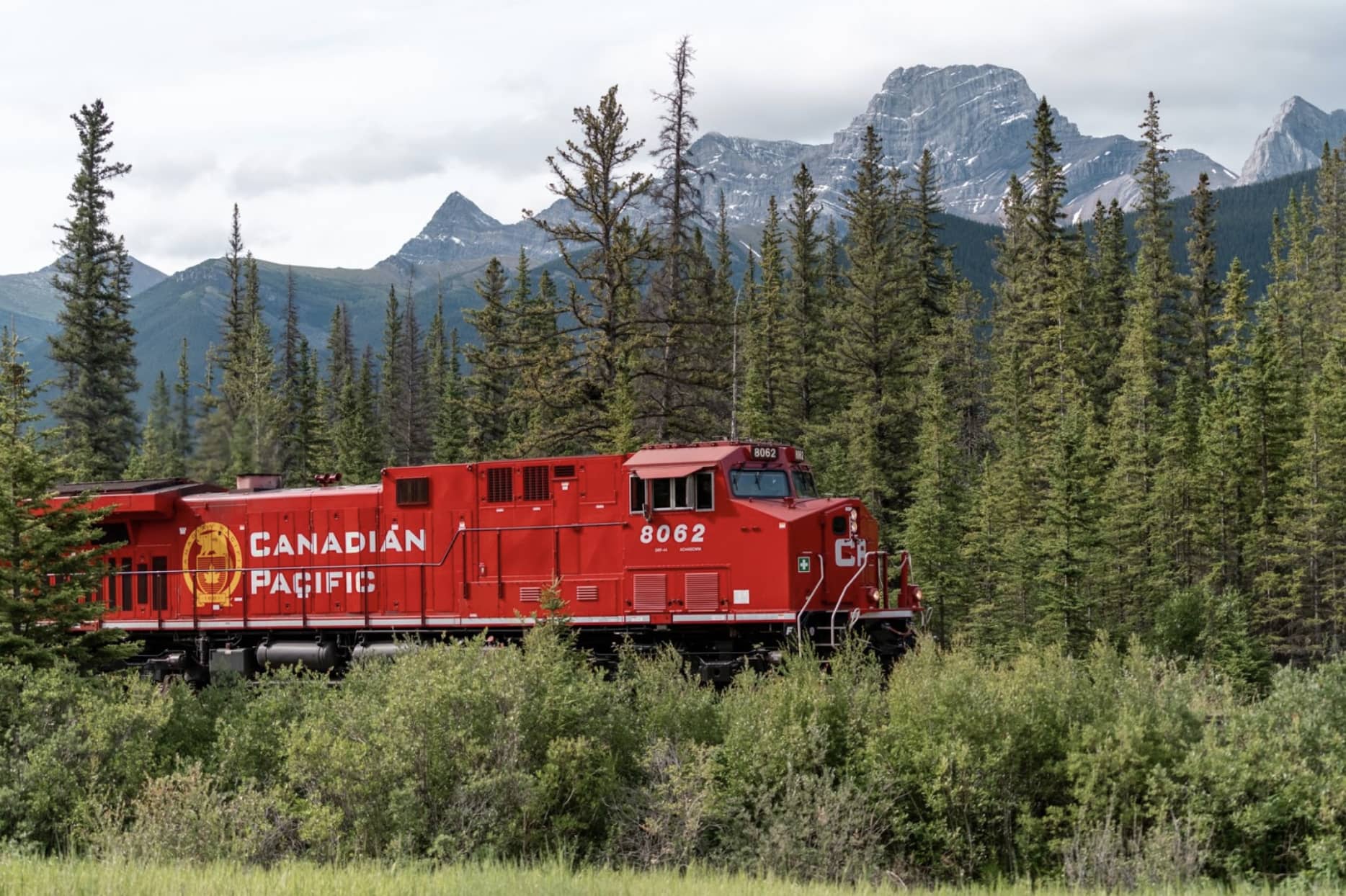 In today's conversation, Kyle shares:
Why CP chose hydrogen fuel cells to power its zero-emission locomotive
How the fuel cell locomotive will be refueled
The opportunities and challenges CP anticipates by adopting fuel cell technology
And much more.
Let's get started with our discussion with Kyle Mulligan.
Kyle, can you tell us a bit about yourself and your role with CP?
Absolutely. I am the Chief Engineer at Canadian Pacific, and I'm responsible for the railway technology group.
Within that group, we do everything from reliability and safety of freight cars and trains, through detectors and data, to working on sustainable hydrogen locomotives.
Can you tell us about the emission reduction objectives of CP?
CP is very focused on sustainability. We have several examples of initiatives that we are pursuing on our sustainability webpage. Specifically we have a five megawatt solar farm here at our head office, and we started to look at other ways in which we could be more environmentally friendly, reducing greenhouse gas emissions throughout our operation.
One of the main things that we invest in is diesel fuel to power our locomotive fleets. So that's really our main driver and what we looked at when deciding to undergo a hydrogen electric powered locomotive.
Can you speak to this development being the first of its kind in North America? And why did you choose hydrogen and fuel cells for this project?
There have been other examples of hydrogen powered switcher locomotives for terminal operations in North America. The locomotive that we're building is truly the first example of a line haul locomotive. So something that would go over the road between cities as an example, and not remain captive to a terminal.
Why we chose hydrogen over other technologies—we do have a heritage of looking at liquified natural gas battery hybrid locomotives, and other types of technologies—but ultimately our main goal was to produce a truly zero emission locomotive. And hydrogen allows us to do that beyond battery electric.
So battery electric requires recharging that can take time that—from our current operation, which is diesel powered—we don't necessarily have a provision for. Hydrogen, being a portable fuel source, really fit the needs and showed the potential that we could seek an alternative through hydrogen to replicate how we operate today.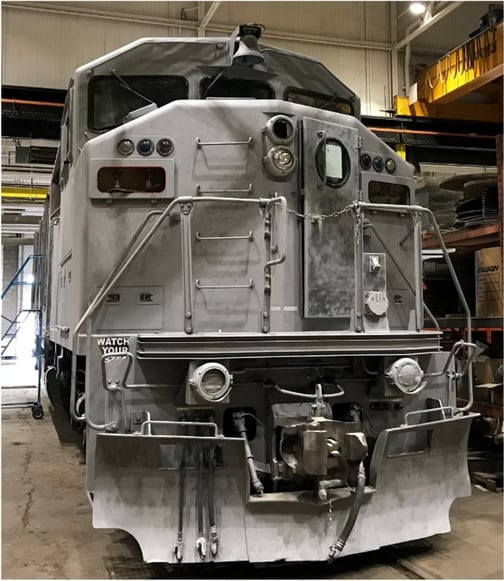 CP Hydrogen locomotive
If you have a locomotive traveling across the country between cities, what are the plans for your hydrogen refueling?
We are currently partnering on rolling out the hydrogen fueling infrastructure, starting with our Ogden solar farm—using water and electricity to generate green hydrogen. We're also looking in the Edmonton area to take advantage of the refineries who produced gray hydrogen, but moving towards blue hydrogen. So establishing a plant where we'll do steam methane reforming through natural gas.
Our real estate is actually prime for essentially rolling out some of Canada's infrastructure around hydrogen fueling. So we're looking to take advantage of that by coinciding with our existing diesel fueling operation locations.
Let's talk about the specific locomotive that you're doing this test on. Where is it expected to operate and what are some of the statistics around distance and other things that you have to consider during this trial period?
The initial demonstrator locomotive is to enable CP and our team to gain experience around hydrogen fuel cells and battery technology onboard locomotives. So our initial trials are targeted to run between Calgary, Alberta and Lethbridge, Alberta and back. So that's our initial goal.
And through that, we will be experimenting with incremental train tonnages, looking at fuel cell efficiency, hydrogen consumption, and the actual test rote provisions for dynamic braking and regenerative braking. Our anticipated range is to get to between 200 and 400 miles initially, and then expand through there through progressive efficiencies.
If you think about our grades west of Calgary, or BC, as an example, 2.4% or greater grades over a significant amount of miles you can recapture and regenerate a ton of electricity. But doing that alone, obviously because you've gone down the hill, you've got to climb probably an equally large hill, so we can take advantage of that. But again, hydrogen produces that additional energy source on board to cover those cases where we can't fully recover the energy that we need.
What are some opportunities and challenges you foresee with the adoption of hydrogen and fuel cell technology?
So I think the opportunities throughout CP is that we have a leadership team who is ready to invest in green technologies and really with the pride of our company being an iconic Canadian company, we truly want to be leaders in the space for the North American rail industry.
A benefit to being an operating company who is now developing a locomotive, we can use that operating experience, that quick problem solving mentality that we have, in addition to the technical abilities that we've onboarded over the years, to produce this locomotive, arguably in record time compared to what a traditional manufacturing model would accommodate.
Having said that, the challenges are that we do have to innovate quickly. We know the technology is going to work. We certainly have the advantage that locomotives are already hybrid electric vehicles, being diesel generator electric traction motors. But having said that, fitting that to the current operating model with diesel, which has been evolved over decades, is going to be one of the challenges.
To sum it up, it's not a question of whether the technology will work. It's how we fit it to our operation. And then of course the second part of that equation is the fueling infrastructure. So how do we partner, how do we understand, from both the provincial and federal government perspective, how do we get that assistance and support to roll up the infrastructure that we need to make this successful?
As we wrap up, is there anything else you would like to share about this program with Ballard's readers?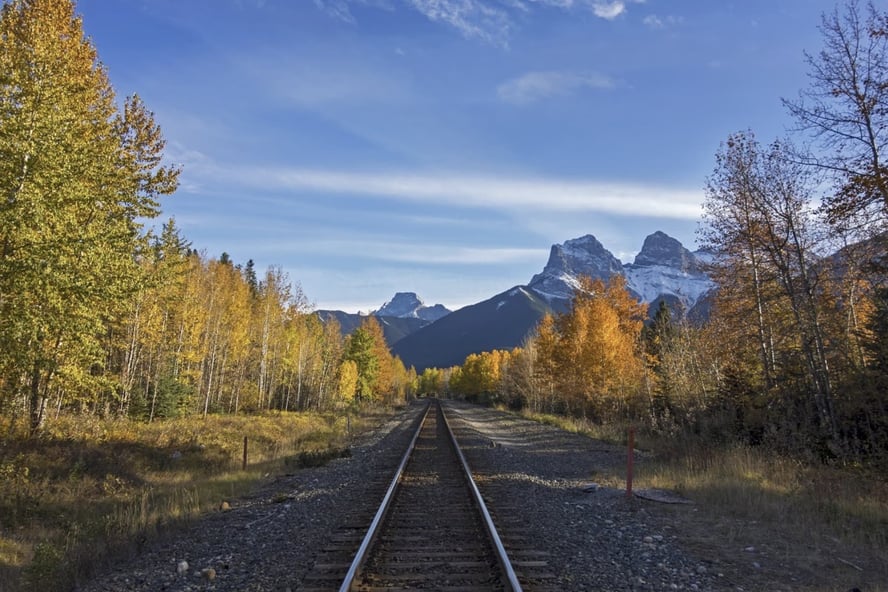 Canadian Pacific Railway Line near Town of Canmore in Alberta Foothills with Distant Three Sisters Mountain
I just want to acknowledge the support from Ballard. They truly have helped us along very quickly in terms of adopting the technology and integrating it correctly. We have a fully functioning lab here in Calgary, Alberta, where we're doing fuel cell trials with actual motors, actual batteries, and so on. And just the immense pride that we have that type of expertise within Canada. I believe this is truly remarkable.