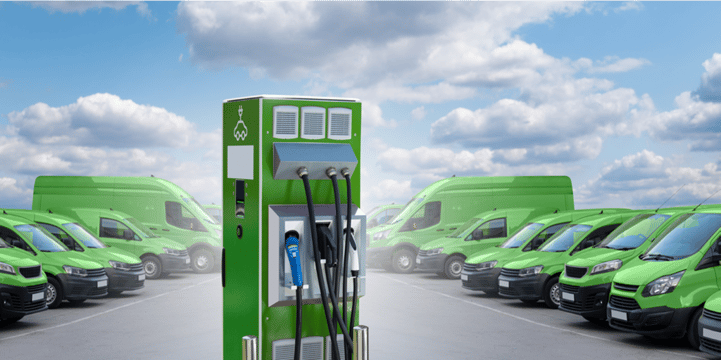 Global sales of electric cars are set to hit another record year, with their share of the overall car market expected to grow to one-fifth in 2023. Add to this the fast-growing number of zero-emission buses, delivery vans and trucks - and the widespread deployment of electric vehicles (EVs) starts to raise concerns about the strain it places on the electrical grid and charging infrastructures.
Grid capacity constraints are already a significant concern for utilities, particularly during peak demand. Upgrading the grid to match the anticipated power requirements can be expensive and time-consuming to the extent it is unlikely to keep up with the pace of growing consumer interest.
Using renewable energy sources, hydrogen and fuel cells represent a game-changing opportunity for zero-emission mobility and EV charging. Independent of fluctuations in the availability of solar and wind power, hydrogen can store and release energy efficiently, and with the use of highly efficient proton-exchange membrane (PEM) fuel cells, it offers a constant and sustainable hydrogen-powered EV charging solution while reducing the strain on the grid.
Sustainable EV charging - independent of the grid
The demand for EV charging is expected to skyrocket in coming years as consumers and businesses transition to EVs to meet their net zero targets. The International Energy Agency (IEA) estimates that by 2040 the electricity demand for transportation will grow by more than one-third - and as the global energy transition gains momentum, one of the most important considerations for future EV charging is the integration with renewable energy sources.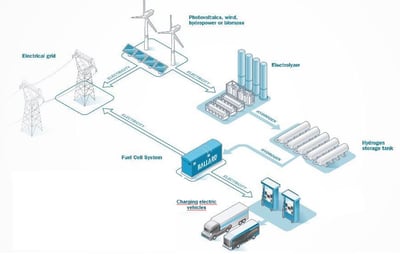 Using hydrogen as a carrier of green energy and utilizing it in a stationary fuel cell system to generate electricity, hydrogen-powered EV charging can reduce the carbon footprint associated with this process dramatically. Deploying hydrogen infrastructure at a site will provide future optionality for direct refueling of fuel cell vehicle fleets.
A powerful and highly efficient stationary fuel cell system can operate independently from the electrical grid and enables fleet operators to build up their own decentralized charging infrastructure, ensuring a reliable, durable, and efficient power supply for their zero-emission electric vehicle fleet.
Benefits for fleet operators
It is estimated that approximately 25% of depots don't have sufficient grid power to support fleet charging and operators can reap substantial benefits from using hydrogen-powered charging stations.
Commercial fleets, such as delivery vans, trucks and buses with high asset utilization, require frequent and fast charging. Fuel cell systems offer high power output and quick charging, significantly reducing downtime of the fleet and allowing operators to maximize the productivity of their assets.
The self-contained and grid-independent fuel cell EV charging systems can be installed at depots or at centralized locations, providing a highly efficient, zero-emission and reliable charging solution for large-scale EV fleet operations.
Another compelling benefit of hydrogen-powered charging is that they are highly scalable. Fleet operators can tailor the charging infrastructure to their specific needs, and as the fleet expands, additional fuel cell systems can be deployed to meet the growing demand, ensuring uninterrupted charging services.
A self-contained and grid-independent installation
As an example, taking a fleet of 100 electric vans with a charging capacity of 25kW, the power demand for an EV charging station in a depot is 2.5 MW. A modular fuel cell solution using 12 Ballard 200kW systems, provides a highly reliable and efficient solution for zero-emission charging in the depot.
Ballard's turnkey fuel cell solution for such outdoor applications comes in a 40ft container with six 200kW systems, providing 1MW AC net power. This containerized system enables short installation time onsite, while full supply service and spare parts support ensures smooth operation.
Supporting the grid in the future
Future EV charging infrastructures must be scalable and flexible to accommodate the growing number of EVs. Charging stations and networks should be easily expandable to meet increasing demand, both in terms of power capacity and physical infrastructure. Scalability ensures that charging infrastructures can keep pace with the rising number of EVs, preventing bottlenecks or overcrowding.
Using renewable energy sources and integrating proven and efficient fuel cell technology, hydrogen-powered solutions can also reduce the strain on the grid through:
load balancing based on grid requirements

peak load shaving during periods of high-power demand

improving grid resilience by decentralized power generation
Leveraging these grid-supportive capabilities, fuel cell technology offers a promising solution to address the challenges associated with a sustainable energy future.