Today, you'll learn how the Ballard Europe team is ensuring successful integrations of our eighth generation power module, FCmove™, into platforms of our European bus OEM partners.
We'll share how our Senior Applications Engineer, Preben Jensen—together with the Ballard Europe team—worked with Solaris Bus & Coach SA to integrate FCmove.
Let's get started!
Ensuring successful deployments: How does Ballard partner with vehicle OEMs?
Today, Ballard partners with market-leading and growth-focused bus OEMs to achieve successful fuel cell electric bus (FCEB) deployments. Most of these partners became aware of fuel cell technology in its earlier stages, and invested in learning how to build FCEBs along with us.
Preben Jensen, Senior Applications Engineer from Ballard Europe, works closely with our partners on fuel cell system integration.
He explains, "We guide our customers to integrate our products with their electric powertrains to reduce vehicle deployment time and technical risks. We help them close the gaps between where they are, and where they want to be to best utilize fuel cell technology and all the features of our products."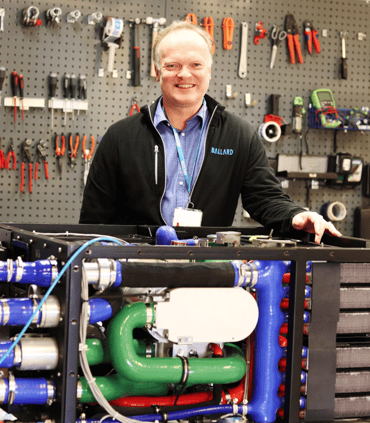 Preben Jensen, Ballard Senior Applications Engineer
Preben brings a wealth of technical experience to fuel cell module integration. With a mechanical engineering background and pure enthusiasm for powerful toys (particularly vehicles and motorcycles) Preben's position at Ballard is a natural fit to lead his team to success.
At Ballard, we believe our partnerships have been successful because we work with OEMs who have a collaborative approach. They're serious about fuel cell technology, and they understand the need to work together to bring it to market effectively.
Preben continues, "I don't simply tell our partners how the fuel cell system integration should be done. We have a continuous dialogue with them around different ways to address issues they are facing, what kind of new supplier base they should bring to the table, and how to best test and commission the vehicle. That way, it becomes a joint effort."
In fact, Ballard's integration team works closely with our partners right from the beginning of their fuel cell programs all the way through the vehicle commissioning:
Our simulation and modeling software ensures the right fuel cell product is selected to power their vehicle, based on drive cycle and operational requirements.
Insights from our many years of experience with fuel cell systems help accelerate and optimize our customers' overall fuel cell vehicle design work, and more specifically the electric and thermal integration.
We provide on-site support during road testing, certification and vehicle commissioning.
With applications engineers based in Canada, Europe, and China, our team is ready to be deployed globally to work side-by-side with our customers to ensure the successful integration of Ballard's products.
Ultimately, the successful installation and integration of Ballard's stacks and systems results in reliable, high performance fuel cell vehicles.
And our customer support doesn't stop once the vehicle is commissioned. Our after sales team takes over once the bus is on the road with comprehensive service, including training, onsite support, and diagnostic and spare parts management.
For Preben and the whole team, it's all about developing lasting customer relationships: "We work closely with our customers toward a very clear common goal. We want them to be successful."
Partnering with Solaris Bus & Coach SA to effectively integrate FCmove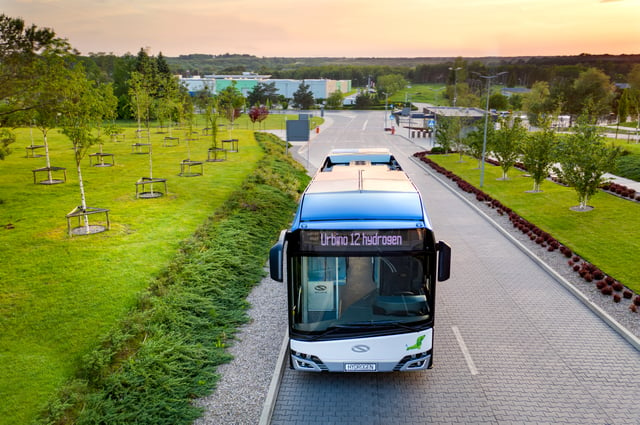 One of our key partners in Europe is Solaris Bus & Coach SA, a company that's been focused on developing electric drivetrains for buses for the last 10 years.
Five years ago, Solaris turned to hydrogen technology to expand its electric bus product range. The company wanted to better serve customers that need extended range and flexibility in their electric bus fleets.
Solaris first gained experience with hydrogen when it designed battery vehicles using fuel cells as range extenders. As part of the JIVE initiative, Solaris supplied two Urbino 18.75 fuel cell electric buses to Hamburg, and 10 trolley buses with hydrogen fuel cell range extenders to Riga.
These vehicles are all powered by Ballard's seventh generation FCveloCity®-HD fuel cell modules.
In 2019, when Solaris decided to design a new generation of fuel cell electric bus, the Urbino 12 hydrogen, the company continued to partner with Ballard to supply the fuel cell module. In fact, Solaris became the first European bus manufacturer to integrate our eighth generation module, FCmove™-HD, into an FCEB.
(To learn about the benefits of FCmove, read What You Need to Know About Ballard's New FCmove Fuel Cell Module.)
Preben Jensen was on site with Solaris as they installed the first fuel cell module onto the bus platform.
"Integrating FCmove into the Urbino 12 hydrogen buses was a complex operation but FCmove's design improvements made the integration much easier than previous generations. Solaris was able to package the entire hydrogen storage and fuel cell system on the vehicle roof," he says.
To support Solaris, Ballard's integration teams from both Canada and Europe came together. Members of both teams worked with Solaris' engineers, both in person and remotely, to ensure the integration went smoothly and led to a successful outcome.
Preben and the team were extremely pleased with the final result:
"Thanks to Solaris' understanding of bus platform design, and Ballard's coordinated support setup, there were no material issues in either the integration or the commissioning of the first FCmove fuel cell modules. Together, we were able to generate power on day two, as everything was handled skillfully and quickly."
Solaris' Bartlomiej Walczak has said "FCmove is very compact and lighter than previous solutions which is extremely important for OEMs, and our future customers. Additionally at every stage of our cooperation with engineers from Ballard we were met with professional and businesslike support."
Since its unveiling at the 2019 UITP Global Public Transport Summit, the Solaris Urbino 12 has been tested by transit operators in Austria, Italy, Germany and Poland. In August 2019, the bus was showcased in the Austrian city of Graz, and Preben attended along with some other Ballard technicians.
"It was really exciting for us all to be there together and see the outcome of our teamwork with Solaris," he says. "There were around 1,200 attendees and a number of local politicians. They were all promoting hydrogen, saying it's the future for clean transit, and it's here now."
Looking forward: What is the future of FCEBs in Europe?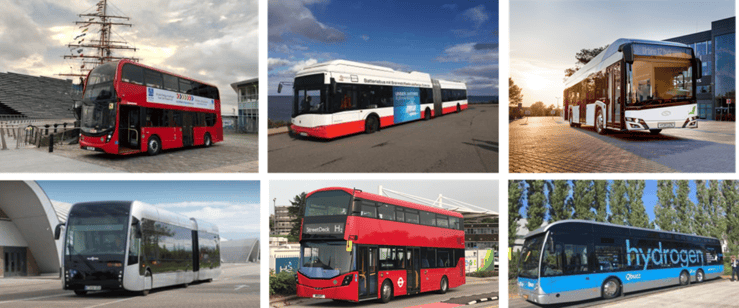 Fuel cell electric buses powered by Ballard
There's more demand than ever for zero-emission buses. So we expect exponential growth for FCEBs within the next decade and beyond. Because of this demand, the Ballard footprint in Europe has grown significantly, with investments in a training and repair center as well as manufacturing and product design at our Denmark facilities.
Currently across Europe, there are 70 buses in service that are powered by Ballard fuel cell systems. With the new projects already confirmed and new buses being built, that number will increase substantially.
Today, we're working with a number of European bus manufacturers, including our partners Van Hool, Solaris, Wrightbus and VDL Bus & Coach to expand FCEB deployments.
We have a strong track record of supporting our customers, and because of our product performance with over 97% availability in service, we're now engaged in large scale bus deployment projects like JIVE and the H2Bus Europe Consortium.
Conclusion
Only in partnering with skilled and enthusiastic OEMs can we effectively bring fuel cell technology into commercial vehicles.
Ballard Europe has experience in creating strong, mutually beneficial relationships with OEMs. We're dedicated to creating successful outcomes and a positive experience for all involved.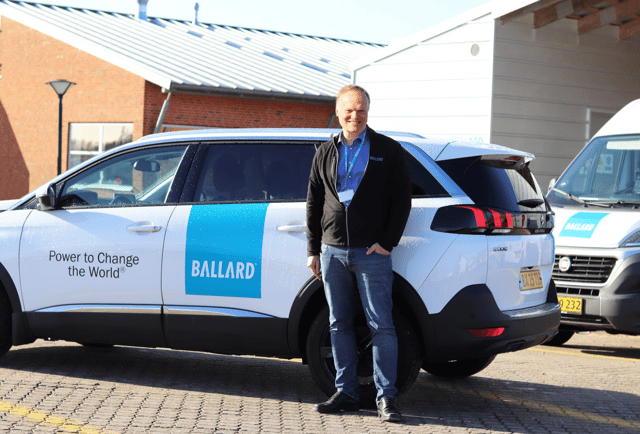 We're passionate about continuing this work, to grow the number of fuel cell electric buses and trucks on the streets of Europe and around the world. The health of our cities and planet depends on it.