This interview is part of our ongoing conversation with innovators in the hydrogen distribution space. Hydrogen distribution is a key element in the success of market adoption of fuel cell technology.
Recently, we had the opportunity to talk with Sebastian Fritz of Linde Group at their head office in Munich, Germany, to discuss their research and development around hydrogen fuel distribution.
The Linde Group operates in more than 100 countries is a leading global player in the industrial gases and engineering business, and strongly engaged in the development of environmentally friendly hydrogen technologies.
Interview with Sebastian Fritz: Linde Group's Leadership with Hydrogen Energy Distribution
Sebastian, can you tell us a bit about yourself? What is your area of expertise and what are you passionate about?
I'm currently working with the Linde Group's hydrogen mobility solutions department. Traditionally, Linde has been a gases company that also provides gas related technology and equipment.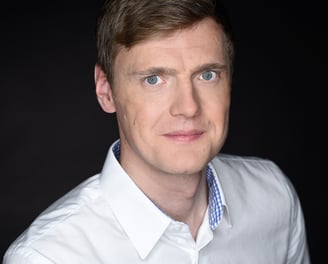 Currently, we're very keen to expand into the new emerging field of hydrogen as fuel for zero-emission mobility.
We come with solid experience, as we've already installed about 150 hydrogen fueling stations globally.
We can offer everything including the hydrogen supply, and hydrogen equipment for production, transport, and fueling. So basically, everything related to fuel supply to the besides the vehicle can be provided by Linde.
We are able to deliver compelling, integrated solutions in an innovative field, which is exciting for our customers but also for me personally. It is very rewarding to be working in the company's clean-technology focused division.
Let's talk about the technology that you're working on right now. Why do you think hydrogen is a good solution for rail applications?
In the area of zero-emission mobility, hydrogen is an effective alternative when it comes to long, interrupted driving patterns, which we especially see in rail transportation. Because of the higher energy density compared to batteries, the zero-emission alternative, you save substantially in weight, space and costs, to reach the same distances.
But most importantly, hydrogen is very well suited to replace current, strongly polluting diesel engine driven trains, without noticeable changes in use patterns for train operators and passengers.
(Related post: Hydrail: The World is Ready and New Progress Proves It)
Let's talk about solutions that Linde brings to hydrogen rail applications. What are some of the solutions that are distinguishing your offering from your competitors?
An excellent example is our current project with the Alstom Group in Northern Germany. Alstom is a pioneer in development of hydrogen fuel cell trains, and Linde is taking care of the supply of the hydrogen fuel and the technology to bring the hydrogen from the source to the tank of the train.
We benefit from our extensive experience as industrial gases provider, which puts us in a unique position to provide build-up, operation and maintenance of the whole hydrogen supply chain. A compelling combination between Alstom and Linde that is about to start up the first commercial hydrogen train operation globally.
What are the current market opportunities for hydrogen rail?
There's opportunity with basically every railway track that doesn't run on electrified overhead lines or canentary systems. It's really quite expensive to add power lines to trains—about one million dollars per kilometre. So this very quickly turns into a business opportunity for hydrogen fuel.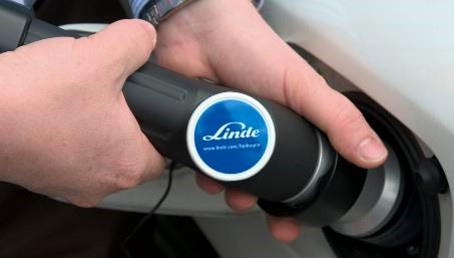 Hydrogen fueling for fuel cell vehicles – based on Linde technology
In Germany, an analysis done by the German Ministry of Infrastructure and Transport said that about 40 percent of the current railway doesn't have electrified overhead lines. So there's huge potential with these tracks. I assume there are similar opportunities outside of Germany.
What are the advantages and value propositions for railway operators to embrace this new technology?
In the near term future, hydrogen fuel rail mobility is possessing practically zero emissions. But already today, where most hydrogen is still coming from conventional sources like steam methane reforming, we see an overall CO2 emission reduction of 30 to 40 percent compared to diesel.
With the conventional hydrogen fuel production, you're emission-free on a local level. With green hydrogen, produced through electrolysis from renewable sources, there's a chance to reduce emissions by 95 percent. This becomes more and more inevitable — especially in suburban and urban areas where CO2 emissions are getting to a level that's really harmful.
(Related post: Clean Hydrogen Production: Moving Toward Zero-Emission Transit)
So what are the challenges for hydrail from the hydrogen supply and infrastructure perspective? What are the challenges and what are the solutions that Linde is offering?
Hydrogen being delivered in bulk currently is a pretty small market. When you add more and more mobility applications, you have to add hydrogen production sources. And railway is a significant mobility application with a sustained high demand day in and day out.
So, with high demand and with more and more hydrogen trains coming, you're quickly in a situation where investments in hydrogen production capacity become necessary. The technology is there. The technology is proven. It's a similar technology that's already in use for bus fueling and car fueling, which it's already available.
Is there enough hydrogen being produced using the steam methane reforming method or are they putting in new technologies to provide green hydrogen in Germany?
Germany, with its long-standing incentive schemes for renewable energy production is a very interesting market. In essence, renewable energy sources, like wind, thermal or solar have added a lot of extra power generation capacity.
This capacity, especially in times of low power demand, provides a perfect source for hydrogen production from electrolysis. Hydrogen is a key element of the energy transition as it can act as energy buffer and storage—and as a CO2-free fuel for various applications – like hydrogen mobility.
With smart integration into the renewable energy system and efficiencies from the scale-up of electrolysis technologies, green hydrogen will become perfectly cost competitive to alternative fuels and conventionally produced hydrogen in the mid-term.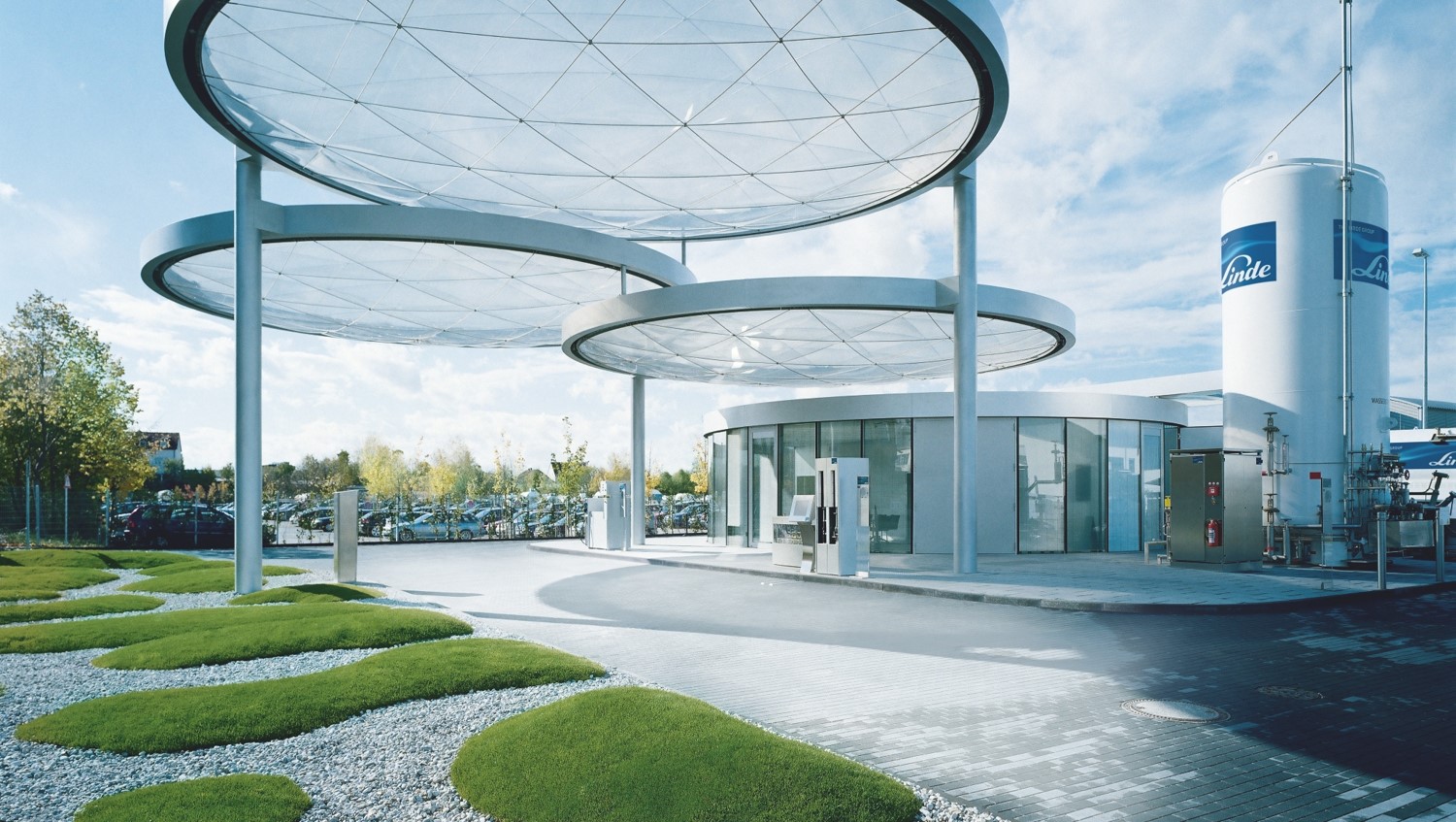 Linde Hydrogen Fueling Station in Munich, Germany
Have rail operators calculated a cost equivalent for hydrogen when compared to diesel and petrol?
It depends. Diesel and gasoline prices are heavily dependent on taxation. In Germany, hydrogen is already equivalent to gas on a per kilometre basis. In California, where the tax burden on gasoline is significantly lower, hydrogen still is more expensive compared to fossil based fuels, but not by multiples.
The question for the future is, "How much will the cost of CO2 emissions develop?"
Can you tell us a little more about the current Linde Hydrogen Network project? What's the next milestone and what progress have you had so far?
Linde is a shareholder and technology partner of H2 Mobility Germany, a joint venture formed to build up an initial hydrogen fueling station network for fuel cell passenger cars. The joint venture currently operates almost 50 fueling stations and is about to add another 50 until the end of 2019.
All partners are willing to significantly go beyond these 100 stations in the years thereafter. With every station built and in operation, we generate valuable learning and a steady push for improvement, especially in the areas of technology, project execution and operation.
It brought the station technology to the high reliability and efficiency levels that we have today. As said, the technology is ready, there will be 100 stations by next year - so stage is set for vehicle roll-out.
(Related post: The Rise of Hydrogen Fuel Cell Vehicles)
And what is your long term vision for hydrogen rail mobility?
I am convinced that hydrogen fueled rail mobility is the best zero emission alternative for a lot of use patterns in rail transportation.
Next to our project in Germany, we see signs of serious interest in the neighboring countries in Europe for commuter and intercity connections. In Canada hydrogen rail projects are being seriously considered as well.
Any final comments you'd like to share with our readers?
The joint project with Alstom on hydrogen fueled rail mobility is so far the most exciting project we are realizing, in terms of technology requirements and hydrogen fuel consumption.
Once these trains come into operation, I am convinced that there will be a lot more hydrogen train projects following. And I am curious on how strongly other areas of mobility are applying hydrogen technology as well.
Buses, trucks and other fleets have similar use patterns and therefore will enjoy the same benefits when converting to zero emission mobility. Linde is a strong partner for these projects, providing the fuel and the infrastructure to such fleets safely, efficiently and cost effectively.
Next Step:
Download the presentation below to learn how Ballard is adapting its leading fuel cell technologies to various rail applications around the world.