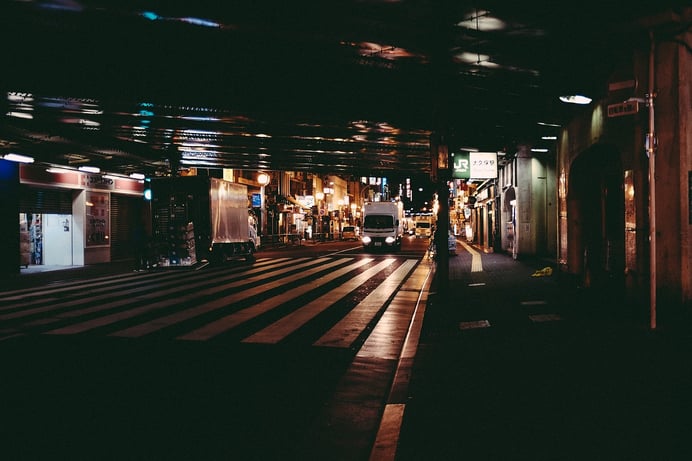 There isn't going to be one single solution that eliminates air pollution. It's going to take a concerted effort across numerous channels making incremental changes in our transportation systems and our behaviour.
One such channel is addressing the pollution from America's fleet of heavy-duty diesel powered trucks. It is arguably more important than increasing the fuel economy of passenger cars by a few percentage points as we face escalated health hazards.
This is being supported by California's Sustainable Freight Action Plan, a strategic framework on how to shift the state's multi-billion dollar freight transport system to one that is more environmentally friendly.
This plan is a multi-agency effort that includes the Air Resources Board - California's regulatory agency that sets and enforces regulations clean the air, and Caltrans - the agency that plans, builds and maintains the state's roads and infrastructure.
The main goals of the Sustainable Freight Action Plan includes:
a commitment to deploy 100,000 freight vehicles and equipment capable of zero emission operation by 2030
a target for improving the overall efficiency of the freight system, and
the identification of 3 near-term pilot projects for the agencies to jointly pursue.
One such pilot project is the application of clean fuel technology for drayage trucks, the heavy-duty vehicles responsible for moving cargo from the state's ports to distribution centers and rail yards.
These vehicles are, typically, older model trucks no longer suitable for long haul operations. As such their emissions are not in alignment with today's standards and their presence truly impacts the air quality of the communities in which they operate.
The pollution fighting pilot project is "critical for our major ports in California if we are going to meet are air quality and greenhouse gas standards," says Sandra Berg, a member of the California Air Resources Board.
"This project will help put the very cleanest short-haul trucks to work where they are needed most." said Mary D. Nichols, chair of the Air Resources Board.
Hydrogen: A Viable Solution for Heavy Duty Hauling
Zero-emission technology exists for the freight industry, but there hasn't officially been deployment of hydrogen-powered drayage truck fleets.
In many instances the immediate response to zero-emission vehicles (ZEV) mandates is to adopt the battery electric solution -- except this doesn't ideally work for heavy-duty truck applications. As the haul load increases, so do the battery requirements.
The battery in this instance would have to be significantly large, which then reduces the available payload for transporting the goods -- thus, this becomes a catch-22 situation. The more payload that needs to be hauled, the larger the battery becomes.
But, there are other, more suitable green cargo transport technology options. Replacing the diesel engine with a hydrogen fuel cell system has become the most realistic solution to this pursuit.
Joint Efforts in Fuel Cell Truck Project to Deliver Results
The recently launched project from The Center for Transportation and the Environment (CTE) called the San Pedro Bay Ports Fuel Cell Electric Vehicles (FCEV) Demonstration Project is funded by the U.S. Department of Energy to demonstrate and operate zero-emission fuel cell drayage trucks for goods movement between the Ports of Los Angeles and Long Beach and near dock facilities.
The project's team is led by the South Coast Air Quality Management and includes technology partners: Kenworth Trucks, BAE and Ballard Power Systems to develop and deploy one of the vehicles. The five fuel cell trucks in the project are fitted with a range of fuel cell sizes and battery capacities for operation.
There is no doubt that the implementation of this technology is not without its challenges, but they will be overcome as users, engineers, manufacturers and technology teams collaborate. It takes teamwork, attitude, investment, incentive and a waiting marketplace for real change to happen.
There are many great minds being assembled for this project and the technical/integration/manufacturing obstacles will be resolved. Although it is its infancy, the project has tremendous economic potential. The pilot project may well establish who becomes the "green" truck leader in this category. With leadership comes opportunity for wide-scale commercial deployment.
With a target of 100,000 freight vehicles in California alone, the possibilities to extend the offering to the global drayage market truly becomes a motivator.
Ballard Power Systems is associated with this pilot project and can support support other vehicle manufacturers who are considering developing fuel cell solutions for these types of applications.
If you're interested in fuel cell technology for heavy duty zero-emission freight vehicles, read our whitepaper describing the current challenges, options and issues facing the freight industry — click the download link below for access.
Photo: City Lights Night Trucks - Unsplash/Pixabay