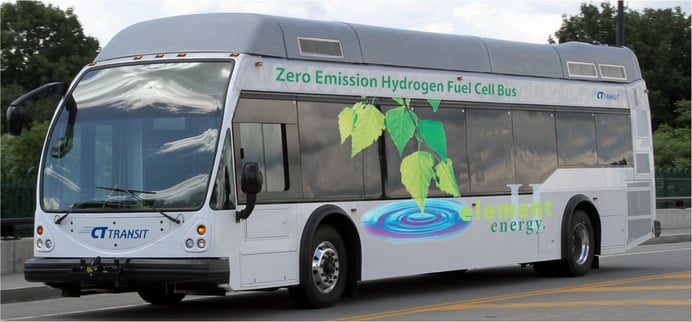 The U.S. Federal Transit Administration's newest clean energy initiative is the Low or No Emission Vehicle Deployment Program, or LoNo Program as it is affectionately called.
The program provides funding for capital acquisitions or leases of zero-emission vehicles and zero or low-emission transit buses. This includes fuel cell electric buses (FCEB), battery electric buses and hybrid electric buses.
The FTA program's mandate is to deploy the cleanest, made-in-America transit buses that have been proven in testing and demonstrations but are not yet widely used in transit agency fleets.
In its latest funding announcement on April 19th, 2016, the FTA awarded the Stark Area Regional Transit Authority (SARTA) of Ohio $4 million under the LoNo Program to buy three zero-emission fuel cell electric buses in addition to the 5 fuel cell buses funded by the same program in 2015.
All told, SARTA will deploy a total of ten hydrogen fuel cell powered buses over the next two years. The first of these buses (part of the FTA National Fuel Cell Bus program) was unveiled by SARTA at a recent event in Columbus showcasing the vehicle. Click here to see video of the vehicle in action.
All buses are being built in a partnership between El Dorado National California, Ballard Power Systems and BAE Systems. Once all ten vehicles join its fleet, SARTA will become the third largest operator of fuel cell buses in the U.S., and the largest outside California.
The results of the U.S. fuel cell electric bus programs are promising, as detailed in industry reports published by the National Renewable Energy Laboratory (NREL). Fuel economy is approximately 1.7 more efficient than that of the baseline diesel buses.
Longevity is also encouraging as the fuel cell systems are maturing. Although performance continues to improve, there still are challenges to overcome to make the technology commercially viable. Those challenges include:
Integration and optimization of components. Issues with systems integration and optimization continue to be a challenge for FCEB. Transit agencies are working closely with manufacturers to diagnose and address issues to eliminate problems and increase performance.
Transition of maintenance to transit staff. Transitioning knowledge from manufacturers to transit staff is essential for the commercialization of the technology.
Integrating fuel cell electric bus designs into the standard bus build process. To assist with full commercialization, the fuel cell propulsion system needs to be simply an option offered by the OEM as is the case with other propulsion systems: diesel, hybrid, battery electric.
Monitoring the current FCEB programs is generating significant data, which will be enhanced in the near future, with additional operating sites – each with several more fuel cell powered buses.
Photo credit: International Fuel Cell Bus Collaborative
To access your free copy of National Renewable Energy Laboratory's full report mentioned above, click download below.