To meet ambitious emissions reduction targets, Denmark must change the way it fuels transport.
Currently, public transit and heavy-duty cargo transport account for around 25% of CO2 emissions. To reduce CO2 to 70% of 1990 levels by 2030, and achieve total carbon neutrality by 2050, finding alternatives to diesel is crucial.
So what's the solution?
Today, we'll share why deploying fuel cell electric buses on a mass scale is key to helping Denmark meet its emissions goals—without compromising on range, route flexibility, and operability.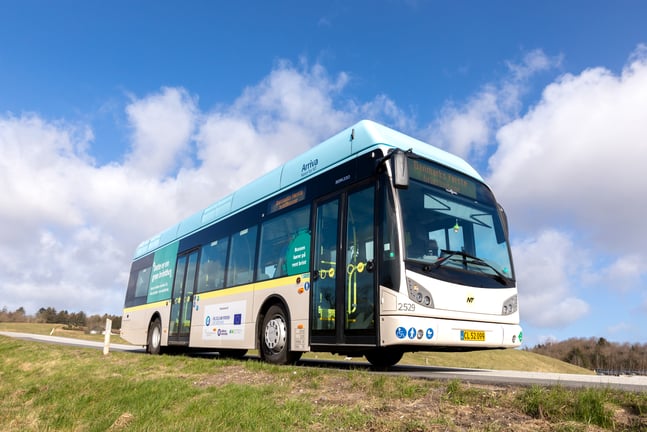 Photo credit: Line Bloch Klostergaard, North Denmark Region. A fleet of hydrogen fuel cell buses supplied by Van Hool and powered by Ballard fuel cells is operating in Aalborg, Denmark.
Fuel cell electric buses: Hitting the road in Denmark and around the world
The good news is, Aalborg and the North Danish region are front runners in the transition to green heavy-duty transport. The region already has fuel cell electric buses (FCEBs) on the road.
In fact, on March 20, 2020, three new Van Hool A330 FC buses powered by Ballard fuel cells began official operation here.
This is a critical step towards zero-emission public transport not only in Aalborg, but for the rest of Denmark. The buses are key to bridging the gap between FCEB demonstrations and larger scale deployment.
The demonstration period of the buses is expected to last three years and is part of the ambitious EU-funded project titled 3Emotion. Ballard is one of the 17 partners in the project, where a total of 21 FCEBs will be hitting the roads in London, Aalborg, Rotterdam, Versailles, and Pau.
At Ballard, we're proud to deliver the fuel cell solutions for the buses and be a part of this deployment and engagement. Our European bus manufacturing partners, including Solaris, VDL Bus & Coach, Van Hool, and Wrightbus are front runners in the transition from conventional diesel buses to FCEBs.
Today over 2000 FCEBs have already been deployed globally, shown in the map below.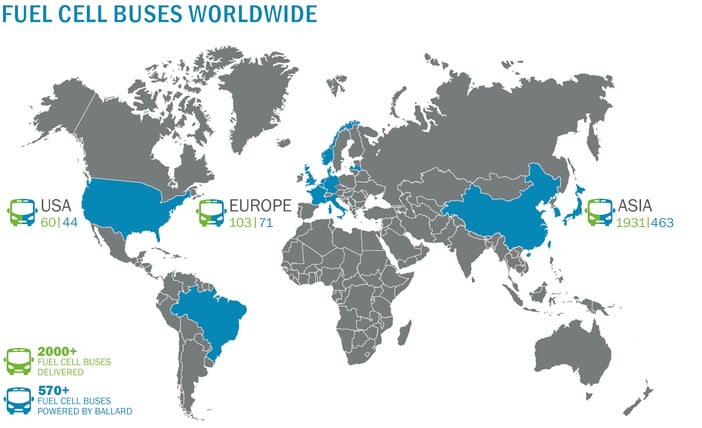 These deployments give municipalities all over the world the opportunity to experience the benefits of FCEBs for themselves, while taking responsibility for the future of our public transport system.
We believe that municipalities and transit operators who are already using FCEBs are in a unique position to promote this technology. Doing so will contribute to reducing fossil fuel dependency and securing the scale up of the buses.
Why hydrogen fuel cell buses make sense now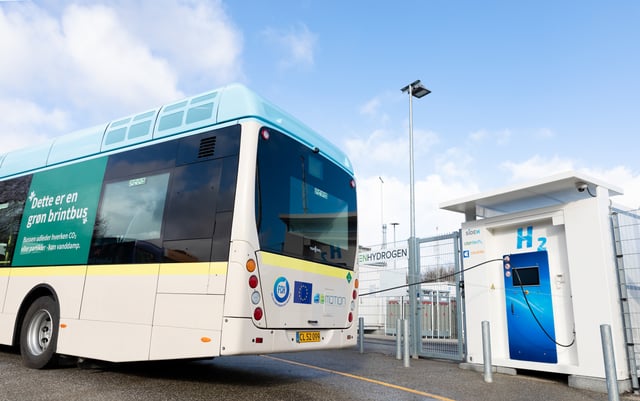 Photo credit: Line Bloch Klostergaard, North Denmark Region
With a range of up to 450 kilometres, FCEBs operate just like conventional buses, making them the most flexible zero emission alternative.
Here's why:
FCEBs don't require roadside charging infrastructure like battery buses do.
They also don't require any major utility upgrades. In many cases, agencies can install hydrogen refueling infrastructure with a similar footprint to CNG refueling. To meet specific site and operator requirements, different flexible and scalable options, including gas or liquid hydrogen delivery and on-site production are available.
With battery buses, operators need to consider not only the charging infrastructure inside the depot into account, but also upgrades to the power infrastructure outside of the depot, including power substation in some cases.
Finally, FCEBs have the exact same operation processes as conventional buses. They arrive and are filled up in less than 10 minutes, and then parked at the same location or easily put back into service if needed. They can also be parked along or in-between conventional buses.
(Click infographic to enlarge.)

Making progress: New zero-emission bus tenders show Denmark is ready
Municipalities play a very important role in establishing the public transport system of the future.
To meet the goal of a fossil free transport sector and to drive down the cost of new technologies, Danish and wider European municipalities must contribute to creating at-scale demand for zero-emission buses. Recent studies have shown that within the next 5-7 years, fuel cell electric buses will be cheaper to operate than battery electric and diesel buses.
Significant progress is already being made in Denmark by including FCEBs in upcoming bus route tenders:
It's also essential that commercial players come together to make the mass deployment of zero-emission buses a reality.
To push the development forward, Ballard has joined forces with a number of leading players in the hydrogen fuel cell electric value chain to form the H2Bus Consortium. Together, we're committed to deploying 1,000 FCEBs along with supporting infrastructure in European cities at commercially competitive rates.
A strong Danish and European value chain offers a number of commercial solutions for production, delivery, storage, and dispensing of hydrogen in order to meet the specific requirements of the Danish transit agencies and operators. Today companies like Everfuel in Denmark provide comprehensive hydrogen fueling solutions to transit bus operators offering 100% renewable hydrogen at parity with diesel fuel.
Hydrogen: The missing link in renewable energy balancing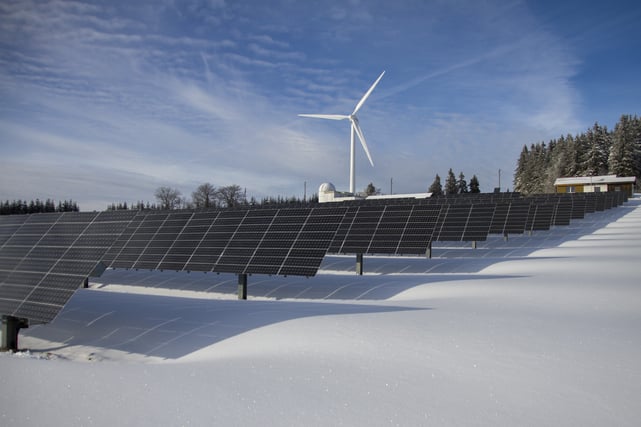 Denmark is already a front runner in using renewable energy from wind and solar in the energy system. However, with the share of renewable energy growing in the energy mix, the need to store clean energy for downstream use is now a critical issue.
Both seasonal and peak usage cycles affect the amount of renewable energy produced. And depending on the time of day, month, or year, excess produced energy is often wasted.
Additionally, the marginal cost of renewable energies is near zero, which results in their being priced below the prevailing market – and even negatively priced in certain European countries.
So what can Denmark do with this excess, low-cost energy?
Converting it to hydrogen using electrolysis is a key solution. Hydrogen gas has the largest energy content of any fuel, making it an excellent energy carrier for storing and distributing excess renewable energy.
Green hydrogen production can cover large parts of the energy balancing needs in Denmark to integrate renewable energy in the system by 2050.
Learn more about green hydrogen in this interview with Nel Hydrogen's Jacob Krogsgaard.
Conclusion
The potential for greening the public transport sector and the associated benefits are enormous. The three new fuel cell electric buses operating in Aalborg are a great start. FCEBs reduce the environmental impact of public transport with no compromise in operation or service.
With lower noise levels and air quality improvement, operators increase their sustainability , while reducing overall operating costs and improving passenger satisfaction.
Once bus performance, re-fueling/re-charging infrastructure, and operational requirements are considered, fuel cell electric buses offer the lowest total cost of ownership for zero emission transit today.
The zero-emission hydrogen fuel cell bus solution is ready to be implemented at scale – let's get more fuel cell electric buses on the streets in Denmark.