In this article, we're speaking with Mike Parker, Executive Vice President at Global Bus Ventures. Global Bus Ventures is an innovative, New Zealand-based manufacturer of buses and coaches, focused on high-performing, sustainable solutions. The company designed and built New Zealand's first hydrogen fuel cell bus, which is currently undergoing a two-year trial for Auckland Transport.
In our conversation, Mike shares key details about the bus, how it relates to New Zealand's zero-emissions targets, the refueling benefits associated with hydrogen, and more.
Here's our conversation with Mike Parker.
Mike, can you tell us a bit about Global Bus Ventures and your area of expertise?
I'm the EVP at Global Bus Ventures. My specialty is in the alternative fuels and electrical vehicle market. I've been actively involved in the industry and have worked for Global Bus Ventures over 20 years now, right back to 1999 when we first started investigating opportunities in the zero-emission bus market.
My specialty is in the integration of the componentry around electric and fuel cell vehicles. I come from an electrical background and a mechatronics software background, which fits in well with the technological advancements that we're working in right now.
Can you tell us a bit about Global Bus Ventures? How many buses are in the fleet and what is the area that it services?
Global Bus Ventures is New Zealand's largest bus manufacturer. We are the only complete system manufacturer in the country. We don't just buy a chassis and put a body on it, we develop the vehicle from the ground up. So we do the chassis, the body, and the full drivetrain integration including the hydrogen side. We also do the electrical design and software design and related integration of those aspects as well. We're the only company in New Zealand that does that. We're based on the south island of New Zealand in a town called Rolleston, and we employ about 130 staff. We generally produce just over a hundred buses a year into the New Zealand and Australian markets.
Can you tell us a bit about New Zealand's first hydrogen fuel cell bus?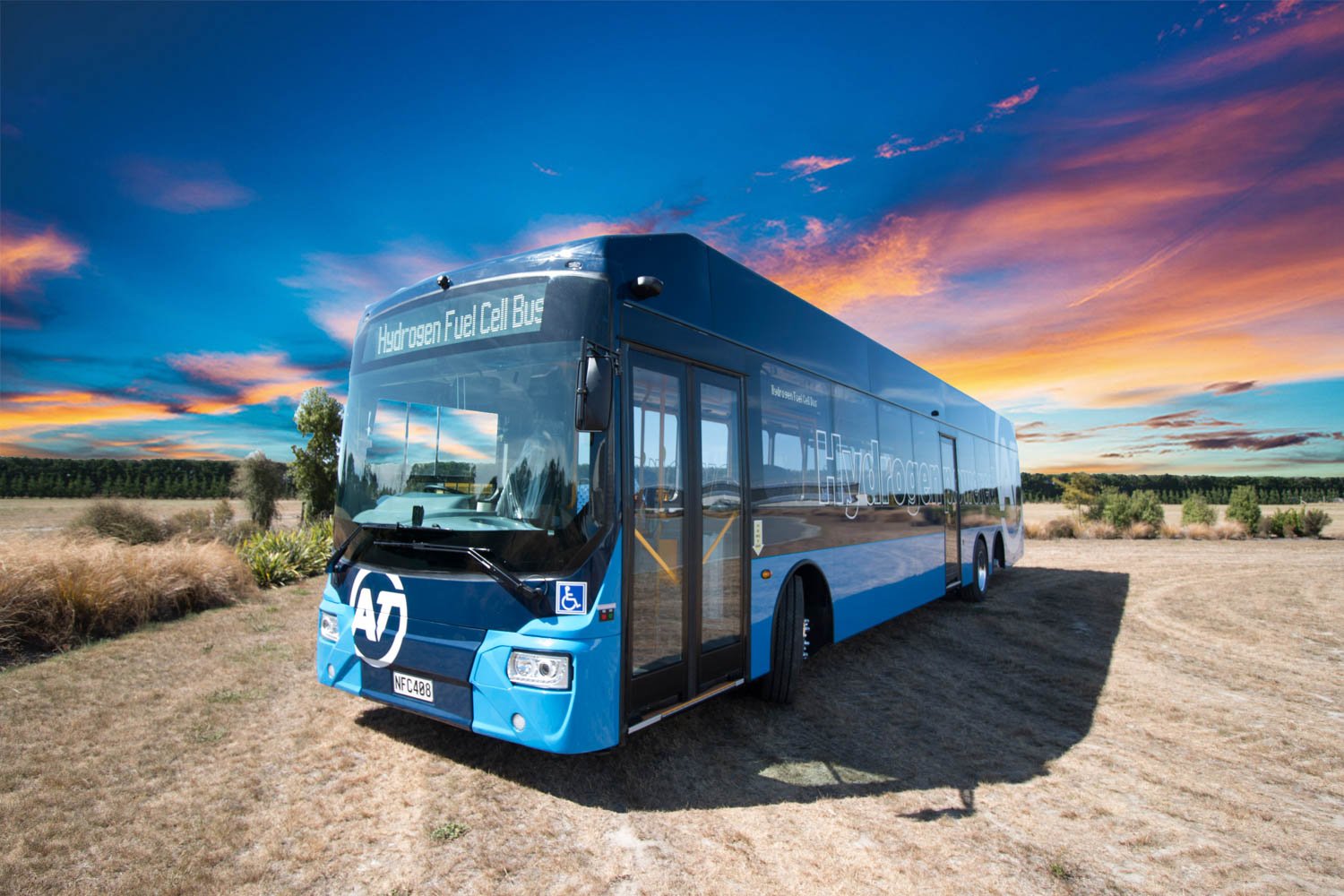 New Zealand's first hydrogen fuel cell electric bus
Auckland Transport, which is in New Zealand's largest city, posted a tender for the development of a hydrogen powered fuel cell vehicle. It was an international tender so it went out worldwide. We submitted our solution and were selected as the winner - this was against a number of international suppliers. It was a big win for us to get a contract of that magnitude against such well-respected global challengers.
We were selected because we have extensive knowledge with hybrid vehicles. We had prior specific experience as we had done a hydrogen project in 2009. When combined with our electric bus expertise it just seemed right. It was reassuring that we'd been there and demonstrated our know-how on previous projects.
What were Global Bus Ventures' priorities around choosing the right fuel cell application?
In terms of the vehicle, Auckland Transport specified the size and the seating of the bus and what type of range they want. From there, we investigated all the partner options available. We chose the Ballard fuel cell. The prime reason for that is that it's very well commercialized, established, and well known on the market. So for us, that came with good reassurance that we're buying a quality product that had been field-proven in the past.
We needed a rock solid fuel cell to ensure the Global Bus Ventures brand wasn't at risk by being associated with a poor performing fuel cell. And likewise, with all the other products we use, we knew that Ballard's product is a road proven solution.
Was the initiative that Auckland Transport put together helping New Zealand meet its emission targets?
Auckland Transport is very aggressive in terms of meeting emissions. They've ceased purchasing diesel powered vehicles effective immediately. There's no more ongoing purchasing of diesel vehicles and they want to transition to full zero emissions by 2030.
And how will fuel cell technology fit into that landscape?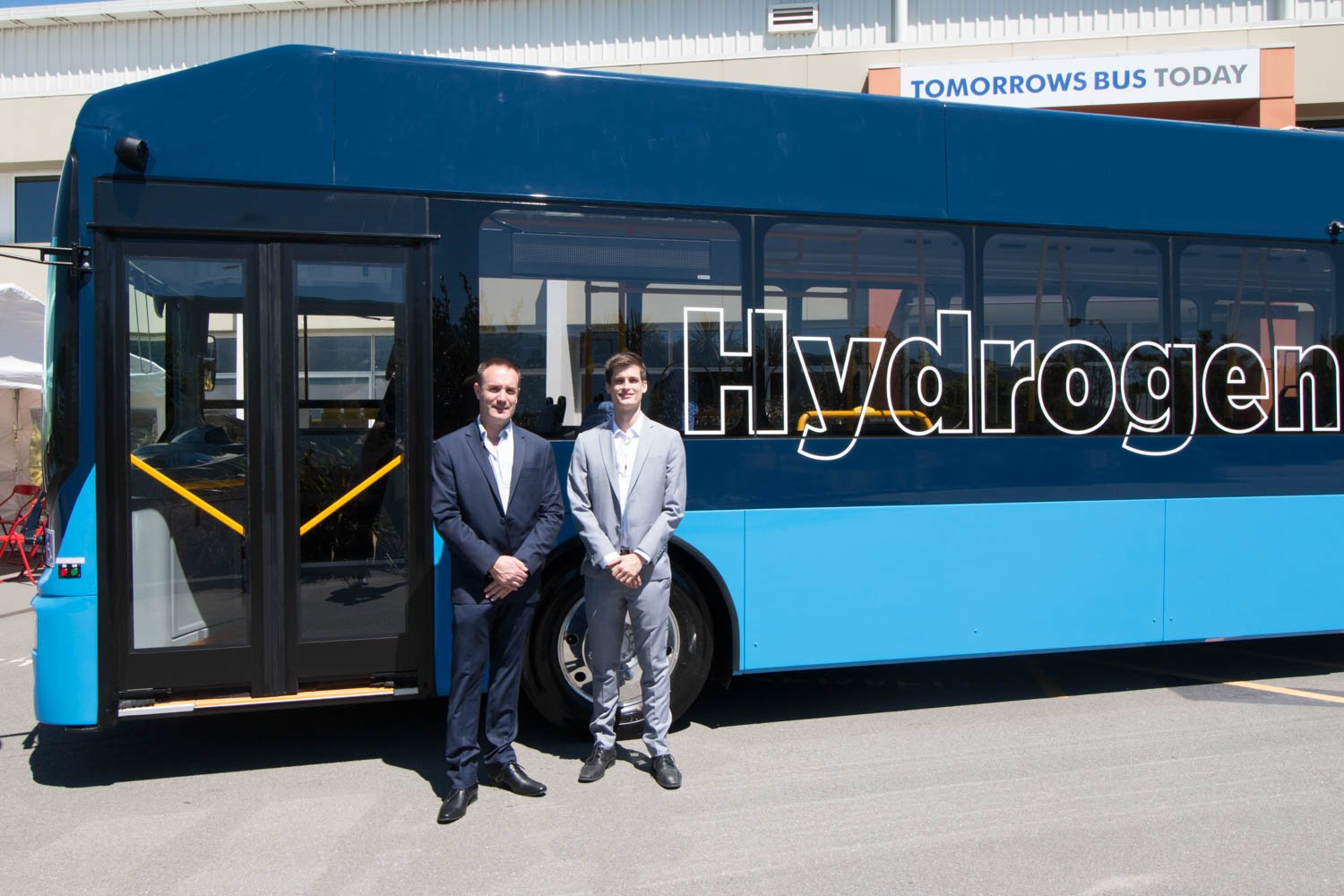 Mike Parker and colleague beside New Zealand's first hydrogen fuel cell electric bus
That's the prime purpose behind this trial vehicle. It's undergoing a two year trial service in Auckland, it's head to head against some battery electric vehicles. So they're trying to ascertain the true pros and cons of both technologies.
Will there be circumstances where battery electric will outperform a fuel cell? And conversely, there'll be situations where a fuel cell will outperform a battery electric vehicle?
This particular vehicle is quite large, it's a three axle, 13.5 meter vehicle. And it's on one of the harder, longer running circuits in Auckland. They chose the worst case scenario cycle to put it on to really put it to the test and see how it performs. We felt that a fuel cell powered vehicle would perform wonderfully in these conditions.
What advice would you give to transit operators who are considering deploying their first fuel cell electric buses?
I think the biggest thing that's really starting to come to light in this battery electric/fuel cell debate, is the operators initially were very focused on an exclusive battery electric solution. The technology was there, it was understood, and seemed to meet their needs. And in a smaller volume, I believe that it still does. But what we're experiencing in New Zealand, is that as the fleet size increases the charging infrastructure of a battery electric only solution hinders deployment at scale.
And that's not just the cost of the infrastructure to recharge the buses. It's also the real estate that it needs to take up and the delivery of the electricity to the site. The operators are finding, especially in the downtown metro areas where real estate is prime, taking up a third of a yard with chargers is just not possible or practical long-term for the complete fleet. So their eyes are really starting to open up now to the benefits of the fuel cell electric bus, where it's treated more like their conventional diesel bus. I can just fill it up at the yard, then go and park it in the normal space. That benefit is really starting to become prominent. And for any operators looking at it, they need to seriously consider that benefit.
Now that you're developing this fuel cell technology, what does the future hold for Global Bus Ventures?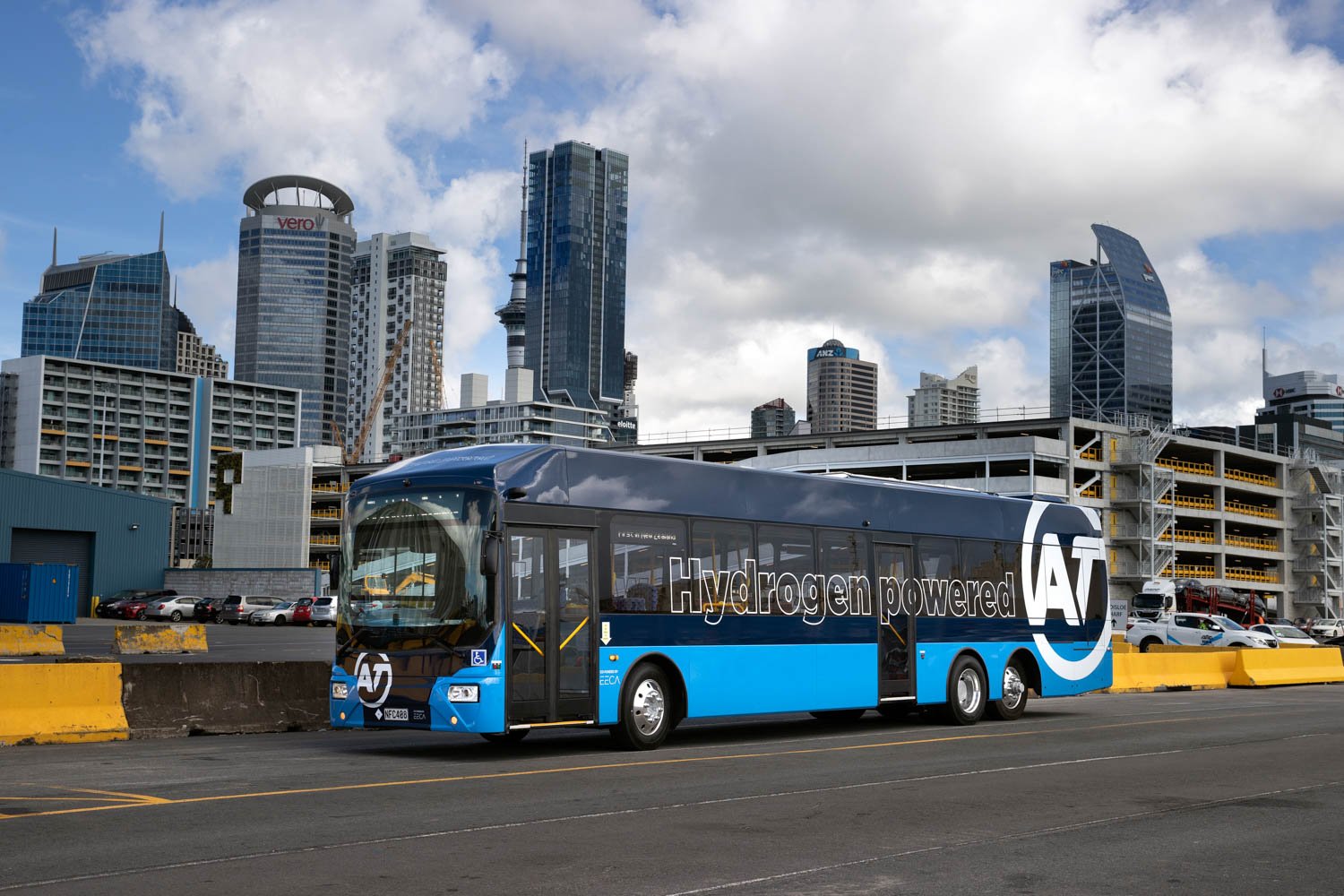 For us, the future is looking quite exciting. Being first to the market with this technology on this side of the world gives us good steam going forward. We've created a lot of publicity around fuel cell technology and what we're finding is we're getting approached in a lot of different areas. So we're also getting rail inquiries and marine inquiries on top of our standard diesel bus inquiries. And fuel cells provide the advantage of greater range for the coach market, which is going to grow again once COVID goes away. There's a lot of interest there.
It's a golden opportunity to be in this market. It's hard being market leaders, but that's what we've always focused on and this sets us up well for the future and this technology. We think New Zealand is very well poised to really capitalize on green hydrogen with the renewable energy we have here. So we're quite excited about the future.