Throughout Europe and the UK, fuel cell electric buses (FCEBs) are making an impact.
In 10 countries, the buses are moving past the demonstration phase, and are being put to work, transporting passengers from A to B without releasing any emissions.
In these regions, we predict that fuel cell electric buses will become the "new normal", steadily displacing their diesel powered predecessors—all without compromise on service levels or route capabilities.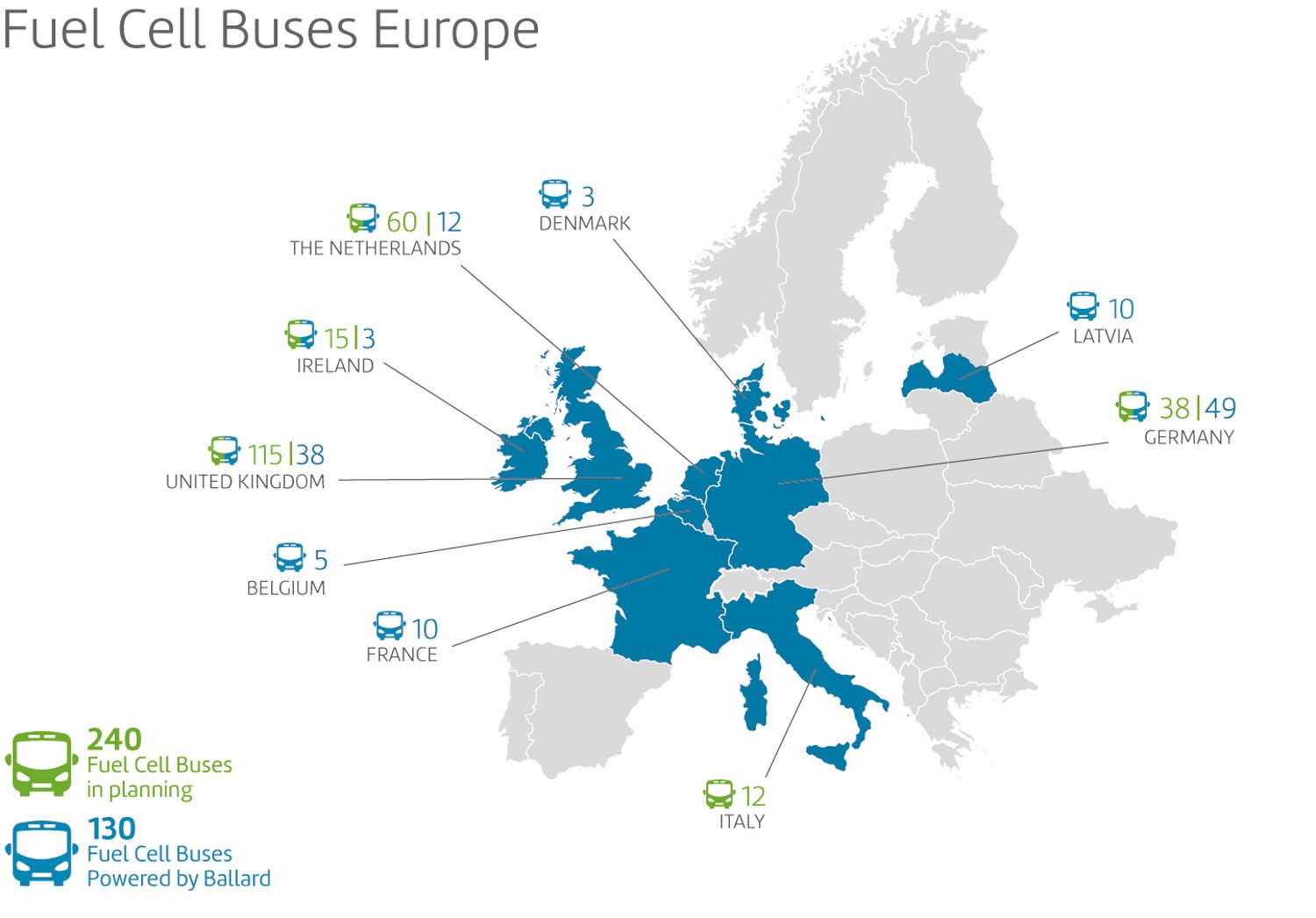 Momentum is building
Throughout Europe including the UK, zero-emission buses, including FCEBs, represent a constantly growing portion of public transport systems. This is alongside countries publishing zero-emission strategies with more than 30 countries announcing a hydrogen strategy.
Much of this adoption is in response to the political commitment to decarbonize transportation: the European Union's 2050 emissions reduction agenda sets goals and a timeline on how to become climate-neutral by 2050. Current and expected legislation is making zero-emission buses mandatory in many cities. For example, Transport for London (Tfl), London's integrated transport authority who is responsible for meeting Mayor Sadiq Khan's strategy and commitments on transport in London has announced that it will only purchase zero-emission buses from September 2021 bringing forward the fleet becoming zero-emission by 2034.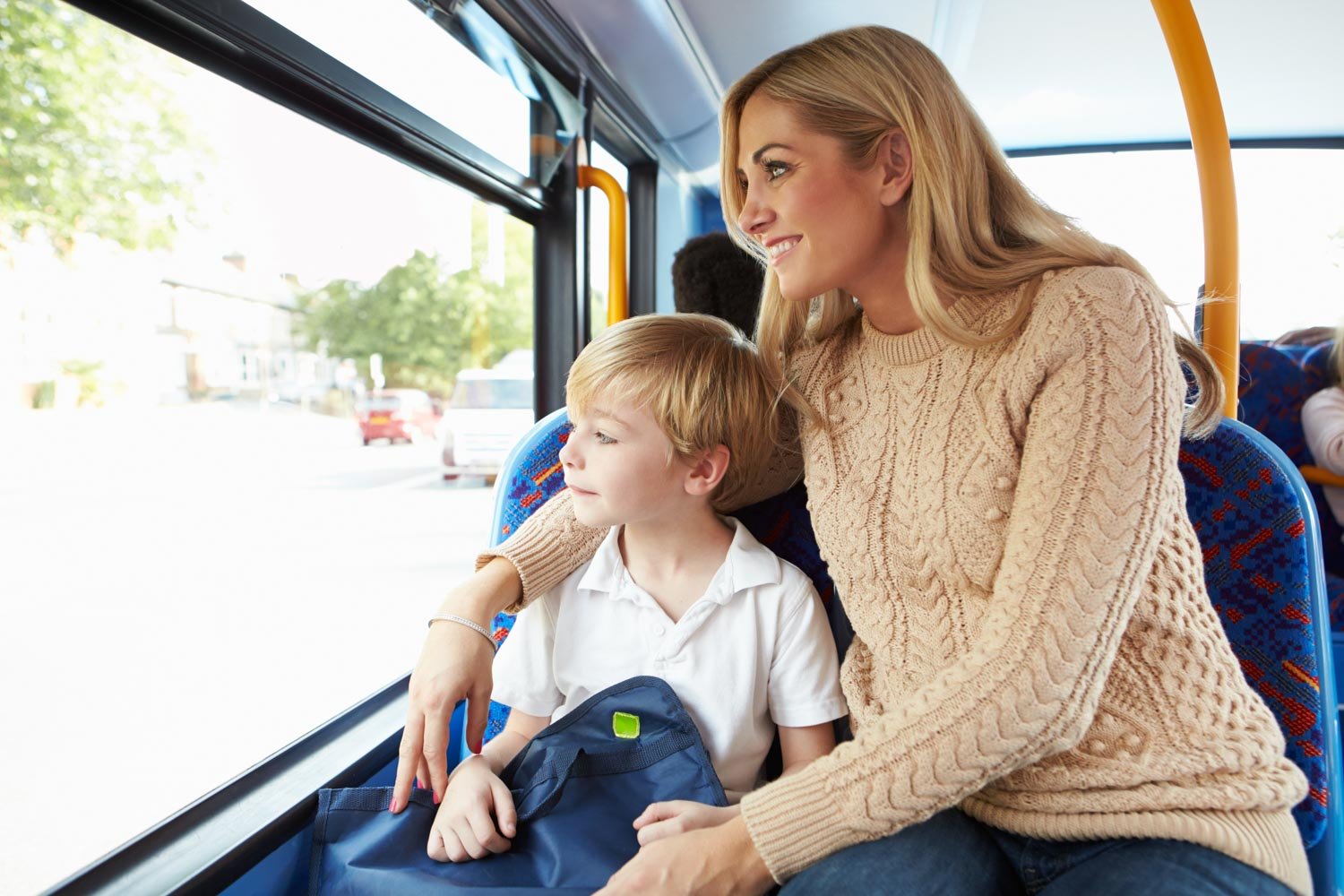 As the zero-emission bus fleet moves from the demonstration phase to large-scale deployment, many authorities and operators are finding they cannot meet their mandates with battery electric buses (BEBs) alone. For many routes, only FCEBs have the performance to replace diesel and CNG buses due to their fast fueling and longer range. FCEBs can replace a diesel bus without an adjustment of schedules and not changing the depot processes.
Both BEBs and FCEBs are needed to transition to 100% Zero-Emission Transit
As the scaling up of zero-emission routes continues, BEBs can be limited in the range of the bus and their flexibility in route choice, but also in the infrastructure that is required to recharge the buses.
Charging infrastructure is costly and space-consuming

The charging infrastructure for battery-powered buses requires a far larger depot footprint than the diesel or CNG refueling depots they hope to replace—which adds significantly to the conversion cost as the fleet grows. In many cities, space is at a premium and losing parking areas to charging infrastructure can have a significant implication.

Electrical grids may need upgrading

To support fleet-scale charging, the electrical infrastructure will most likely require upgrading—this can include the local electrical grid that provides power to each depot. This can include new substations.

Battery limits may require route changes

BEBs perform best on shorter, less demanding routes. If the bus requires air conditioning and the terrain is hilly with steep gradients, it can have a serious negative effect on the potential range of the bus. When scheduling routes, the charging time and state of charge required to complete a duty has to be factored in.
FCEBS are a proven and reliable 1:1 replacement for diesel and conventional ICE buses, and fuel depots are scalable for any future requirements.
For the longer, more demanding routes, fuel cells are the best choice:
Centralized refueling

Fuel cell buses require a hydrogen refueling depot—that is similar in footprint to CNG or diesel depots, and can be scaled up as the fleet grows. A transit bus is refuelled in a matter of minutes.

One-for-one route replacement

FCEBs can serve the same routes as diesel and CNG buses—the same length, loads and geography without compromise. Operators do not need to change historical bus routes making the FCEB a drop-in replacement.

"Well-to-wheel" CO2 neutrality

The environmental advantages of FCEBs go far beyond zero emissions: the hydrogen value chain offers the potential for system-wide "well-to-wheel" CO2 neutrality. When hydrogen is produced from renewable energy, such as solar and wind power, especially when the power is not required to be produced for the grid, it is a 100% zero-emission fuel.
The state of the zero-emission transition: from demonstrations to full-service deployments
Across Europe, FCEBs are replacing fossil fuel buses at an increasing pace. The deployments—in cities including Aberdeen, London, Pau, Bolzano, Groeningen and Cologne—are larger than any before. These are not the small-scale "test fleet" demonstrations of years past. These vehicles are full members of their urban fleets, undertaking full revenue service.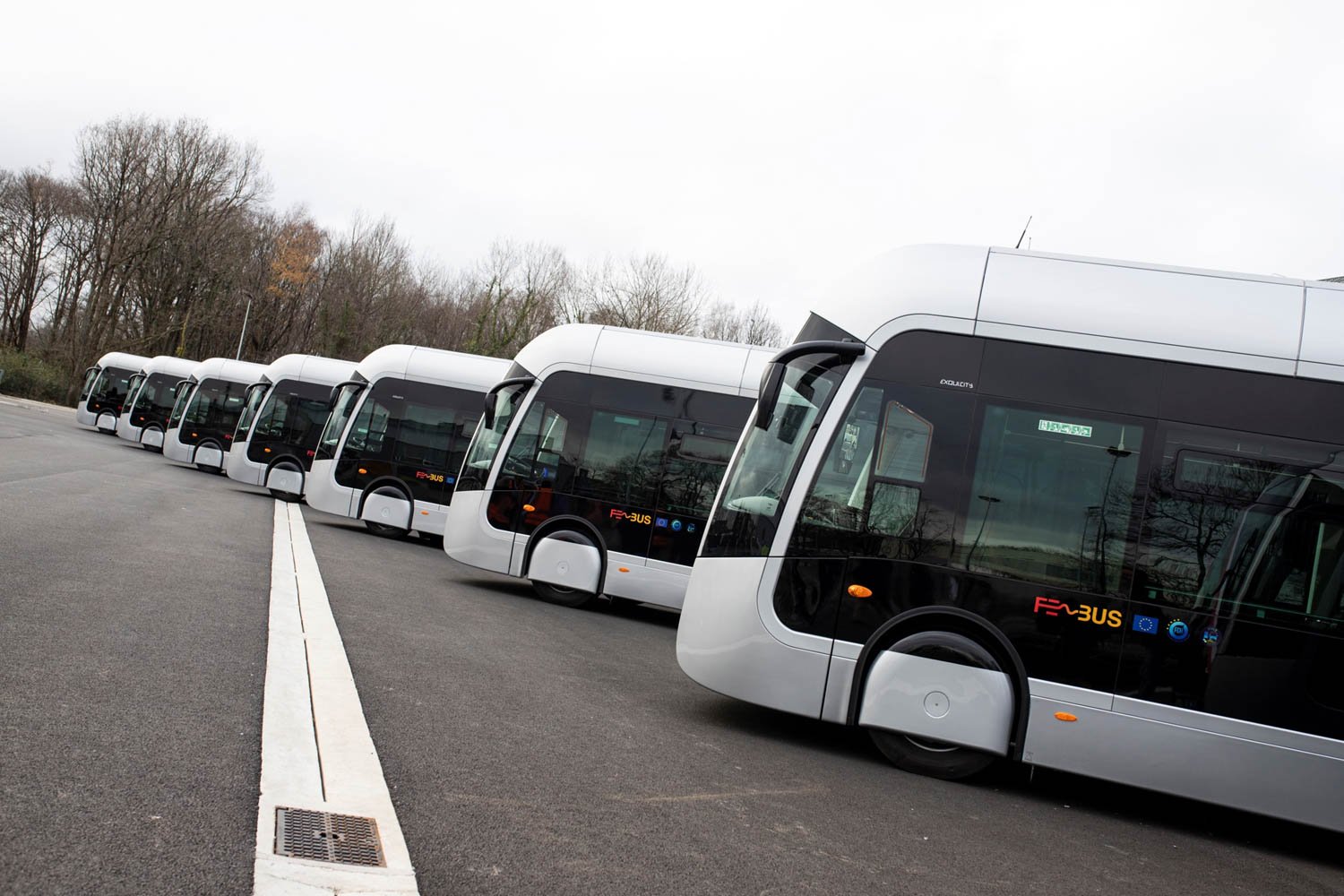 City of Pau, France Fuel Cell Bus Fleet - Van Hool Buses
As the market matures, FCEB costs are expected to fall. The total operating costs (TCO) of FCEBs are already competitive, when vehicle life, reliability and repair costs are considered. But as FCEB deployments increase, scaled-up production will drive fuel cell prices down by 70 to 80% (according to reports from Deloitte and McKinsey). Within the next decade, the TCO of fuel cell commercial vehicles is expected to outperform both battery and internal combustion vehicles.
The infrastructure is expanding to meet the demand
As FCEB acceptance grows, the hydrogen infrastructure is expanding to support the need. Across Europe a network of mature, reliable businesses provides 'green' hydrogen fueling equipment, fuel cell components, vehicles and support.
Hydrogen refueling stations can act as a balancer to the different energy grids in Europe. The stations have a built-in energy storage and can either produce hydrogen onsite through an electrolysis process or they can receive hydrogen through pipelines.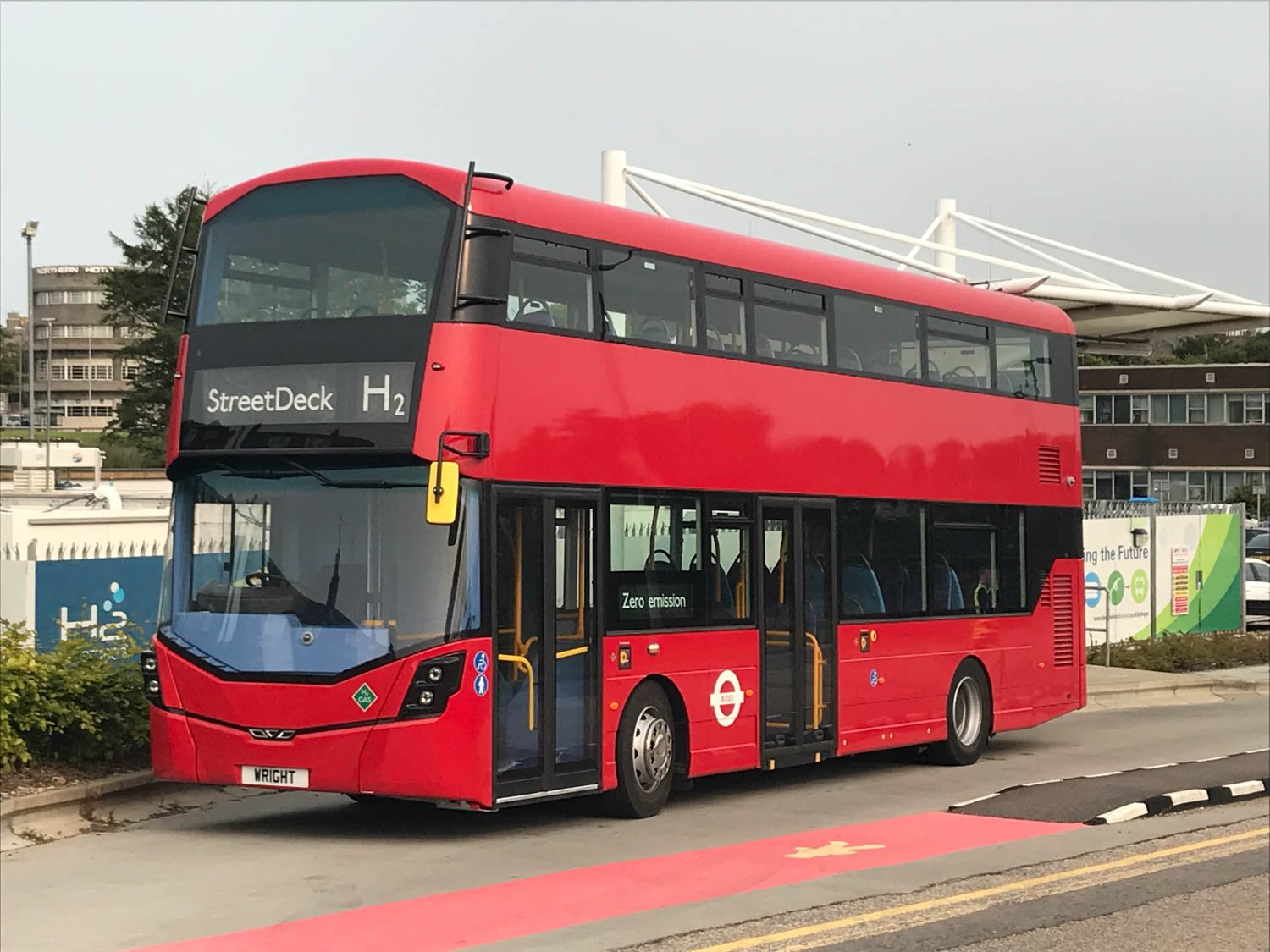 Double Decker Fuel Cell Electric Bus by Wrightbus
20 years of FCEBs: The evolution so far
The use of fuel power in transit is not new. Various generations of Ballard fuel cells have been used in transit projects, dating back to the early 2000s. Our early European demonstrations included:
Fuel Cells and Hydrogen Joint Undertaking (FCH JU) projects:
These projects, which were limited to smaller fleets of buses, were key to the refinement of Ballard technology and experience. They proved that our FCEBs have the reliability and durability for all-season use in real-world transit systems with one million kilometers in service and availability of >97% for the fuel cell engine.
Going mainstream: FCEBs today
Our newest projects JIVE and JIVE 2, funded by the FCH JU will deploy nearly 300 FCEBs across Europe. These will be one-for-one replacements for diesel buses in tough urban environments. Some JIVE/JIVE2 fleets will see 20 to 35 buses per depot—which brings FCEB technology close to full commercial scale. We have developed maintenance processes and have a full training program to allow operators maintenance staff to provide in-house routine service for the FCEB fleets.
Today, there are over 150 fuel cell buses in revenue-generating operational service in over 10 cities across Europe. In Germany, RVK runs the largest fuel cell bus fleet in Europe.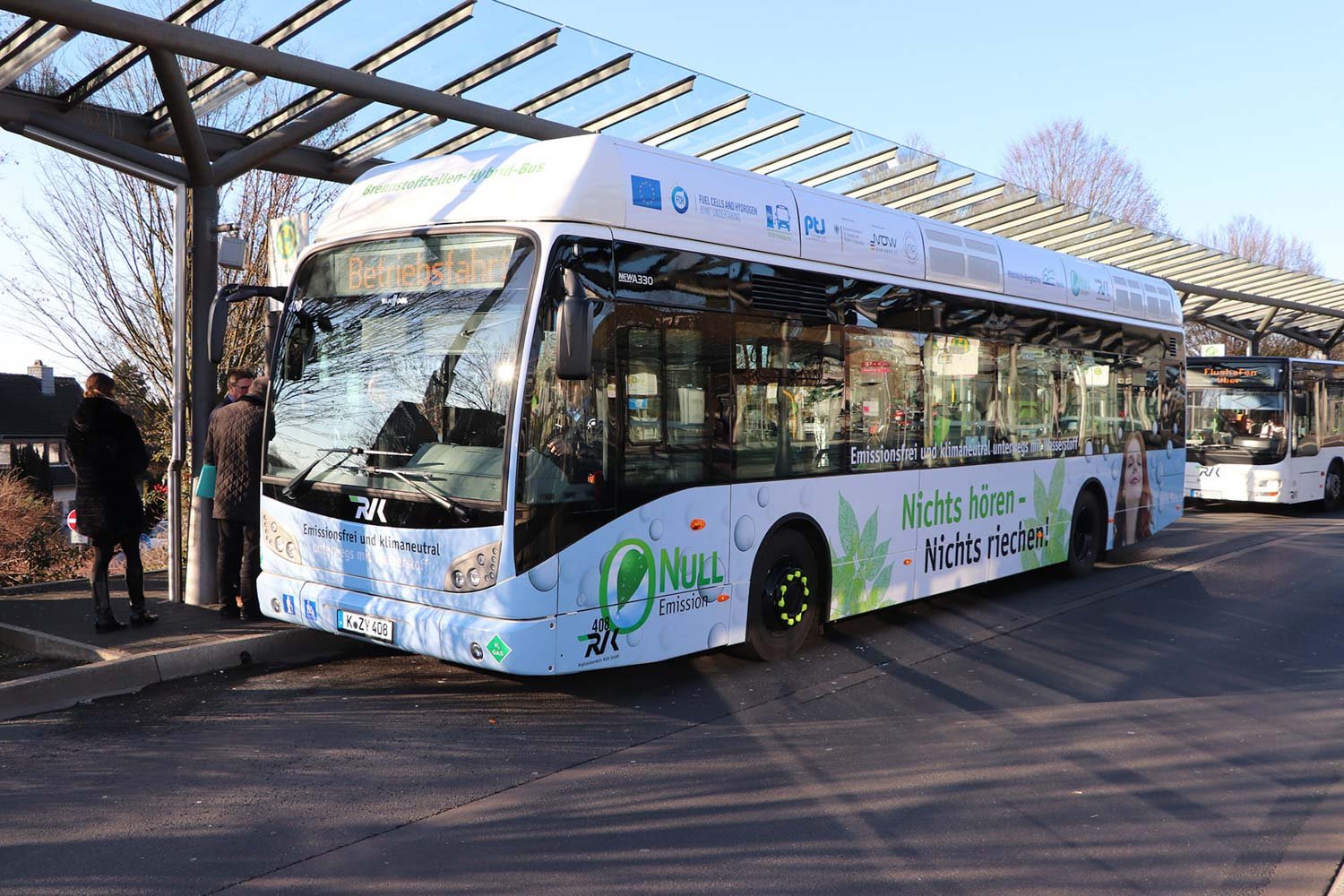 Van Hool A330 Fuel Cell bus ©RVK
In the UK, the first double-decker fuel cell buses are in operation. The first were deployed in Aberdeen, Scotland, followed by London, England, and then Belfast, Ireland. The next deployment will be in Birmingham.
Brighton, England is the first UK municipality of its kind to have a publicly stated zero emissions goal by 2030, for its fleet of nearly 500 buses. Brighton's initial order of 20 FCEBs is the first phase of FCEB development, with supportive funding from the JIVE program and the UK's Ultra Low Emission Bus Scheme.
Solaris Urbino 12 Hydrogen Fuel Cell Bus
Inspired by the success of early adopters, more and more cities are initiating FCEB programs. We know of _more_ cities that are bringing FCEBs into their transit systems, and the number is continually growing.
What about tomorrow?
Ballard-powered FCEBs have matured past the demonstration phase. They are the new normal—the buses that commuters, leisure travellers and tourists rely on every day of the year. They are a true zero-emission alternative that is displacing the fossil-fuel-burning buses of yesterday. As FCEB deployments grow, their total cost of ownership is constantly dropping to a true commercial and competitive level.
Ballard: Your partner in fuel cell transportation
In technology and experience, Ballard leads the hydrogen fuel cell industry. We continue to invest in R&D to refine our fuel cell technologies and lower costs.
We are long-term partners with a commitment to public transit operators and OEMs. We have support systems in place to train local maintenance staff, and a world-renowned Customer Care team, that is dedicated to keeping FCEBs on the road. We offer consultation, workshops and training for anyone planning to deploy a fleet and/or develop the associated infrastructure, and our sales staff can assist with tendering processes. Put in other words, Ballard will be there for the customer from start to finish. We are Here for Life.
Do you have a project that could be the right fit for Ballard's fuel cells for transit buses? Reach out one of our fuel cell experts