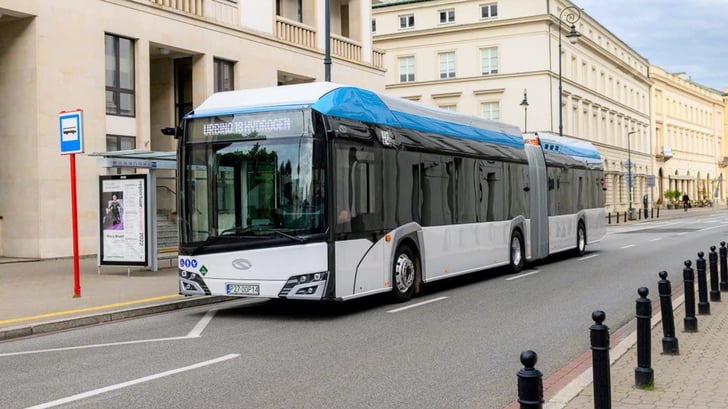 The Urbino 18 Hydrogen bus is the latest hydrogen bus from Solaris and the first to feature Ballard's FCmove®-HD+ 100kw fuel cell. In a new video, Ballard's Mike Byberg, business development and sales manager, explains the Urbino 18's fuel cell concept, including the FCmove®-HD+ rooftop application and its benefits.
The video was taken while the Urbino 18 hydrogen was undergoing testing in Wuppertal, Germany as part of the WSW 's zero-emission fleet considerations
The hydrogen-powered Solaris Urbino 18 is a low-floor articulated derivative of the Urbino series of buses which premiered globally in Krakow, Poland and was first showcased to a public audience at Innotrans Berlin in Germany in September 2022.
Recently, Ballard announced the largest single order to date that the company has received from Solaris – for 52 fuel cell engines that will power Solaris Urbino hydrogen buses for deployment by public transport operator Rebus Regionalbus Rostock, based in Güstrow, Germany.


You can find out more on this topic by reading about the Solaris Urbino 18 #PoweredByBallard in a new Ballard blog and the recent news release announcing nearly 100 Ballard fuel cells to power Solaris buses in Europe.