Bipolar plates (BPP) are a key component of Proton Exchange Membrane (PEM) fuel cells. These plates are available with both carbon (non-metallic) and metallic materials.
However, there is industry debate over the best material to use during both the short-term and long-term, as the fuel cell market scales up to large volumes, and whether each material is better suited for certain applications.
Ballard has deep experience with both carbon and metal BPP materials, having developed fuel cells over the last 35 years.
We have led the market with internal accelerated testing and have also put fuel cells into several major passenger car, bus and truck programs in order to validate testing protocols with field data. We have the data on technical performance, and most recently have also had 3rd party experts conduct cost studies to determine what is the most cost effective material to use for BPPs.
In this article we share our conclusions on why carbon BPPs are the superior solution overall based on durability, power density and high-volume manufacturing cost.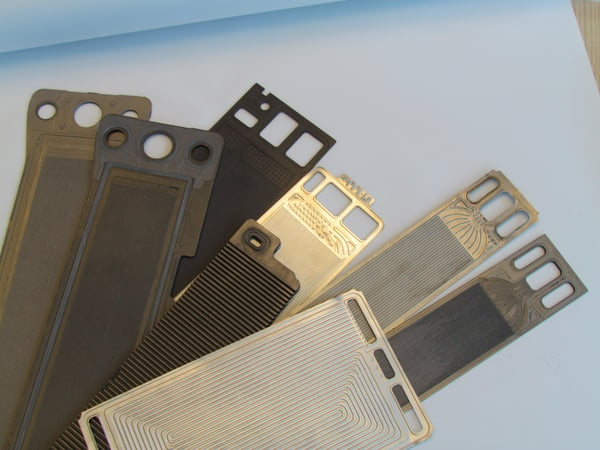 Optimizing material selection for PEM fuel cell bipolar plates
The function of BPPs is essential in PEM fuel cells, as they connect each cell electrically and supply the necessary reactant gases. They also remove the reaction by-products from the cell.
Metal plates were commonly believed to be the better choice for long-term cost targets. This is, in large part, due to the misperception that carbon plates are only suitable for low-volume due to higher production cost at large scale
But metal plates come with some significant drawbacks, which can have implications for costs, durability, and performance.
Let's look at some of the key differences between metal and carbon bipolar plates.
What are some of the challenges of using metal bipolar plates?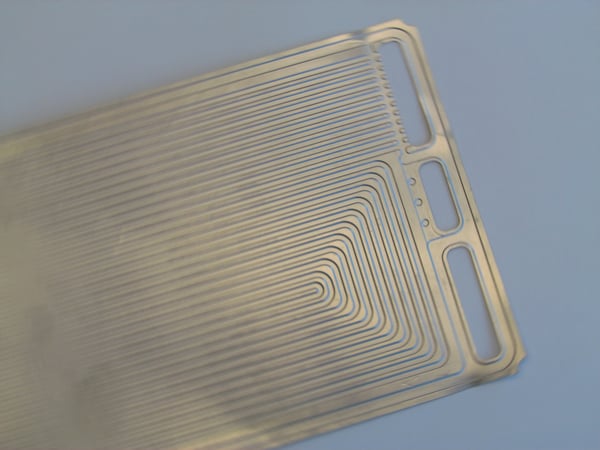 Tendency for corrosion
Due to their inherent tendency to react in acidic environments, metal BPPs are extremely prone to corrosion. To prevent this corrosion, and extend their lifetime, they require added and expensive protective coatings. This additional processing step increases the cost of metal plates, and leaves long-term risk of corrosion for applications where 10,000's hours of life time are required.
Higher overall costs
Beyond the cost of the special protective coating, the materials in the metal plates themselves are inherently more expensive. This is in addition to higher manufacturing processing costs when compared to carbon plates.
Short lifetimes
Metal plates have been optimized for automotive application with life expectancy of 5,000 hours. Fuel cell vehicles that operate in heavy duty operations, such as buses and trucks, demand BPPs with lifetimes of over 20,000 hours. Metal plates have yet to demonstrate this performance in real world conditions, whereas carbon plates have.
What are the key benefits of carbon bipolar plates?
In the infographic below, we illustrate some key benefits of using carbon BPPs for PEM fuel cells.
(Click infographic to

enlarge.)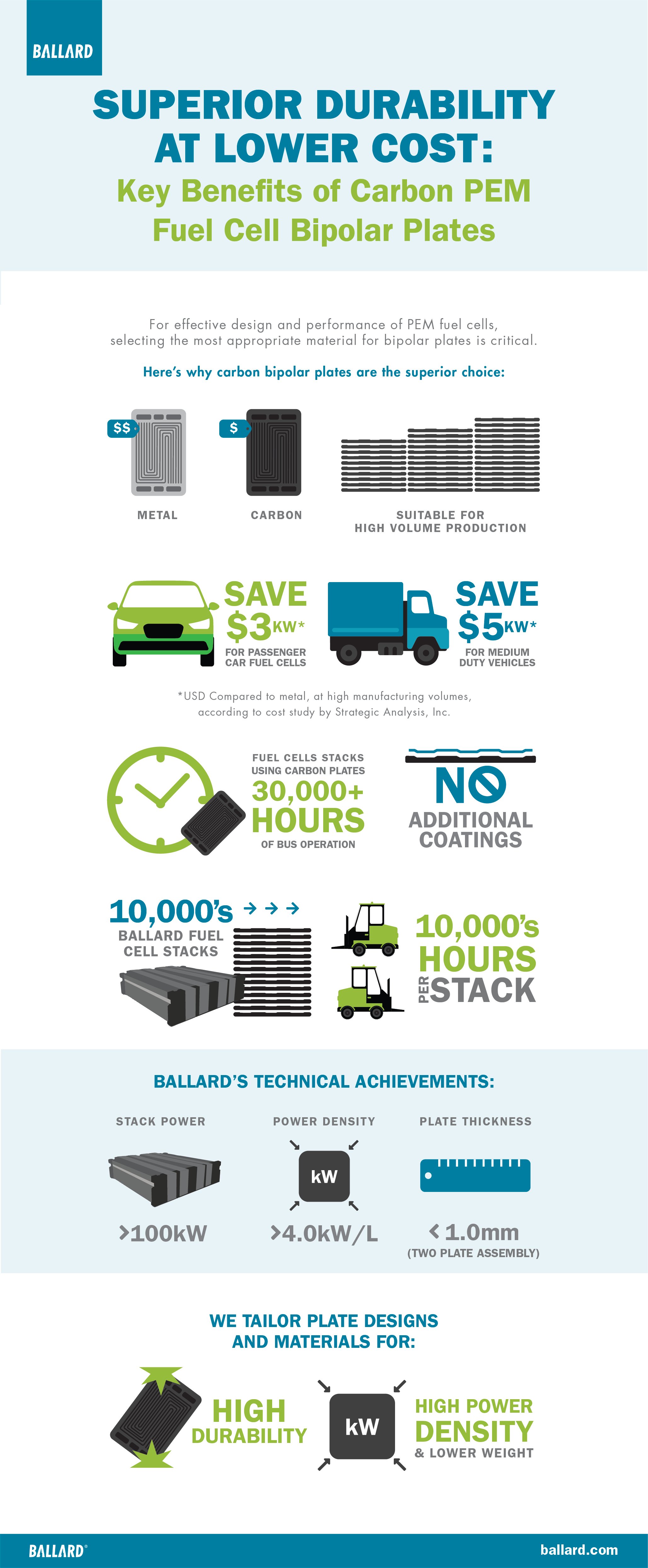 Here's a closer look at the cost, durability, and power density benefits of carbon bipolar plates
Carbon plates have lower upfront and long term costs
Carbon BPPs are much lower cost than metal plates. They're a lower cost product now, and they offer a path to lower cost in the future through manufacturing improvements.
In fact, Ballard recently completed a cost manufacturing study with Strategic Analysis, Inc., comparing metal to carbon plates. The results of the study confirmed that carbon plates are the lower cost option across all manufacturing volumes.
According to the study, when working with carbon plates at high manufacturing volumes, OEMs can save USD$5/kW for medium duty vehicle fuel cells where durability is a key factor but can also save up USD$3/kW for passenger car fuel cell stacks
Additionally, Ballard's carbon plates outlast the life of the initial fuel cell stack.
Once the stack has reached the end of its lifetime, Ballard can pull the Membrane Electrode Assembly (MEA) out of the stack and retrieve the catalyst.
We can then use the original carbon plates and hardware to return the stack to service in the field to original product specifications. Metal plates cannot be reused.
This is far less costly than purchasing an entirely new stack. And since bipolar plates today represent 20-30% of the overall stack cost, the savings are significant. Ballard has been successfully reusing carbon BPP's with millions currently in service.
To learn more about refurbishing PEM fuel cells, read: Benefits of Fuel Cells: Refurbishing Leads to Zero Waste.
Carbon plates have higher durability
Fuel cell stacks using carbon plates have proven their lifetime and durability across a range of applications. Today, metal plates are today limited to automotive applications where a shorter lifetime (5,000 hours) is acceptable. Carbon plates in operation in fuel cell transit buses have reached more than 30,000 hours of operation, issue-free.
Additionally, thousands of Ballard fuel cell stacks using carbon plates have operated in material handling vehicles beyond 10,000 hours.
Carbon plate flexible design leads to better performance
A key design lever that allows designers to create high power density stacks is plate formability. Metal material has limits on formability, and whatever is stamped on one side is mirrored on the opposite side.
By contrast, with carbon BPPs, designers have significantly more design flexibility and more freedom to create truly 3-D designs. These lead to longer life, higher performance, lower weight, and superior freeze start capability of the fuel cell stack.
Carbon plates allow for high power density stacks
The high volume production of thin, high quality, carbon plates is well understood and offers key advantages over metal plate production, because the coating and welding processes are not required.
Ballard has designed carbon plate stacks with power density of 4kW/L, which is comparable to metal plate solutions.
Ballard's carbon bipolar plate solutions
Depending on the application requirements, Ballard can optimize the plate attributes and processes to meet cost and power density objectives. Typically high power density BPPs are slightly more expensive, but are still cheaper than a metal plate version of equal power density.
Conclusion
Ballard has the capability and expertise to develop both metallic and non-metallic plates for light and heavy duty applications. Our research and field data clearly demonstrates that carbon bipolar plates are the superior solution. This is especially true for medium and heavy-duty vehicles where durability is needed to meet key life cycle cost objectives.
Carbon plate technology offers the highest durability among all plate offerings. It can be manufactured at high volume and at low cost. It's very cost competitive—roughly half the cost of a metal plate solution and it has design capability for high power density.
Carbon bipolar plates are the best choice for OEMs who want better performance, lower costs and longer product lifetimes.