China is rapidly becoming a world leader in the transition away from fossil-fuel powered transport.
The country is wasting no time: through investment policies and restrictions they're actively discouraging the growth of fossil fuel vehicle production. They've established clear objectives and deadlines for the phase-out of fossil fuel vehicles.
China is leading the world not only with the deployment of electric vehicles but also with the production of around 4,000 fuel cell commercial vehicles to date. Ballard and its partners are playing a key role in supporting this transition.
Today, Ballard technology is leading the deployment of fuel cell commercial vehicles in China:
There are 36 different types of buses and trucks using Ballard technology on China's Ministry of Industry and Information Technology (MIIT) New Energy Vehicles promotion catalog.
Our fuel cell stacks power more than 60% of the fuel cell buses and trucks currently deployed in the country.
Looking forward, our strategic partnerships will expand our market penetration and increase the nationwide growth of zero-emission fuel cell transportation solutions.
This article provides an update on our progress and successes in enabling the transition to zero-emissions transportation across China.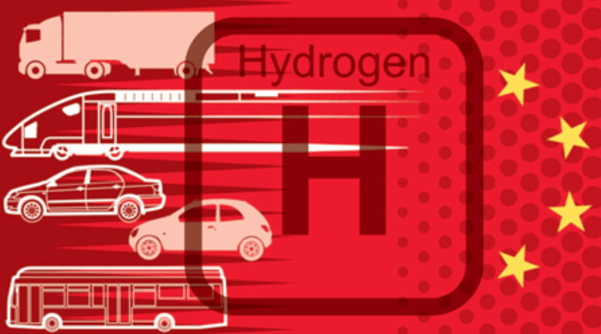 China Accelerates Their Transition to Zero-Emissions
In recent years the Chinese government has taken strategic moves to promote cleaner transportation.
In 2017, they announced plans to phase out all petrol-powered vehicles in favor of "New Energy Vehicles" (NEVs), which include battery electric, hybrid, and fuel cell electric vehicles.
More recently, in January 2019, they banned investments in new companies that produce only fossil fuel vehicles. China also imposed strict restrictions and conditions on existing factories that plan to increase fossil fuel vehicle production.
Several cities, including Shenzhen and Foshan, have established plans to use only zero emission public transit buses going forward. And the province of Hainan became the first region to announce that it will completely ban sales of fossil-fueled vehicles beginning in 2030.
(Read more: Groundbreaking Leadership of Shanghai's Landmark Fuel Cell Vehicle Development Plan)
China is already leading the world with over two million electric vehicles, including more than 400,000 battery electric buses, but is now recognizing that hydrogen and fuel cell technology is needed to achieve a deep decarbonization of the transport sector.
Recently China's father of electric cars, Wan Gan, declared that hydrogen is the future. "We should look into establishing a hydrogen society… we need to move further toward fuel cells," said Wan, who is now a vice chairman of China's national advisory body for policy making.
Ballard's Role: Solving Emissions Issues for Heavy-Duty Transport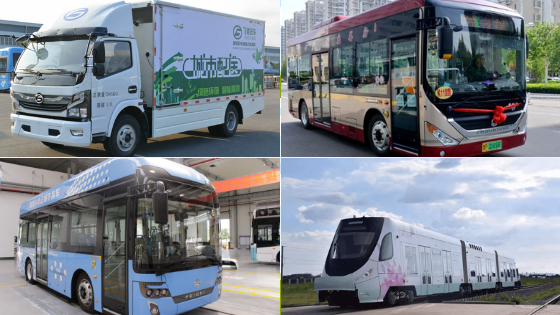 Fuel cell commercial vehicles powered by Ballard technology
Ballard has been present in China for over a decade, starting with fuel cell deployment projects, and presently through industrial partnerships and large scale vehicle deployments.
In China, we focus on those markets where the value proposition for hydrogen fuel cells is strongest: medium- and heavy-duty vehicles, including buses, trucks, and rail, where applications require:
long range
fast refueling
heavy payload capability
full route flexibility (i.e. direct replacement of existing vehicles without route changes)
This strategy has proven effective: several fleets of fuel cell electric buses and commercial trucks featuring Ballard technology are already in operation, with more expected in the near future.
And this year, the world's first fuel cell powered light-rail tram service is planned to go into commercial operation, serving the city of Foshan's Gaoming District. The Ballard-powered trams were built by China Railway Rolling Corporation (CRRC).
Opening of Ballard China Office
In 2017, we made a critical investment to build out our China operating platform to support the expected market growth.
With the launch of our office in Guangzhou, we have built our China team with capabilities in:
business development
account management
applications engineering
after-sales support
quality assurance
supply chain management
Our dedicated team of professionals has provided strong local support services to our customers and strategic partners in our drive to accelerate FCEV deployment and adoption.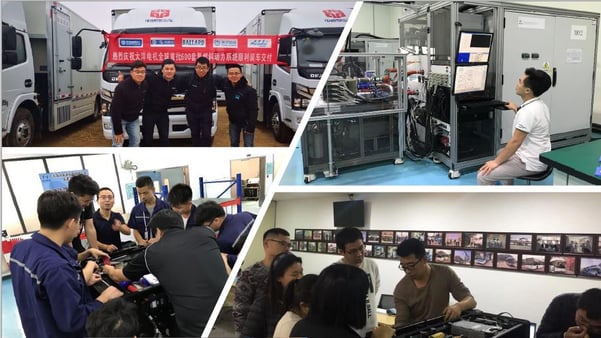 Ballard China team in action
A Historic Collaboration With Weichai
In 2018, we finalized our collaboration and joint venture with Weichai, a leading manufacturer of diesel engines and powertrains in China's large commercial vehicle market. This partnership is expected to help us accelerate our product development, localize our supply chain, enable closer powertrain integration, and widen our market access.

Our collaboration has two key facets:

1. We established Weichai Ballard Hy-Energy Technologies Co., Ltd., a 51/49% joint venture company by Weichai and Ballard in Shandong Province. This new company will produce the next generation Ballard FCgen® LCS fuel cell stacks and FCgen® LCS-based power modules for the bus, commercial truck, and forklift markets in China.


The startup of the new joint venture is well underway. The technology transfer of next generation LCS products from Ballard has already begun, and the construction of a new state of the art production facility in Weifang Shandong is progressing according to schedule.

2. Weichai made a strategic equity investment in Ballard, taking a 19.9% stake in our company.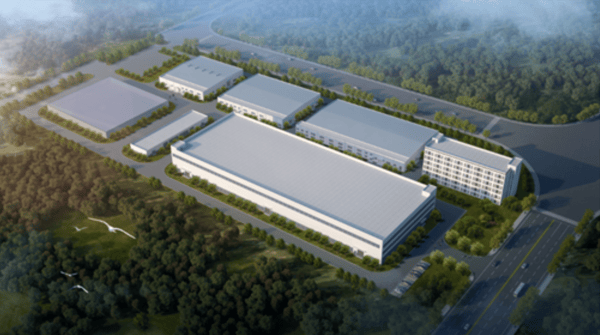 Weichai Ballard Hy-Energy Technologies Co., Ltd new facilities
Joint Venture With Guangdong Synergy
Through our joint venture with Guangdong Synergy, a factory in Yunfu has been in operation for the past two years, producing the current generation FCvelocity® 9SSL fuel cell stack products for the Chinese market. As of today, the joint venture has already produced 5,000 FCvelocity- 9SSL fuel cell stacks powering fuel cell buses and trucks in China.
We expect the robust 9SSL product line to co-exist with the next-generation LCS product (produced by Weichai) for a number of years to provide continuity to the many system integrators who have designed systems and platforms around the proven performance of the 9SSL stack.
Collaboration With Broad-Ocean
Through a licensing agreement, Broad-Ocean's Shanghai E-Drive subsidiary has been manufacturing our MD30 fuel cell engine assemblies since late 2017. The Shanghai facility has completed the assembly and commissioning of over 600 modules, which have been integrated into 7.5-ton logistics trucks for cargo delivery.
Broad-Ocean has also made a strategic equity investment in Ballard, holding approximately 9.9% of our common shares.
Addressing Hydrogen Fueling Issues
The growth of hydrogen fuel cells is tied to the expansion of hydrogen refueling infrastructure. In recent years, we've seen licensing and approvals hindered by obstacles related to insufficient industry standards—which have led, in turn, to issues with technical requirements, safety regulations, site restrictions, and confusion between government bodies.
The good news is that many of these challenges are now recognized. In their March NEV policy update, the government announced increased support for this area. As of July, 2019, there are 31 hydrogen fuel stations in service in China with 36 under construction.
Ballard's Ongoing Commitment to Innovation and Deployment
Ballard celebrates its 40th anniversary this year, representing 40 years of fuel cell innovation and leadership. We are committed to continuing on our path of innovation and development. As always, our focus remains on developing industry-leading fuel cell performance and value for a variety of market applications, including bus, commercial truck, rail, marine, automotive, forklift and drones.
We also continue to protect and surface value on our core intellectual property, including systems, stacks, plates and membrane electrode assembly (MEA).
China is already leading the world in EV sales and is expected to lead in the transition and adoption of FCEVs. We are well positioned to capitalize on this opportunity by working with our strategic partners as we continue to raise the bar on product performance, drive down product costs, and support future deployments.