As the fuel cell community knows, October 8, 2020 is Hydrogen and Fuel Cell Day–a day that's celebrated every year, and that reflects the increasing importance of zero-emission hydrogen fuel cells in the future of transportation.
At Ballard, we are proud of our role in bringing PEM fuel cells to their current level of global prominence. For over 40 years, we have led the world in hydrogen fuel cell technology developments.
In this blog, you'll learn about Ballard's role in developing the core PEM fuel cell technologies, and our ongoing fuel cell innovations that are increasing performance while dramatically lowering the costs of fuel cell vehicles.
You'll also get a sneak peek into our product roadmap, and what the future holds for anyone planning to develop or purchase zero-emission buses or trucks.
Delivering fuel cell technology for a cleaner planet: From core PEM technologies to complete systems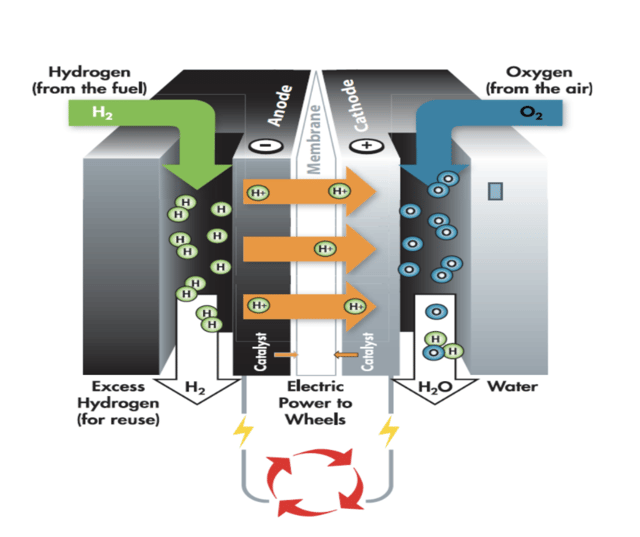 Our proprietary proton exchange membrane (PEM) technology efficiently creates zero-emission electricity from air and hydrogen, without the use of toxic materials. This core PEM technology still leads the industry—and we continue to refine it. In fact, we have invested more than $1.5 billion in PEM development.
One of our key assets is our people. Together, we are a collective team of specialized fuel cell developers. Nearly 400 scientists and engineers draw upon 4,700 person-years of experience to advance our product designs. Research and development activities are ongoing to develop new technology that is fed into each product iteration.

Our research and development activities have successfully advanced our designs.We have leveraged our work in technically challenging automotive applications, improved component robustness, scaled up our manufacturing and product processes, and developed our supply chain. These activities have contributed to the launch last year of our 8th generation fuel cell module that leads the industry in power, cost and durability.
We continue to innovate, with a focus on practical commercial advantages

We at Ballard are not content to rest on our successes. We are continually improving our technologies—both the fuel cell engine and the manufacturing processes that create them. To expand our reach to serve a broader range of bus and truck applications, we are continuing to improve those aspects of fuel cell performance that are most critical to commercial vehicles:
Power density—packing more power in lighter, smaller modules reduces material costs. It also means we can fit fuel cell powertrains under more hoods, even in heavy-duty trucks. Our recently released new FCgen®-HPS fuel cell stack leads the industry with a power density of 4.3kW/L.
Cost reduction— lowering the total cost of ownership (TCO) of commercial vehicles, from increased efficiency (which lowers fuel consumption) and better powertrain integration to recycling and refurbishing fuel cells. Lifecycle cost reductions have now made vehicles powered by Ballard technology competitive on a TCO basis for several heavy duty motive applications. (Learn more in Fuel Cell Price to Drop 70-80% as Production Volume Scales.)
Durability—With over 30,000 hours of service lifetime powered on the road, Ballard-powered vehicles require only one fuel cell module overhaul during their entire service life, which results in major TCO savings. And, we see a path to even longer life fuel cells.
Looking ahead: What's next for Ballard?
Continuous improvement to meet the market requirements for commercial vehicles requires an evolution in key fuel cell stack technology attributes. Our technical targets for the next four years are clear, as demonstrated in the chart below.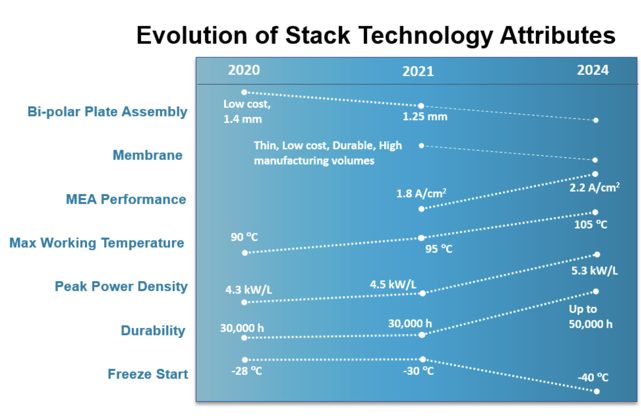 Ballard, with its vast experience, has the ability to address the trade-offs necessary at the core fuel cell component level to meet market requirements. To put it simply, we know what the technology levers are and we know how to move them to achieve these targets. One such lever is the bipolar plate design.
Proprietary bipolar plate designs deliver sustainability, long life and low cost
Within a PEM fuel cell stack, the bipolar plates are a key component that uniformly distributes fuel and air, removes heat, and prevents leakage of gases and coolant. Our proprietary carbon bipolar plate designs provide a strong competitive advantage.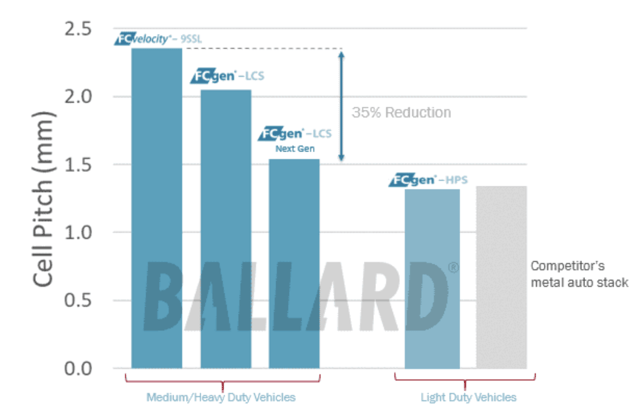 As you can see in the chart above, Ballard is on the path to achieving a 35% reduction in cell pitch, or bipolar plate assembly thickness in our latest fuel cell stack designs. This brings the cell pitch in alignment with our competitors using metal plates. Metal bipolar plates from automakers, however, are far higher in cost. Ballard bipolar plates are:
the most durable on the market, with a service life of 35,000 hours.
the most sustainable, with reusable graphite plates.
the most cost-effective, graphite is the lowest cost material at any manufacturing volume.
So, with these advances in bipolar plate cell pitch we can deliver industry-leading power density at a lower cost with much higher durability. This all translates into lower lifecycle costs for the vehicle operator.

Growing our product portfolio
High power modules with scalable power levels
Our product roadmap includes the development of high-powered, scalable modules that serve a broad range of power levels, from 45 to 450kW. Scalable power levels, with shared technologies across product lines, allow us to serve markets ranging from commercial light duty truck and medium-duty vehicles (such as medium-duty trucks and buses) to heavy-duty truck applications.
Shared components simplify manufacturing and lower costs for customers. As we continually improve the performance of our fuel cell stack technologies, the improvements will be applied across all power levels, to improve vehicle performance in every one of our markets.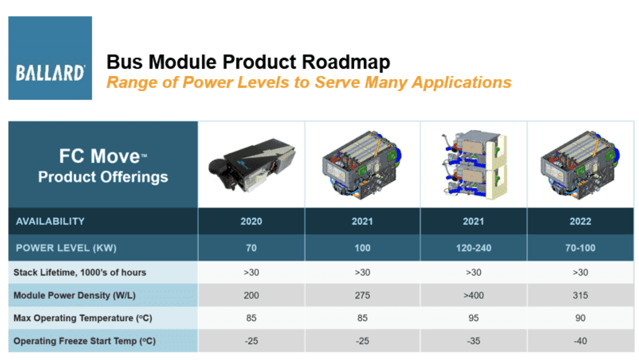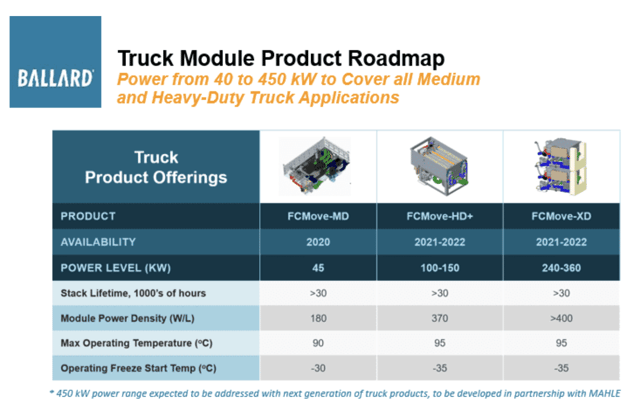 Partnerships will be key to our success. The heavy duty products (150-450kW) for instance, will be developed through a partnership with MAHLE, a leading international Tier 1 supplier to the commercial vehicle and automotive industry.
Ballard has prime responsibility for system design and the fuel cell stack sub-system, while MAHLE's scope of responsibility includes balance-of-plant components, thermal management and power electronics for the complete fuel cell system. The combination of technology improvements and product industrialization will help us to achieve our 70% cost reduction target.
Why choose Ballard?
Hydrogen and Fuel Cell Day is a perfect opportunity to reflect on Ballard's pivotal role in zero-emissions transportation. We developed the core PEM technologies and, through continual innovation, we remain the global technology leader in the PEM fuel cell space. More than 3,000 Ballard-powered buses, trams, trucks, and trains are in commercial use today.
Anyone designing a fuel cell vehicle—or selecting the zero-emission trucks or buses for their fleet—should seriously consider Ballard fuel cell products for their industry-leading durability, power density, reliability, sustainability and low total life cycle cost.