Technology adoption – it has crept into every corner of our existence. Consequently, learning new procedures and systems is a daily occurrence and quite frankly, tiresome; it should be easier. That was my perspective about hydrogen and how it is becoming the wonder-fuel to power an environmentally cleaner future.
The complex systems and methods needed to produce it safely, and distribute it reliably seemed almost too challenging for most people to comprehend. The reality of the situation couldn't be farther from the truth. In fact, the hydrogen production network is steadily developing and is incredibly simple to deploy.
Sure I could ramble on about the pros and cons of hydrogen fuel and fuel cell technology, but this video below does an amazing job at demonstrating just how far hydrogen fuel has come to power our vehicles — it is virtually plug and play.
► Time-lapse Video (4 mins.): FCEV hydrogen refuelling station in Denmark/YouTube
After seeing how easy it is to refuel a hydrogen-powered fuel cell electric vehicle, it makes me stop and think that the current system of gas/petro/diesel refueling is tragically more dangerous than the hydrogen system. No spills. No overfilling and shoes ruined because the pump spewed petrol. The rhetoric about safety points the finger at the wrong fuel.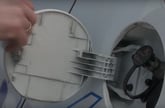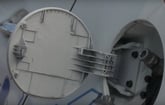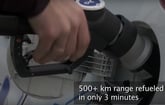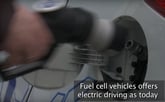 Images: YouTube
Leadership for a Zero-Emission Hydrogen Economy
Certainly, these self-contained hydrogen generating/dispensing systems will have their place in the market. I just love their simplicity and ease of deployment. What makes the most sense to me is for major energy companies to make better effort at providing clean hydrogen fuel options throughout their well-established distribution systems. They cite market demand as the motivator for implementation. But wouldn't it be great that they show leadership and recognized that the carbon economy is waning and the next great (portable) zero-emission fuel is hydrogen?
This same refuelling principle could be easily applied to bus and tram fleets. Sustainable public transport systems are certainly taking a leading role in the deployment of this technology shift.
Together we can change the world and make it a better place. Be part of the conversation. If anything, watch the video.