The California Air Resources Board's (CARB) proposed Clean Transit regulations are coming fast. Is your transit agency ready? Did you know - according to the proposed regulations, 100% of transit buses must be zero-emission by 2040.
CARB proposes that:
starting in 2020, California transit agencies must begin procuring a minimum percentage of zero-emission buses
by 2029, 100% of new bus purchases must be zero-emission
As a public transit leader, you know that zero emission buses are critical to the future of transit. And you know about battery electric buses. But what do you know about the other electric bus: the fuel cell electric bus?
Fuel cell electric buses: the true 1-to-1 replacement for conventional buses
A fuel cell electric bus (FCEB) is a battery hybrid electric bus with a lightweight, on board, fuel cell power system. Through an electrochemical reaction of hydrogen and air, the fuel cells generate DC power for the bus electric drive and recharge the batteries. This provides continuous, reliable power for up to 18 hours, with no emissions except water vapor.
The result? Cleaner air for our communities and fewer health problems related to air pollution. The public breathes better while still getting where they need to go.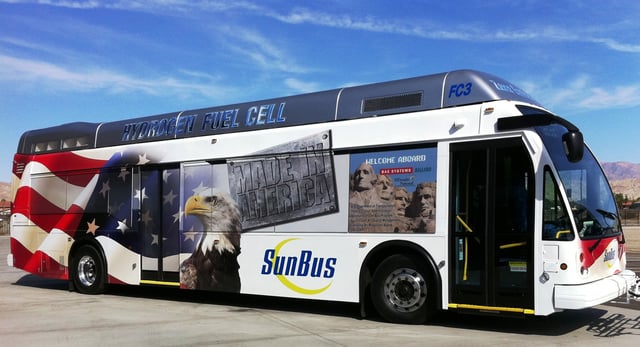 Greater range, higher performance and route flexibility
FCEBs offer the range and flexibility to directly replace diesel/CNG buses:
Range of up to 300 miles or 450 km between refueling
Climbing and cold weather performance similar to diesel and CNG buses
Route flexibility: depot refueling means there is no need for en-route charging infrastructure
Fast refueling: 8-12 minutes of refueling delivers 18 hours of continuous service without the need for overnight charging
Passenger and driver comfort with smooth, near-silent operation
What about refueling?
FCEBs are refueled in minutes. The bus pulls into a fueling station for an 8 to 12-minute fill-up, similar to refueling a CNG bus. Fueling stations are easily scalable, like CNG stations, and can be installed at existing bus depots.
The hydrogen for the fuel cells can be delivered to the bus depot in liquid form or as a compressed gas. Hydrogen can be generated:
off-site from a variety of sources, including renewables
on-site, from electricity and water using electrolysis or reforming, including from renewable natural gas
Fuel cell electric buses are field-proven
For California transit providers looking for a zero-emissions future, the "other" electric bus may be the best option. Fuel cell electric buses are field-proven, with a track record of millions of kilometers in revenue service.
Transit agencies like Sunline Transit, Orange County Transportation Authority, and AC Transit have all successfully deployed fuel cell buses in their fleets.
The evidence is clear: only FCEBs have the service range, the power, and the load-bearing and hill-climbing capabilities comparable to diesel/CNG buses, offering a true 1-to-1 replacement without compromise.
To learn more about the benefits of hydrogen fuel cell buses for California, download our comprehensive white paper below.